Young voters are annoyed with President Biden's recent approval of a massive oil drilling project in Alaska and believe he failed to stand up to the oil industry, the New York Times reported Monday.
Alex Haraus, 25, who has been vocal on social media about opposing the Willow project, said he was "mad and frustrated and disappointed," according to the outlet.
Young climate activists also don't feel much better about Biden's other climate-related actions and argued he campaigned on halting oil drilling on public land.
"I don't think any of those things encourage people to forgive the Biden administration for projects like Willow," Haraus told the outlet. "Young voters see our future getting thrown out the window. We need Biden to take on the industry, otherwise there's not much for us to hope for."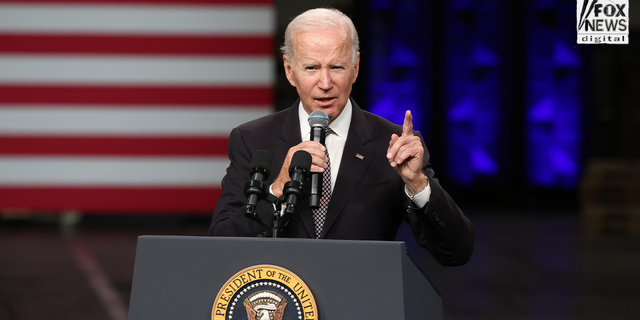 President Biden has been criticized by the left for approving a massive oil drilling project in Alaska.  (The Image Direct for Fox News Digital)
BIDEN EXPECTED TO APPROVE ENORMOUS OIL DRILLING PROJECT IN BLOW TO CLIMATE ACTIVISTS: 'COMPLETE BETRAYAL'
Progressive members of Congress have come out against Biden's approval of the Willow project as well.
"He takes one step forward with the I.R.A., and two steps back with the Willow project," Rep. Jamaal Bowman, D-N.Y., said.
Bowman added that young people were feeling "stabbed in the back" and suggested they might stay home in 2024.
Michele Weindling, the electoral director of the environmental group the Sunrise Movement, said it was a "huge" opportunity for the Biden administration to say "no" to the oil industry.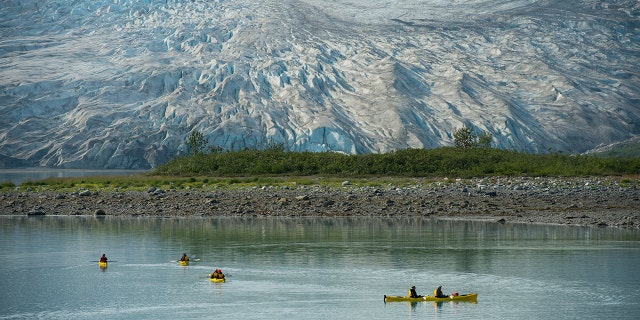 ALASKA, UNITED STATES – 2012/01/01: People kayaking with Reid Glacier in background, Glacier Bay National Park, Alaska, USA. (Photo by Wolfgang Kaehler/LightRocket via Getty Images) ((Photo by Wolfgang Kaehler/LightRocket via Getty Images))
WHITE HOUSE BLAMES PREDECESSORS FOR BIDEN APPROVING MASSIVE OIL DRILLING PROJECT
"It was a moment for President Biden to show us, what side are you on? He chose the wrong side. That makes our job a lot harder, to tell Generation Z and young voters that Biden will live up to his climate promises," she added.
Top Democrats, including Rep. Alexandria Ocasio-Cortez, D-N.Y., also hammered Biden for approving the project.
"The Biden administration has committed to fighting climate change and advancing environmental justice—today's decision to approve the Willow project fails to live up to those promises," Ocasio-Cortez said in a joint statement with Reps. Raul Grijalva, D-Ariz., Jared Huffman, D-Calif., and Sen. Ed Markey, D-Mass. "Their decision ignores … the irrefutable science that says we must stop building projects like this to slow the ever more devastating impacts of climate change."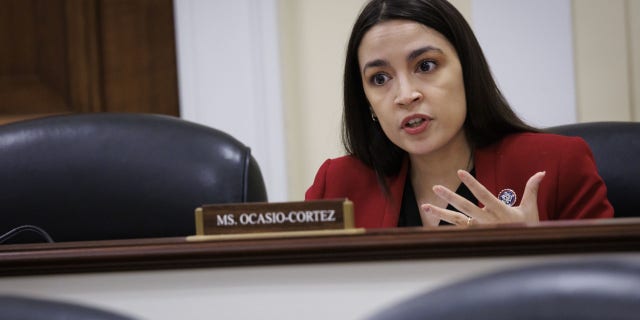 Representative Alexandria Ocasio-Cortez, D-N.Y., and other progressive Democrats have called out President Biden over approving the Willow project to drill for oil in Alaska. (Ting Shen/Bloomberg via Getty Images)
"This administration clearly knows what the path to a cleaner and more just future looks like — we wish they hadn't chosen to stray so far from that path with today's Willow decision," the Democrats added. "The only acceptable Willow project is no Willow project."
CLICK HERE TO GET THE FOX NEWS APP
Biden officially launched his re-election campaign on Tuesday via a video posted to social media.
"Every generation of Americans has faced a moment when they've had to defend democracy, stand up for our personal freedoms, and stand up for our right to vote and our civil rights. This is ours. Let's finish the job," he said.