President Joe Biden and King Charles III met on Monday, but the royal family kept it casual.
The king didn't give Biden the "full Royal treatment" because it wasn't an official state visit, royal commentators and experts explained to Fox News Digital. Biden stopped by the United Kingdom for a quick meeting ahead of his appearance at the NATO summit.
The United States president was in the U.K. for less than 24 hours before heading to Lithuania.
Biden and King Charles' meeting was a "show of shared strength" between the two countries, according to Shannon Felton Spence, royal expert anddirector of global communications at Harvard's Belfer Center.
"The palace was not given enough time to plan for a formal state visit, which can take up to a year to prepare, so the president's visit is considered a 'mini' visit or working visit to differentiate," Kinsey Schofield, host of the "To Di For Daily" podcast, told Fox News Digital.
"We will not see the Princess of Wales or the queen consort in tiaras due to the type of visit this is from the Biden administration," she added. "But what they lack in tiaras might be made up for in air fresheners as Queen Consort Camilla once famously complained about the president passing gas in front of her at COP26."
WATCH: BIDEN MEETS KING CHARLES FOR FIRST TIME SINCE SKIPPING CORONATION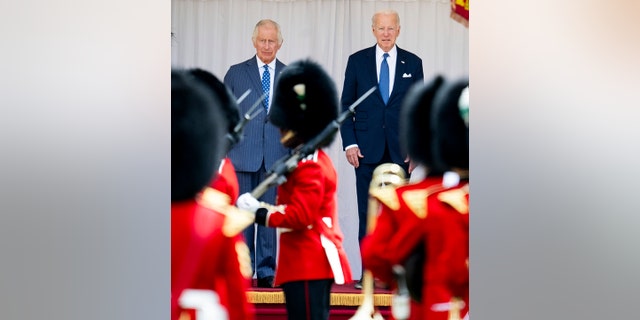 King Charles III receives President Biden at the dais in the Quadrangle before inspecting the Guard of Honour at Windsor Castle. (UK Press Pool/UK Press via Getty Images)
For Biden and the royal family, this won't be the first time they get together nor is the royal family "insulting" the president and first lady with the protocol of the "working" meeting.
"There is no question in my mind that King Charles and the rest of the royal family respect and admire the current occupants of the White House," Andersen added. "Any suggestion that the Windsors are in some way insulting the Bidens by not donning their full regalia is just silly, frankly. That day will come in the near future, when the president makes an official state visit and the king hosts one of those jaw-dropping state banquets his mother was so famous for."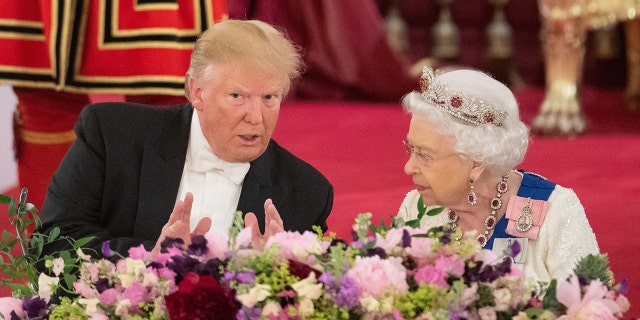 Donald Trump was the last U.S. president to visit the U.K. while Queen Elizabeth II was still alive. (Dominic Lipinski- WPA Pool/Getty Images)
Biden's trip to the U.K. marks the first time a U.S. president has visited the country since 2019, when Donald Trump came for a state visit that June.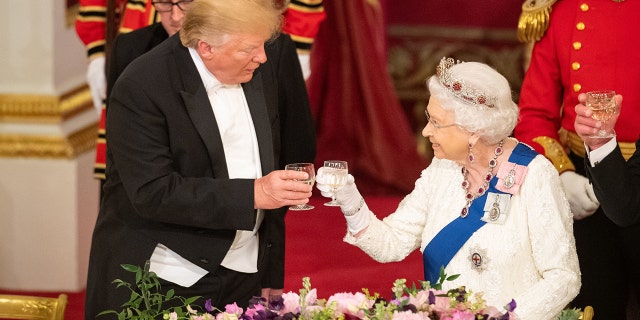 President Trump and Queen Elizabeth II make a toast during a state banquet at Buckingham Palace on June 3, 2019, in London. (Dominic Lipinski- WPA Pool/Getty Images)
CLICK HERE TO SIGN UP FOR THE ENTERTAINMENT NEWSLETTER
Biden arrived late Sunday evening and left shortly after meeting with the king and British Prime Minister Rishi Sunak briefly.
"We were told that Biden and the king discussed the climate, which is unusual as the content of the monarch's discussions is not normally shared," Sacerdoti told Fox News Digital. "It's actually quite ironic that Biden was said to be discussing climate change considering he arrived for this mini-trip on a massive jet (Air Force One) and was flown from one location to another in a fleet of helicopters, even being driven by car from the helicopter, which landed at Windsor Castle to meet the king only meters away."