Compact trucks are big business these days.
The recently introduced Ford Maverick and Hyundai Santa Cruz compact pickups are both strong-sellers for the brands and have reopened a segment that has been dormant in the U.S. for years.
Ram may soon get into the game with a version of the new Rampage it unveiled this month in Brazil, with reports saying it is being prepped to enter the American market later this year.
A Ram spokesperson told Fox News Digital that the company could not comment on the rumors, but Ram CEO Mike Koval has said the brand is looking into possibly adding a small truck to the U.S. lineup.
"We think customers are best served with a body-on-frame pickup truck, Mike MacPhee, director of Chevrolet truck marketing in a conversation, told the outlet.
All the pickups mentioned above are based on unibody chassis like those used for cars or crossover SUVs, rather than the ladder frames that underpin models like the Ford Ranger and F-Series.
The all-new Chevrolet Colorado is the brand's smallest American market pickup. (Chevrolet)
"We think that gives the capability, the ability to modify it simply, the off-road capability, and durability that's inherent of a body-on-frame chassis," MacPhee said.
Howerver, while GM is not planning to bring a compact truck to the U.S., it could soon be selling something even smaller.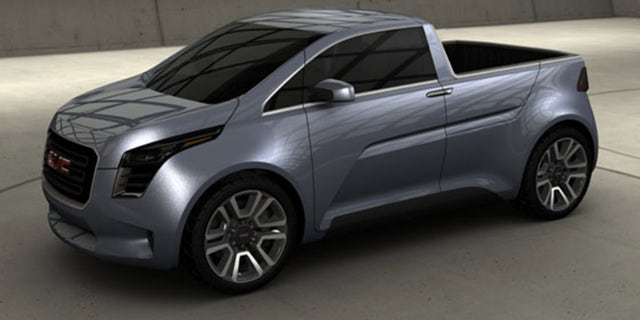 The GMC Granite was a compact pickup concept that never made it into production. (GMC)
It has designed a mini, two-door electric pickup with a four to 4.5-foot bed that is collecting feedback on from potential customers.
"The input may come back that it's just too small, and that's OK," Michael Pevovar, director of Chevrolet affordable EV and crossover design said.