Chairman of the Joint Chiefs of Staff Gen. Mark Milley will step down from his role later this year, and the Biden administration has reportedly a two-man shortlist for the general's replacement.
From an unknown number of candidates, President Biden is said to have narrowed the list down to two names: Air Force Chief of Staff Gen. Charles Q. Brown Jr and 38th Commandant of the Marine Corps Gen. David Berger.
Most analysts seem to believe that Biden will select Brown, who would be the fifth Air Force service member out of 20 officers who have held the position – half of them from the Army alone. He would assume the post on Oct. 1, the day after Milley's term ends, if selected.
Brown would also be the second African American in the role after Army Gen. Colin Powell, who was appointed by President George H.W. Bush in 1989.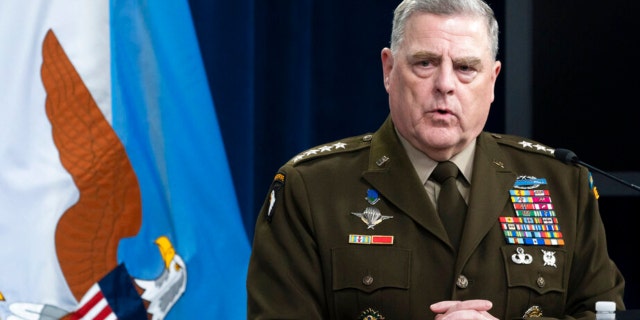 Joint Chiefs Chairman Gen. Mark Milley speaks with reporters after a virtual meeting of the Ukraine Defense Contact Group at the Pentagon, Monday, May 23, 2022. (AP Photo/Alex Brandon)
Milley also stood front and center of the investigations into the aftermath of the withdrawal from Afghanistan, testifying before Congress that top military officials had recommended keeping at least 2,500 troops in the country – a claim that went counter to Biden's own.
Critics also highlighted Milley's comments about how the invasion of Ukraine might play out, famously repeating the line that he suggested Kyiv would fall in a matter of days. Milley had in fact outlined that as one of five possible outcomes for the invasion.
SERIES OF SUICIDES AMONG THE NAVY PROMPT RECOMMENDATIONS TO IMPROVE AMENITIES, MENTAL HEALTH PROGRAMS
The move – a bold one taken shortly after receiving his promotion from then-President Trump – did not mar his confirmation, which the Senate unanimously approved.
ARMY OFFICER AWAY ON ACTIVE DUTY SPEAKS OUT AFTER SQUATTER MOVED INTO GEORGIA HOME: 'QUITE ALARMING'
He later would say that he gave himself a "C" rating for his ability to implement change.
CLICK HERE TO GET THE FOX NEWS APP
He ruffled feathers when he said during the Aspen Security Forum in 2022 that the U.S. might provide fighter jets to Ukraine and train pilots to fly them – a decision the U.S. confirmed this week but was not prepared to make then.
Brown's contemporaries also tout his track record in the Pacific as a significant strength that could help the Pentagon handle China, the Times reported.