White House press secretary Karine Jean-Pierre on Wednesday blamed Republicans for the "chaotic" situation at the U.S.-Mexico border, claiming that GOP lawmakers "literally refuse to act" even as the House will vote Thursday on sweeping border security legislation.
"The president has been dealing with a system that has been broken for decades," Jean-Pierre told reporters. "Since day one he put forth a comprehensive immigration plan, legislation, and he is using the tools that are in front of him to deal with the challenge at the border."
"Republicans in Congress, in particular, refuse — they literally refuse to act," she asserted. "They refuse to come to the middle and meet us in the middle and come up with a real solution."
Immigration enforcement agencies will lose their ability to expedite illegal immigrant deportations when the Title 42 public health order lifts Thursday. Officials have been preparing for months for an expected surge in migration across the border once the order ends. The order has been used since March 2020 by both the Trump and Biden administrations to expel hundreds of thousands of migrants quickly due to the COVID-19 pandemic. In March, nearly half of all migrant encounters ended in a Title 42 expulsion.
BIDEN WOULD VETO GOP'S BORDER SECURITY BILL: 'MAKE THINGS WORSE'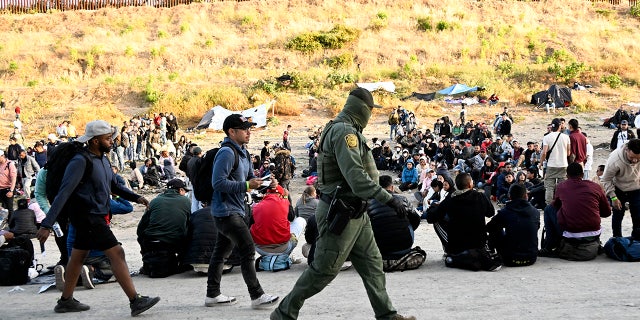 A U.S. Border Patrol agent walks past asylum-seekers waiting between the double fence along the U.S.-Mexico border near Tijuana, Mexico, in San Diego on Monday. The migrants wait between the fences to be processed by U.S. Border Patrol agents. (AP Photo/Denis Poroy)
Officials and lawmakers have feared that migrants, believing they are more likely to be admitted to the U.S. once the order ends, will head to the border in numbers not even seen during the more than two-year migrant crisis so far. Officials had previously painted a worst-case scenario of up to 14,000 encounters a day.
Customs and Border Protection sources have told Fox News that agents apprehended more than 10,000 migrants on both Monday and Tuesday, marking the highest single-day totals ever recorded.
President Biden said Tuesday that the border situation will be "chaotic for a while" as his administration works to restore order. He did not say how long that will take.
Republicans say the situation at the border is Biden's fault. They have put forward the Secure the Border Act, which would require renewed efforts to build a border wall, more border patrol agents and more financial incentives for them to do their job, an end to catch and release policies and other initiatives intended to better manage mass migration at the southern border.
BORDER PATROL APPREHENDS OVER 10,000 MIGRANTS A DAY AHEAD OF TITLE 42'S END, HIGHEST EVER RECORDED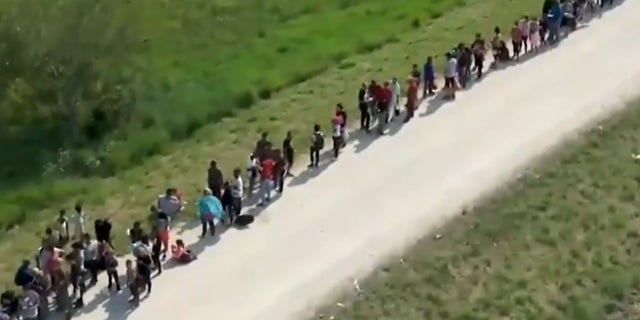 Migrants near Brownsville, Texas, line up to enter the U.S.
"Most of the problems we're seeing at the border were created by Joe Biden himself, starting on his very first day in office as president when he sent a message throughout the world that America's border is open by doing things like halting construction of the wall, reinstating catch and release, terminating the Remain in Mexico policy, the Northern Triangle agreements," said House Majority Leader Steve Scalise, R-La., at the weekly Republican leadership press briefing.
"And so as House Republicans, we said we're not going to sit on the sidelines like President Biden is creating this problem. We're going to actually work on solving this problem. And so tomorrow, the day that Title 42 expires, we're going to bring H.R. 2, the Securing the Border Act, a bill that actually focuses on solving the problem, so we can get back to the rule of law and have a secure border in America, reestablish a legal path to come into this country," Scalise said.
The GOP bill is supported by more than a dozen conservative immigration groups who called it a "forceful and serious" attempt to counter mass migration at the border.
"The undersigned coalition writes in strong support of H.R. 2, the Secure the Border Act. This flagship package represents the strongest border security and enforcement legislation put forth to date, and fulfills key promises made in the Commitment to America," the groups wrote in a letter to congressional leaders.
BIDEN ADMIN TALKS 'TOUGHER' ON BORDER AHEAD OF TITLE 42'S END — BUT MIGRANTS AREN'T LISTENING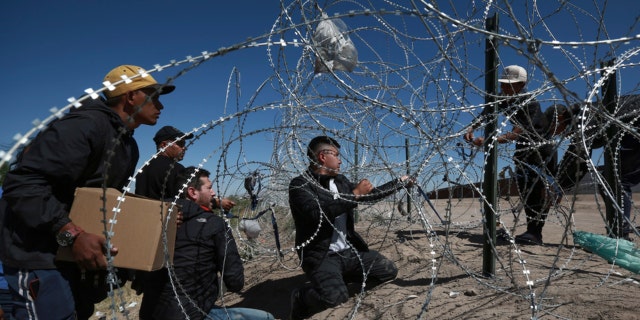 Migrants cross a barbed-wire barrier into the US. from Ciudad Juarez, Mexico, on Tuesday. The U.S. is preparing for the end of the Title 42 policy, linked to the coronavirus pandemic that allowed it to quickly expel many migrants seeking asylum. (AP Photo/Christian Chavez)
House GOP leaders have scheduled a vote on the border security bill for Thursday, when Title 42 ends. The White House issued a veto threat against the bill on Monday, claiming Republicans "would make things worse, not better."
"Because this bill does very little to actually increase border security while doing a great deal to trample on the Nation's core values and international obligations, it should be rejected," the White House said.
The Biden administration argues Congress needs to provide more funding for CBP and to back an immigration reform bill that Democrats introduced in 2021 that would expand legal pathways while granting a mass amnesty to millions of illegal immigrants already in the U.S.
CLICK HERE TO GET THE FOX NEWS APP
Jean-Pierre said Wednesday that Republicans were engaged in "political stunts" and that the White House wants to deal with the border crisis "in a real way."
Republicans have refused to consider any form of citizenship pathway until the border is secure.
Fox News' Patrick Hauf, Adam Shaw and Bill Melugin contributed to this report.