A protocluster of seven galaxies has been confirmed a distance of redshift 7.9 for the first time.
According to the European Space Agency – an international partner on the James Webb Space Telescope with NASA and the Canadian Space Agency – the term "redshift" refers to how the wavelength of light is stretched and seen as "shifted" toward the red part of the electromagnetic spectrum.
The higher the redshift, the farther away – and back in time – the source.
In this case, the protocluster of galaxies were a mere 650 million years after the big bang, according to data collected using the telescope. Using this data, astronomers calculated the cluster's future development, finding that it will likely grow in size and mass to resemble the Coma Cluster.
ON THIS DAY IN HISTORY, APRIL 25, 1990, HUBBLE SPACE TELESCOPE PLACED IN ORBIT BY SPACE SHUTTLE DISCOVERY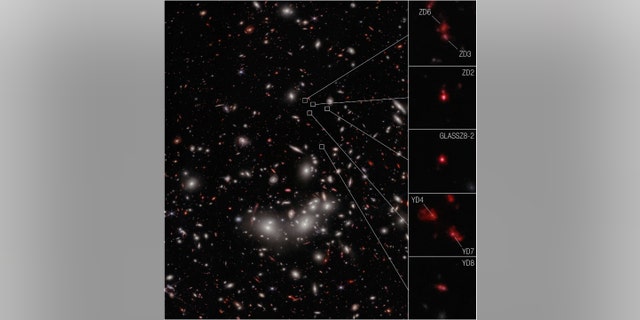 The seven galaxies highlighted in this James Webb Space Telescope image have been confirmed to be at a distance that astronomers refer to as redshift 7.9, which correlates to 650 million years after the big bang. This makes them the earliest galaxies yet to be spectroscopically confirmed as part of a developing cluster. (Credits: NASA, ESA, CSA, T. Morishita (IPAC). Image processing: A. Pagan (STScI))
The Coma Cluster contains thousands of galaxies and is more than 20 million light-years in diameter.
The measurements captured by the telescope's Near-Infrared Spectograph, one of Webb's instruments, were key to confirming the galaxies' distance and the high velocities are moving with a halo of dark matter, at more than two million miles per hour.
"This is a very special, unique site of accelerated galaxy evolution, and Webb gave us the unprecedented ability to measure the velocities of these seven galaxies and confidently confirm that they are bound together in a protocluster," IPAC-California Institute of Technology's Takahiro Morishita, the lead author of the study published in the Astrophysical Journal Letters, said in a statement.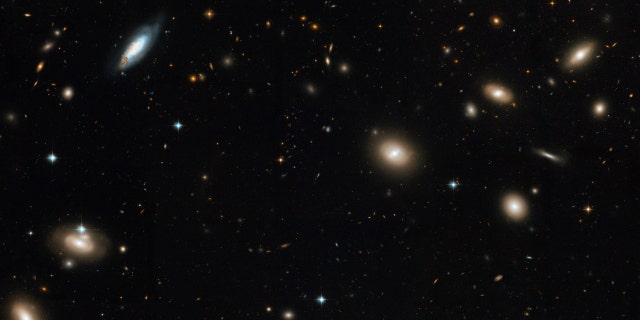 Hubble's Advanced Camera for Surveys has viewed a large portion of the Coma Cluster, stretching across several million light-years across.  (Credit: NASA, ESA, and the Hubble Heritage Team (STScI/AURA). Acknowledgment: D. Carter (Liverpool John Moores University) and the Coma HST ACS Treasury Team.)
NEIL DEGRASSE TYSON SAYS JAMES WEBB SPACE TELESCOPE IS WINDOW TO UNIVERSE 'NEVER BEFORE ACHIEVED'
Galaxy clusters are the greatest concentrations of mass in the known universe, and they can dramatically warp the fabric of spacetime in a process called "gravitational lensing."
The researchers were able to look through Pandora's Cluster to view the protocluster, thanks to this magnifying effect.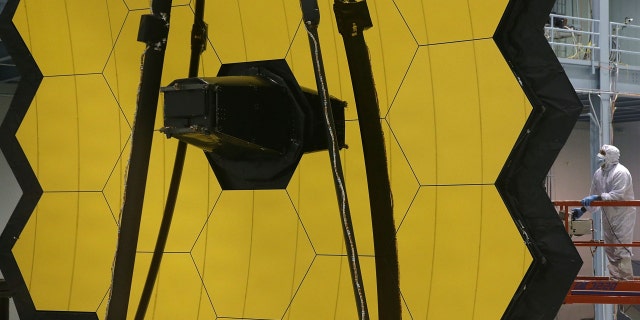 GREENBELT, MD – NOVEMBER 2: A technician stands next to the James Webb Space Telescope during assembly November 2, 2016, at NASA's Goddard Space Flight Center in Greenbelt, Maryland.  ((Photo by Alex Wong/Getty Images))
The seven galaxies confirmed by Webb were first established as candidates for observation using the Hubble Space Telescope's Frontier Fields program, which dedicated Hubble time toward observations using gravitational lensing. However, while Hubble cannot detect light beyond near-infrared, Webb was designed to observe infrared wavelengths.
The observatory detailed spectroscopic data in addition to imagery.
CLICK HERE TO GET THE FOX NEWS APP
NASA's Nancy Grace Roman Space Telescope will have 200 times Hubble's infrared field of view in a single shot and will be able to identify more protocluster galaxy candidates. That mission is targeted for launch by May 2027.