President Biden received a somewhat hostile welcome during his visit with President Michael Higgins of Ireland on Thursday — from the Irish president's dog.
As the two leaders strolled around Higgins' residence, they approached the president's furry friend, who appeared excited until Biden neared.
The Bernese mountain dog, who goes by the name Misneach, immediately began barking and backed away from the group as Biden approached.
BIDEN MIXES UP 'ALL BLACKS' RUGBY SQUAD WITH 'BLACK AND TAN' MILITARY FORCE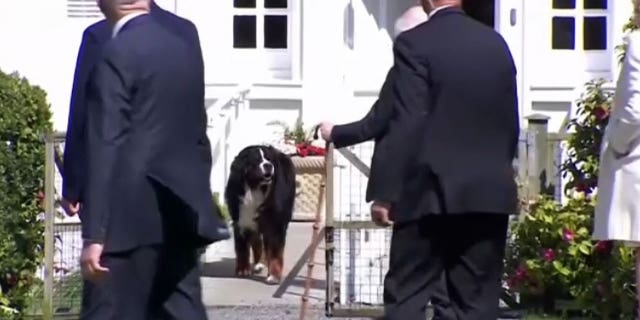 President Biden was barked at by the president of Ireland's dog during his visit. (The White House)
Biden appeared to reason with the dog, pointing his finger at it and speaking, but Misneach remained at a distance.
NORTHERN IRELAND POLICE CONFIRM 'SECURITY BREACH' AROUND BIDEN AFTER DOCUMENT FOUND IN STREET: REPORT
Biden arrived in Ireland on Tuesday to speak on the 25th anniversary of the Good Friday Agreement, but his tour around the country became unexpectedly eventful.
On Tuesday, Northern Ireland police reported a "security breach" around Biden after a five-page document that contained classified information was found on a Belfast street.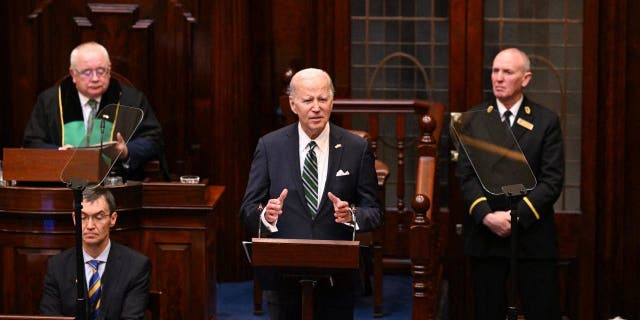 President Biden addresses the Irish Parliament at Leinster House in Dublin, Ireland, on Thursday. (Kenny Holston / Pool / AFP via Getty Images)
On Wednesday, Biden mixed up a New Zealand soccer team known as the All Blacks with the Black and Tans, a British police force group known for its brutal occupation of Ireland in the 1920s.
CLICK HERE TO GET THE FOX NEWS APP
While engaging in conversation at the Windsor Bar in Dundalk, Biden began talking about the tie he was wearing: "This was given to me by one of these guys, right here," Biden said. "He was a hell of a rugby player. He beat the hell out of the Black and Tans."
Fox News' Greg Norman, Timothy H.J. Nerozzi and Patrick Ward contributed to this report.