A new mom was shamed for wearing a revealing top during a workout at her local gym in Utah.
Kylen Suttner is a 21-year-old who gave birth to a son in December.
The content creator was at a gym in Ogden when a woman approached her and began questioning her gym attire. (SEE the confrontation in the video at the top of this article.)
WEIGHT LOSS WONDER: GERMAN MAN LOSES OVER 350 POUNDS, SAYS HE'S 'NO LONGER DEPRESSED'
Suttner, who was wearing a blue sports bra, caught the tense moments on camera, news service SWNS reported.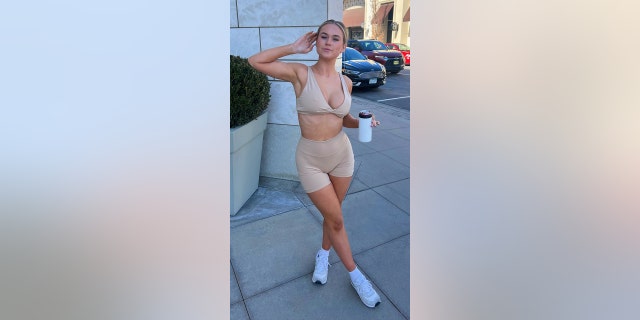 A new mom who was shamed at her gym in Utah for wearing a top showing off her cleavage said she refuses to let negativity stop her from working out. (SWNS)
In the video, the woman can be heard saying, "Do you really think you can walk around the gym wearing that?"
"Maybe her boyfriend was staring at me or something, and it got her triggered, I don't know."
Suttner responded with a questioning look, then asked the woman what she meant by her comment.
MOM EMBARKS ON WEIGHT LOSS JOURNEY, DROPS NEARLY 60 POUNDS TO 'BE THE LEGS' FOR DISABLED SON
"Your boobs are hanging out," the woman said. "We're in a public place. Can you be respectful?"
Suttner brushed off the comment and continued her workout.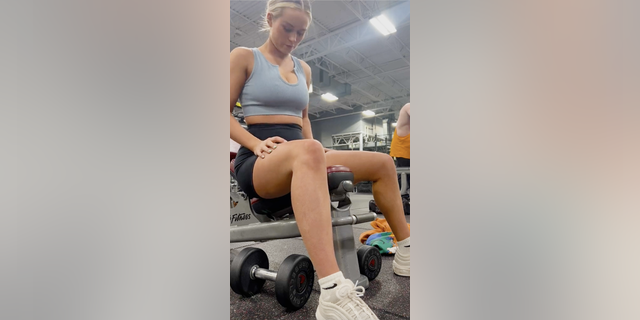 Kylen Suttner said she didn't think her outfit was revealing, noting that she normally wears even more revealing items to the gym. (SWNS)
There were other people in the gym wearing more revealing clothes than she was, the new mom told SWNS.
Suttner was confused as to why she was singled out, she also said.
"Maybe her boyfriend was staring at me or something, and it got her triggered, I don't know," she continued.
MOM INSPIRED TO LOSE 100 POUNDS AFTER BEING 'SHOCKED' BY PHOTO
Although she felt it odd, Suttner didn't beat herself up over the comment, she also said.
Suttner was more upset that she didn't stand up for herself more vigorously, she added.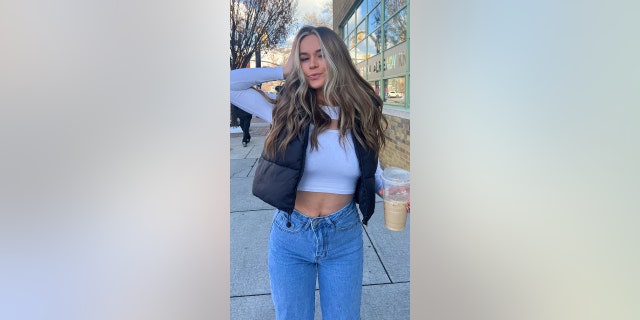 Suttner captured a woman on camera telling her "your boobs are hanging out" and posted it online, where it has amassed many comments. (SWNS)
"I felt like I was way more modest than I usually am," she said of her attire.
CLICK HERE TO SIGN UP FOR OUR LIFESTYLE NEWSLETTER
The incident hasn't stopped Suttner from going to the gym, she added.
"I would never let something like that stop me from going to the gym or wearing what I want," she told SWNS.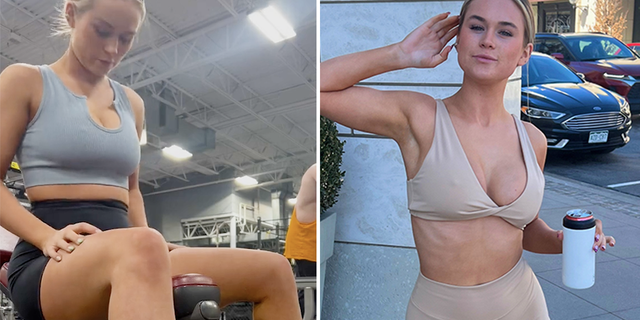 Suttner is a new mom to a son born in December. She is currently on a fitness journey and documenting it via social media. (SWNS)
Suttner had nearly 100,000 Instagram followers on her fitness account at the time of this report.
She's currently working on a 75-day fitness challenge to exercise daily, and added that she has always liked to work out, SWNS reported.
CLICK HERE TO GET THE FOX NEWS APP
"I think everybody should be involved in some sort of active lifestyle, and eating healthy is just a given," Suttner said.