Multiple residents in a Utah neighborhood evacuated after two homes slid into a canyon overnight, months after officials had declared the sites unsafe for habitation.
Officials notified residents in Oct. 2022 that both homes were unfit for occupancy due to dangerous conditions resulting from shifting ground – the same conditions that led the homes to slide into the canyon early Saturday morning.
Both homes were built by EDGE Homes and had been fenced off since the 2022 assessment, FOX 13 reported.
The local government insisted that officials had tried "for months" to contact EDGE to address engineering studies on the stability of the surrounding area. Draper officials in Dec. 2022 revoked occupancy permits for the buildings.
UTAH LAWMAKER'S HOME VANDALIZED AFTER HE INTRODUCED BILL TO BAN TRANSGENDER SURGERIES: 'TRANNIES BASH BACK'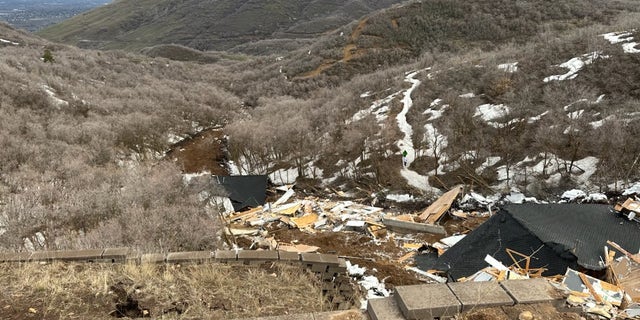 Two homes slid into a canyon months after local officials determined that the sites were unsafe and the buildings unfit for habitation.  (Draper Government Facebook)
One of the homes sold for $900,000, and the couple that bought it had to vacate less than a year after taking ownership.
Just months after the completion of construction, the corner of one home sank up to 10 inches and cracks in the foundation and patio concrete had formed. EDGE claimed at the time that "unique geographic features and the soils on which they were constructed" had caused those shifts to happen.
UTAH REGISTERED SEX OFFENDER ARRESTED AFTER DRESSING UP AS ELMO AROUND KIDS AT FARMERS MARKET: POLICE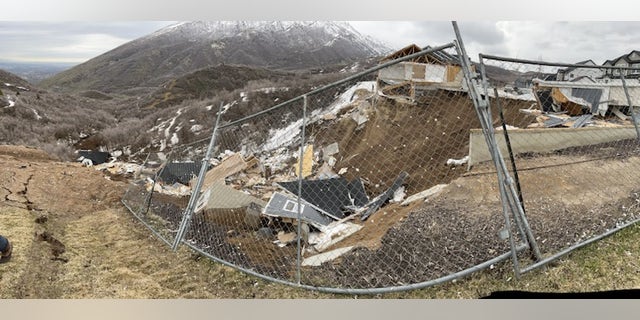 A panoramic view of the aftermath following two homes sliding into the canyon below.  (Draper Government Facebook)
Engineers, building officials and public safety personnel visited the site and determined two additional homes that flanked the first two needed to be evacuated, the Draper City Government said in a post on Facebook.
The officials also closed nearby Clark's Trail and Ann's Trail while clearing the area due to dangerous conditions, urging hikers and locals to not circumvent the closure notices.
UTAH ELEMENTARY SCHOOL CANCELS SLAVERY REENACTMENT AFTER PARENT OUTRAGE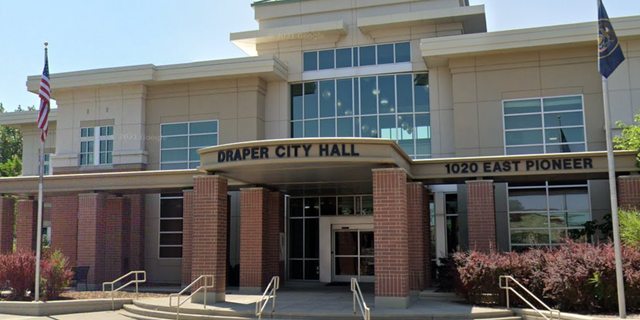 Draper City Hall in Utah. (Google Maps)
According to the post, the unsteady ground resulted from snow pack melting and creating "changes in conditions," which will require further safety evaluation.
"This is an evolving situation," officials wrote in their press release. "Draper City will continue to update the public as we have more information and notify if there is a need for any additional evacuations or closures."
CLICK HERE TO GET THE FOX NEWS APP
"Our hearts are with the homeowners involved," they added. "We are grateful that everyone is safe."
A family that owned one of the homes told FOX 13 they were devastated that the collapse happened since, despite not living in the building at the time, it meant that belongings that remained in the home such as photo albums and keepsakes most likely did not survive the slide.