U.S. prosecutors on Tuesday announced charges against a diamond and art dealer who had allegedly funded Lebanon's terrorist wing Hezbollah. It also sanctioned what it believes is a vast money laundering network connected to him.
Nazem Ahmad, who had already been sanctioned in 2019 by the U.S. under global terrorism sanctions regulations for acting as a financier with the Iranian-backed group, is accused of being part of a group that used a complex web of businesses to obtain artwork from U.S. art galleries and diamond-grading services while hiding his involvement.
The U.S. government says that approximately $160 million of artwork and diamond services were transacted through the U.S. system.
UN ENVOY THANKS HEZBOLLAH, DRAWS REBUKE FROM ISRAELI OFFICIALS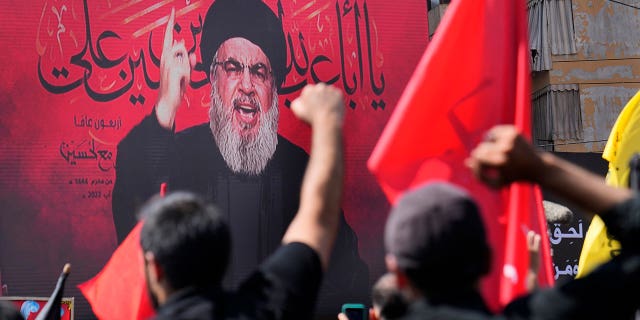 Hezbollah leader Sheik Hassan Nasrallah speaks via video link as his supporters raise their hands during the Shiite holy day of Ashoura in the southern suburb of Beirut, Lebanon, Aug. 9, 2022.  (AP Photo/Hussein Malla)
One of the defendants was arrested in the United Kingdom and eight others, including Ahmad, are not believed to live in the U.S. Ahmad and eight co-defendants are charged with conspiring to defraud the U.S. and other governments, evading sanctions and making money laundering transactions by securing goods for Ahmad's benefit.
The Treasury also announced additional sanctions against a network of 52 individuals and entities across the globe it says were involved in funneling money to Hezbollah.
Separately, the U.K. said it had frozen Ahmad's assets in the U.K. because he financed Hezbollah, which is designated as an international terror group. Consequently, no one in the U.K. or U.S. is allowed to do business with Ahmad or his businesses.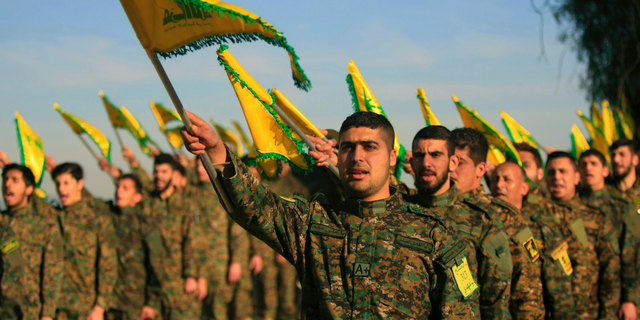 In this Feb. 13, 2016 file photo, Hezbollah fighters hold flags as they attend the memorial of their slain leader Sheik Abbas al-Mousawi, who was killed by an Israeli airstrike in 1992. (AP Photo/Mohammed Zaatari, File)
"The international actions we are announcing today against Nazem Ahmad for his involvement with the terrorist organization Hezbollah should serve as a reminder that the U.S. government and our allies will tirelessly prosecute those who are sanctioned for illicitly financing terrorist activities," said Deputy Secretary of Homeland Security John K. Tien.
"I am very proud to not only share the results of this investigation into the Ahmad criminal organization but also recognize the outstanding international and interagency collaboration that led to this moment."
The actions are part of a years-long investigation into the group led by Immigration and Customs Enforcement's Homeland Security Investigations (HSI).
HEZBOLLAH TRANSPORTING CHEMICAL WEAPONS TO LEBANON WITH HELP OF IRAN AND NORTH KOREA, REPORT CLAIMS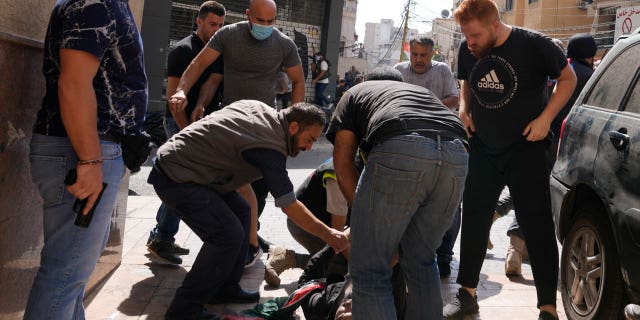 Supporters of a Shiite group allied with Hezbollah call for help for an injured comrade during armed clashes that erupted during a protest in the southern Beirut suburb of Dahiyeh, Lebanon Oct. 14, 2021.  (AP Photo/Hassan Ammar)
"This HSI investigation speaks to the unwavering commitment of the U.S. and U.K. governments to prevent art and diamond markets from becoming a haven of illicit financial activity," acting ICE Director Tae Johnson said in a statement. "I commend HSI and our investigative partners for their dedication in seeing this investigation through — over many years — to substantial actions. We will utilize every tool at our disposal to dismantle these illicit networks."
CLICK HERE TO GET THE FOX NEWS APP
Rewards for Justice, the U.S. State Department's national security rewards program, is offering a reward of up to $10 million for information related to Ahmad.
The Associated Press contributed to this report.