An ethics board at an university in the United Kingdom rejected research on transgenderism in sports because the proposal mentioned the world "male," according to the researcher.
John Armstrong, a senior lecturer of mathematics at Kings College London, said he was asked to survey elite athletes on their views on transgender participation in sports.
"I submitted a proposal for ethical review… which stated that the aim of the research was 'to find the views of athletes and volunteers on the question of when males should be allowed to compete in the female category,' he said. "The ethics committee rejected the proposal, on the grounds that using the terms 'male' and 'female' in this sentence constituted 'misgendering.'"
The professor said that the proposal was separate from the survey, and the questions itself didn't cause any concerns.
WASHINGTON BILL TO ALLOW MEDICAL TRANSGENDER INTERVENTIONS ON MINORS WITHOUT PARENTAL CONSENT
"Nevertheless, I was told that I must seek input from the Equality Diversity and Inclusion (EDI) team on the 'wording used in the survey' and the 'presentation of the research,'" he said.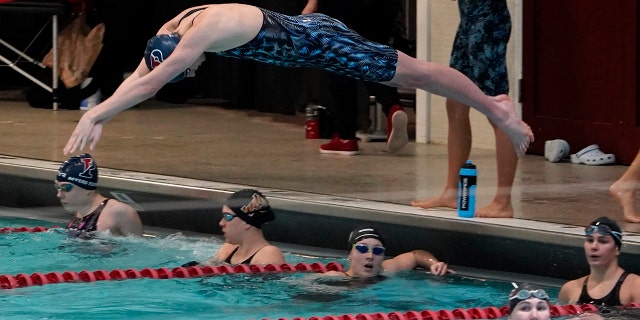 Penn's Lia Thomas dives into the warmup pool at the Ivy League Women's Swimming and Diving Championships at Harvard University, Friday, Feb. 18, 2022, in Cambridge, Mass.  (AP Photo/Mary Schwalm)
The professor blasted the ethics board for refusing to allow him to address biological sex, which he believed would undermine the credibility of science.
"By preventing me from using the word 'male,' the ethics review was in effect preventing me from using the concept of sex at all," he said. "Activist interference in what can be researched erodes the integrity of science… Political policing of research introduces a new ethical-review bias. If the ethics team at my university limits what questions can be asked about gender-identity, this introduces a bias into all the work conducted on gender at the university."
Armstrong added that there have been other instances of ethics committees preventing the collection of data based on sex and called it a "horrifying" practice.
"It would be horrifying for ethics committees to bias such vital work," he wrote.
COLORADO DISTRICT EQUITY DOCS REVEAL METHODICAL SYSTEM TO DECEIVE PARENTS ON IN-SCHOOL SOCIAL TRANSITIONS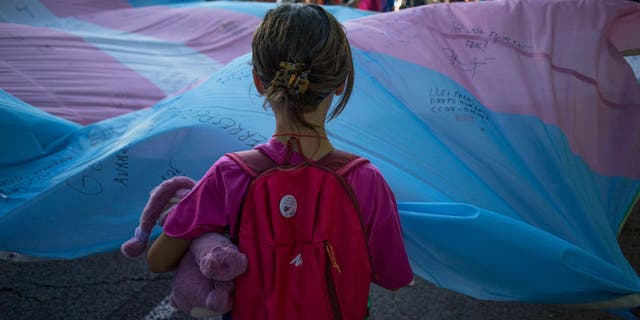 A girl holds the Transgender Pride flag during the pride march.  (Luis Soto/SOPA Images/LightRocket via Getty Images)
Kings College London released a statement to Fox News, which said, "While we can't comment on individual research applications, we are strongly committed to ensuring that the research carried out by our staff and students is consistently of the highest quality and to the most rigorous standards."
The statement continued, "This is important to instil confidence in academic communities, funding bodies, and crucially the public that the data, findings, and results produced by our researchers are sound and trustworthy."