A two-year-old in the United Kingdom loves to eat just about anything.
Two-year-old Hallie Archibald of Renfrewshire, Scotland, loves to eat many different kinds of foods — everything from smoked salmon to mussels and olives.
NEW US DIETARY GUIDELINES: NO CANDY, CAKE FOR KIDS UNDER 2
The child's mother is a pharmacist.
The mom told SWNS, a British news service, that she has been giving her young daughter all sorts of selections to prevent the girl from developing food allergies.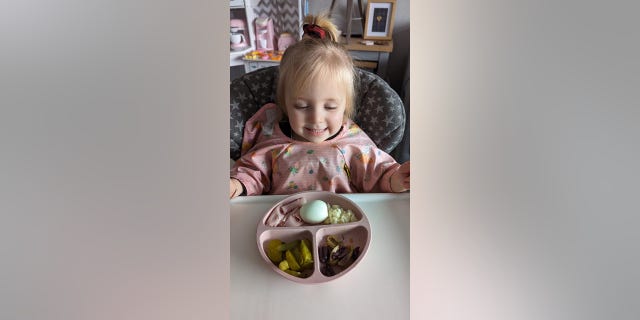 Hallie Archibald, age 2, loves to eat many different kinds of offerings — and seafood is one of her favorites.  (SWNS)
"We just offer her our stuff … We're urging her to try unusual things," the mom told SWNS.
The 31-year-old mother said one of the little girl's staple foods is fish — saying she loves white fish and smoked salmon.
FDA PROPOSES LEAD LIMITS IN BABY FOOD
Hallie's mother would let the little girl — starting at about six months old — try whatever her parents were having for dinner.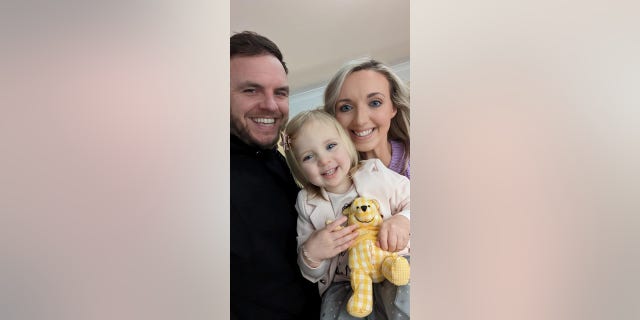 Hallie and her parents, Erin and Charlie Archibald, eat a wide variety of foods — the parents share everything with their young daughter so that she tries plenty of different selections. (SWNS)
At 18 months old, the child tried smoked salmon for the first time after seeing her dad eat it for lunch.
"It was a hit from the start," Hallie's mom, Erin Archibald, told SWNS.
TEXAS 2-YEAR-OLD JOINS 'FOX & FRIENDS' AFTER ORDERING 31 MCDONALD'S BURGERS ON MOM'S PHONE
Archibald said she tried to encourage her daughter to eat all kinds of things — eggs and seafood among the choices.
Little Hallie, however, can be a picky eater in one way.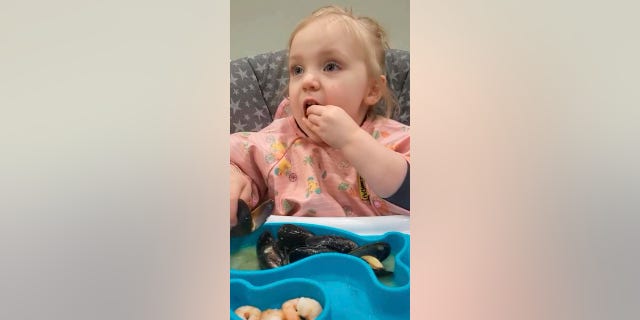 One of the girl's favorite meals is mussels; she learned to eat them at a very young age.  (SWNS)
"She loves a boiled egg, but she's not sure [about] the yolk," the mom told SWNS.
CLICK HERE TO SIGN UP FOR OUR LIFESTYLE NEWSLETTER
Little Hallie also doesn't love avocado or broccoli — yet mussels are one of her favorites.
"People say, 'I pray for her future boyfriends … She'll be an expensive date,'" the mom said.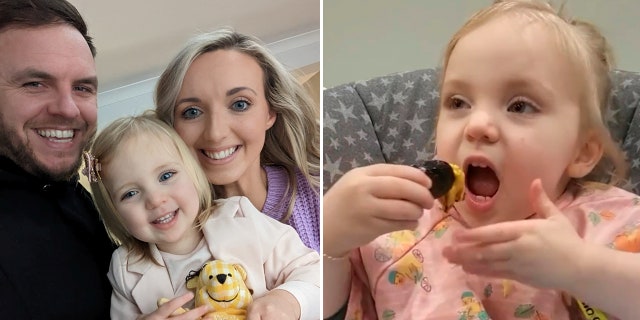 Young Hallie began eating unique foods when she was just six months old — now she'll eat almost anything that's put in front of her.  (SWNS)
Archibald said she's able to buy the mussels at a good price — and that Hallie has taken quite a liking to them.
As a pharmacist, Archibald said she recommends baby-led weaning to other parents.
"Shellfish is best to do really early on — where [children] can try them in a safe manner," she told SWNS.
Dr. Siegel recommends ensuring a well-balanced diet for children, one that includes fruits and vegetables. 
Fox News contributor Dr. Marc Siegel of New York City, a clinical professor of medicine and a practicing internist at NYU Langone Medical Center, told Fox News Digital that it is safe for toddlers to eat seafood — as long as there is confidence in the lack of a shellfish allergy.
"It is OK for a two-year-old to eat seafood, provided we are sure they don't have a shellfish allergy," he said.
Siegel recommended ensuring a well-balanced diet for children, one that includes fruits and vegetables as well.
CLICK HERE TO GET THE FOX NEWS APP
Next on the list for the young foodie in Scotland?
Young Hallie will try lobster, her parents told SWNS.