A London-based Christian nonprofit is raising an alarm about teaching materials in thousands of U.K. schools that suggest LGBTQ behavior is compatible with Christianity, Judaism and Islam.
The lesson plans, which consist of slides and activities compiled by the LGTBQ organization Just Like Us promote instruction regarding same-sex relationships to students as young as 5, according to copies of the curriculum obtained by Christian Concern and reviewed by Fox News Digital.
Christian Concern is a nonprofit that has supported multiple Christian parents in their legal battles against U.K. schools that promote age-inappropriate sexual material, including some Church of England schools.
Just Like Us is behind School Diversity Week, an annual "U.K.-wide celebration of LGBT+ equality in primary and secondary schools" in which thousands of schools choose to participate, according to its website. Schools in the U.K., where the school year extends into July, celebrated School Diversity Week from June 26-30.
Students were encouraged to watch videos, and reflect and discuss various examples of "Just Like Us ambassadors" who grew up as an "LGBTQ+ person of faith," which includes the Anglican, Roman Catholic, Jewish and Muslim traditions, according to the lesson plans.
In the religious lessons, students learn about a person named Ruth who identifies as a non-binary lesbian Christian, a bisexual Jewish woman named Taliya and a man named Sam who identifies as a gay Muslim.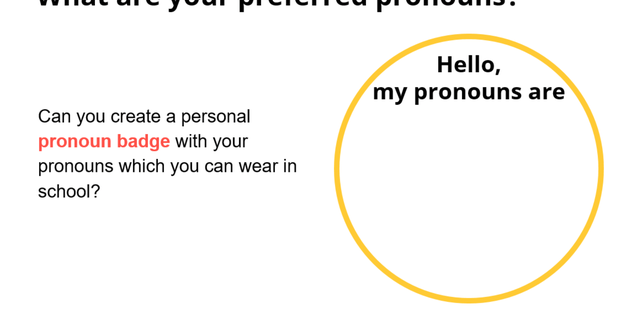 U.K. students between ages 7 and 11 using the Just Like Us curriculum are encouraged to make a badge describing their pronouns following lessons about Ariana Grande, Harry Styles and Sam Smith. (Christian Concern)
PARENTS 'BAFFLED' AFTER SCHOOL ASKS STUDENTS TO CHOOSE FROM DOZENS OF PRONOUNS: 'VERY CONFUSED AND UPSET'
"In this session students will [practice] their strategies for across the math curriculum in an LGBT+ inclusive way," a lesson for Key Stage 1 students states. "Zain's mums are getting married! They need help [organizing] their wedding party."
Zain and his two mothers make another appearance in a later version of the math curriculum, when 7-year-olds are asked to calculate their journey to a wedding.
"It is usually 28km but there is a diversion, so it is an extra 17km," the problem states. "Luckily they find a shortcut which cuts out 8km. How far do they travel together?"
In 2018, Just Like Us received backing from major political leaders in the U.K., including then-Prime Minister Theresa May, according to Christian Concern. The organization has also secured financial support from companies such as Facebook, Blackrock and JPMorgan Chase for its School Diversity Week in the past, the nonprofit noted.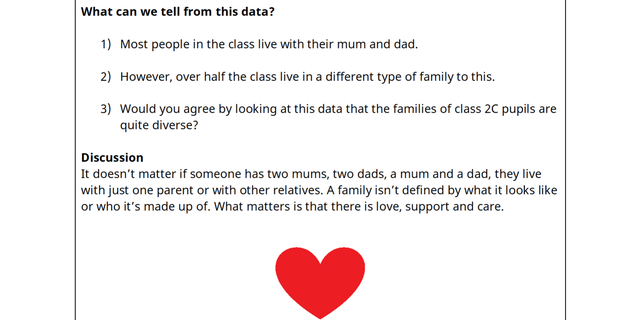 Pupils as young as 7 are instructed in math through the lens of same-sex relationships, according to lessons plans from Just Like Us. (Christian Concern)
The instructional material from Just Like Us is targeting people of faith, according to Steve Beegoo, the head of education at Christian Concern.
"What is most concerning about the Just Like Us resources is that they are targeted specifically at people of faith and even faith schools," Beegoo said in a statement provided to Fox News Digital. "The teaching materials are designed to train the thinking of children away from the traditional beliefs of the Christian faith."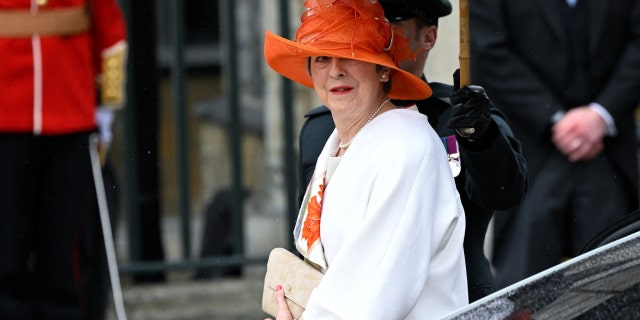 In 2018, Just Like Us received backing from major political leaders in the U.K., including Prime Minister Theresa May. (Toby Melville/WPA Pool/Getty Images)
"Parents must urgently and consistently ask what their children are being taught on these issues in schools and which organization resources are being used," he said.
CLICK HERE TO GET THE FOX NEWS APP
None of the organizations involved in the development of the curriculum responded to Fox News Digital's request for comment by time of publication.