The United Kingdom and Spain warned against President Biden's controversial decision to send cluster munitions to Ukraine ahead of the NATO summit in Lithuania this week.
"The U.K. is signatory to a convention which prohibits the production or use of cluster munitions and discourages their use," British Prime Minister Rishi Sunak said in a video Saturday published by Sky News. "We will continue to do our part to support Ukraine against Russia's illegal and unprovoked invasion, but we've done that by providing heavy battle tanks and most recently long-range weapons, and hopefully all countries can continue to support Ukraine."
"Russia's act of barbarism is causing untold suffering to millions of people," Sunak added. "It's right that we collectively stand up to it. And I'll be heading off the NATO summit next week in Vilnius, where we will be discussing exactly this with our allies, how we can strengthen our support for Ukraine."
US TO PROVIDE CLUSTER MUNITIONS TO UKRAINE, $800 MILLION MILITARY AID PACKAGE, OFFICIALS SAY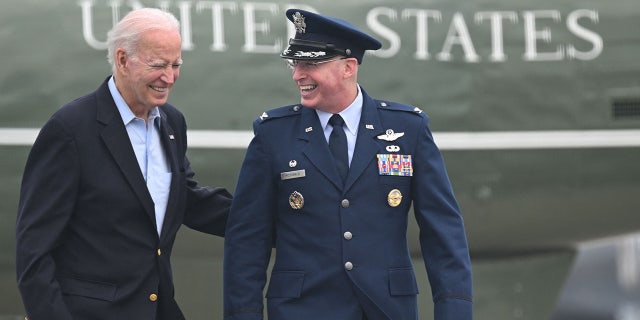 President Biden speaks with Col. W. Chris McDonald as he walks to board Air Force One at Dover Air Force Base in Delaware, on July 9, 2023. Biden left Sunday for Britain to meet with King Charles III before continuing to Vilnius for a NATO summit, then a final stop in new NATO member Finland. (Andrew Caballero-Reynolds/AFP via Getty Images)
RFK JR. BLASTS BIDEN FOR SENDING CLUSTER BOMBS TO UKRAINE, A YEAR AFTER PSAKI SAID IT COULD 'BE A WAR CRIME'
Reacting to the U.S. announcement, Ukrainian Defense Minister Oleksii Reznikov tweeted five key principles Kyiv agreed upon regarding the use of cluster munitions, including to use the bombs only "for the de-occupation of our internationally recognized territories," to keep them out of urban areas, keep strict record of the use of those weapons in local zones, to later prioritize demining efforts after de-occupation is completed, and to transparently report to partners about the weapons' efficiency.
"It is important to note that the Russian Federation has been indiscriminately using cluster munitions from day 1 of the unprovoked large-scale aggression. In February-March 2022 Kharkiv, Ukraine's second-largest city with over a million population, was relentlessly bombarded by Russian cluster munitions," Reznikov wrote. "Our position is simple – we need to liberate our temporarily occupied territories and save the lives of our people. For this we need to inflict losses on the enemy – war criminals, rapists and looters – who are occupying our territories. The more losses we inflict on them the more lives of Ukrainian people we will be able to save."
NATO could decide to elevate its relationship with Ukraine, creating what would be known as the NATO-Ukraine Council and giving Kyiv a seat at the table for consultations.
The Associated Press contributed to this report.