A Trump-backed Republican in Ohio whose military record was called into question during his unsuccessful 2022 congressional campaign announced Wednesday that he plans to run again next year.
J.R. Majewski launched his latest effort to win the GOP nomination and take on Democratic U.S. Rep. Marcy Kaptur in a video posted on Twitter.
"This campaign is about the working-class citizens of Ohio," he said. "This campaign is about putting America first. This campaign is about fighting for you. Last cycle, we started a movement. This cycle, we win."
DEM REP. KAPTUR CAPTURES ANOTHER TERM, STAVES OFF GOP CHALLENGER MAJEWSKI IN OHIO HOUSE RACE
Majewski, of Port Clinton, previously worked in the nuclear power industry. He drew attention for drawing a sprawling banner supporting former President Donald Trump across his lawn, and also had been a pro-Trump hip-hop performer and promoter of the baseless right-wing QAnon conspiracy theory. He was also at the Jan. 6, 2021, insurrection at the U.S. Capitol, though he was not accused of any wrongdoing there.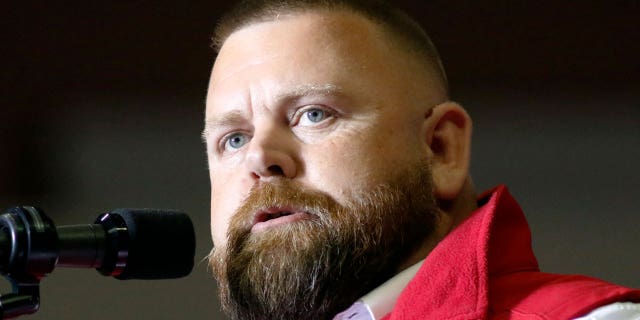 Republican J.R. Majewski, an ardent Trump supporter, has launched a second bid for longtime Democratic Rep. Marcy Kapturs Toledo, Ohio-centric House seat. Majewski lost the seat by over 13 percentage points in 2022. (AP Photo/Tom E. Puskar, File)
Majewski was the surprise winner of last year's Republican primary for the Toledo-area 9th Congressional District. He bested two sitting Republican state lawmakers to secure the nomination, but ultimately lost to Kaptur, the longest serving woman in Congress, by more than 13 percentage points.
FORMER PRESIDENT TRUMP ENDORSES OHIO'S JR MAJEWSKI FOR CONGRESS
The Associated Press reported in September that Majewski had misrepresented his military record to voters. He claimed that he served in the Air Force in Afghanistan, but public records indicated that he had never deployed there and instead spent six months on a base in Qatar. Majewski denied the report and defiantly remained in the race, saying his deployment was classified and so not present in public records.
The AP later reported that Majewski was demoted in the military for driving drunk on an air base, another contradiction to his previous statements.
CLICK HERE TO GET THE FOX NEWS APP
Majewski was among Ohio Republicans that Trump promoted at a November rally in Vandalia, Ohio.