MANCHESTER, N.H. – EXCLUSIVE – Sen. Tim Scott of South Carolina is taking aim at Rep. Hakeem Jeffries of New York for harsh comments about Black conservatives that the House Democratic leader made as a college student more than 30 years ago.
Scott, a rising star in the GOP and the only Black Republican the Senate, criticized Jeffries, the first Black lawmaker to lead a party in Congress, for calling Black conservatives "right-wing opportunists" and seemingly comparing them with the "House Negro" during the enslavement of African Americans in the nation's pre-Civil War period.
"You listen to those comments that, as inflammatory and disgusting as they really are, you're talking about African Americans not being able to think for ourselves. When our leaders suggest that we cannot, that's always heading in the wrong direction," Scott said Thursday in an exclusive national digital interview with Fox News.
Scott, who launched a presidential exploratory committee this week as he moves closer to jumping into the 2024 White House race, emphasized that "one of the things that I hope we find along the way is that we'll quit demonizing people who look like us who disagree with us."
WHAT TIM SCOTT TOLD FOX NEWS ABOUT A FEDERAL ABORTION BAN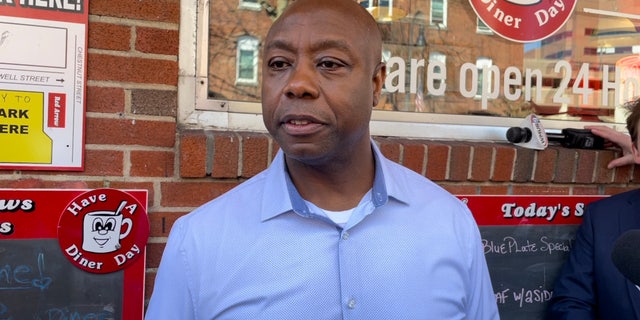 Republican Sen. Tim Scott speaks with reporters after a stop at the Red Arrow Diner in Manchester, New Hampshire, on April 13, 2023. (Fox News )
Jeffries made his criticisms as a 21-year-old student and executive board member of the Black Student Union at Binghamton University in New York State.
He wrote his comments in an editorial first reported this week by CNN. Jeffries was defending his uncle – Black studies professor Leonard Jeffries – who he had invited to speak on campus, following an uproar his uncle had ignited over incendiary language about Jewish people.
HAKEEM JEFFRIES COMPARED CLARENCE THOMAS, OTHER BLACK CONSERVATIVES TO 'HOUSE NEGROES' IN COLLEGE NEWSPAPER
In the editorial, the future federal lawmaker wrote: "there has been a recent trend in the Black political arena which I believe threatens to sustain the oppression of the Black masses. The phenomenon I refer to is the rise of the Black conservative."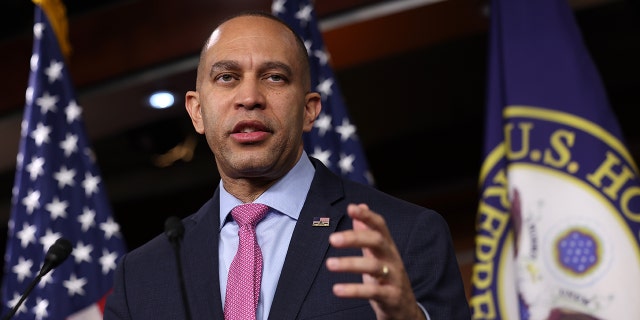 House Minority Leader Hakeem Jeffries speaks during a press conference at the U.S. Capitol on March 1, 2023. (Kevin Dietsch/Getty Images)
"During the period of African enslavement, our ancestors were given the duality of the Field Negro and the House Negro. The Field Negro labored from dawn 'till dusk, had nothing but contempt for his white master, and most importantly, the majority of Black slaves, who were Field Negroes. In contemporary terms, what we would refer to as 'the masses,'" Jeffries wrote.
"The House Negroes didn't labor in the field, they were domestic servants. The House Negro was dressed up and was led to believe that he or she was better than those in the field. Most importantly, the House Negro sought to emulate the white master. This emulation was not designed with the interests of the masses at heart. Rather, the motivating force was personal gain."
FIRST ON FOX NEW: SEN. TIM SCOTT ANNOUNCES PRESIDENTIAL EXPLORATORY COMMITTEE
Jeffries went on to argue: "Perhaps this is the problem with the Black conservative politician of today. Their political agenda is not designed to contribute to the upliftment of their people. These right-wing opportunists espouse the political ideology of the power structure and, in return, they are elevated to positions historically reserved for whites."
Jeffries emphasized in the editorial that he was "not trying to encourage the restriction of Black political thought to one particular ideology" but to critically examine the phenomenon. He pointed to Black conservatives such as Supreme Court Justice Clarence Thomas and the late Secretary of State Colin Powell, who at the time was serving as chairman of the Joint Chiefs of Staff, as prominent examples of the phenomenon.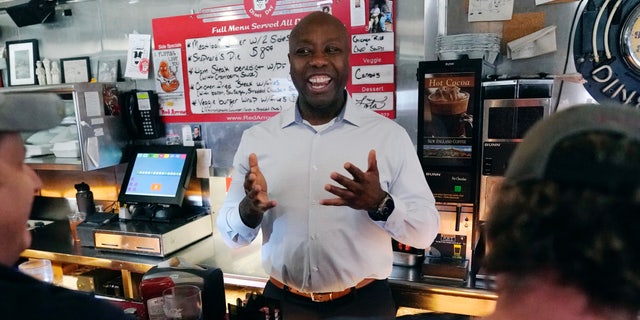 Sen. Tim Scott talks with diners during a visit to the Red Arrow Diner, Thursday, April 13, 2023, in Manchester, New Hampshire. Scott on Wednesday launched an exploratory committee for a 2024 GOP presidential bid, a step just shy of making his campaign official. (AP Photo/Charles Krupa)
Scott told Fox News that "voters are making decisions based on their future and too often now we're seeing more and more African Americans making the decision to vote as independents or with the Republican Party."
He argued that "it scares the dickens out of the left… their polices are so out of line and out of sync with commonsense that they see themselves losing their most important base."
Scott was interviewed during a stop in New Hampshire, which holds the first primary and second contest overall in the GOP presidential nominating calendar.
CLICK HERE TO GET THE FOX NEWS APP
Jeffries' communications director Christiana Stephenson, responding to Scott's comments, told Fox News, "Leader Hakeem Jeffries will continue to focus on solving problems and building an economy that works for everyday Americans."
And taking aim at the Republican senator, she said: "apparently, Sen. Tim Scott has nothing better to do than go back in time to debate 21-year-old college student Hakeem Jeffries. And this is someone who wants to be president?"