On this day in history, May 24, 1883, the Brooklyn Bridge — which spans the East River and connects the boroughs of Manhattan and Brooklyn — opened as the longest suspension bridge in the world.
The Brooklyn Bridge was designed by John A. Roebling, notes the official New York City website.
Construction began in 1869 and was completed in 1883.
"At the time, it was the longest suspension bridge in the world," says the site.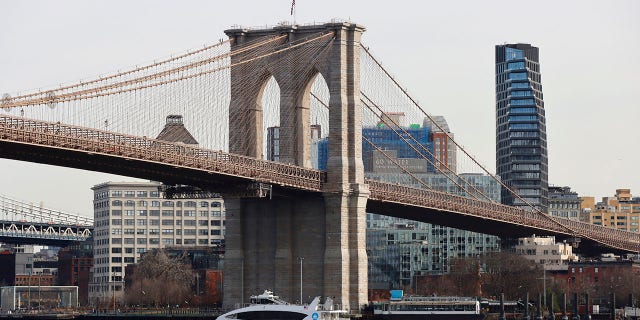 A New York City ferry sails in the East River under the Brooklyn Bridge on Jan. 8, 2022, in New York City.   (Gary Hershorn/Getty Images)
"The crowd cheered as Emily Roebling — wife of the chief engineer and an integral figure in its construction — became the first person to cross [the bridge]. That night, fireworks illuminated the sky," the same source indicated.
The bridge connecting Brooklyn and Manhattan had long been appealing but faced many obstacles.
"The swift waters of the East River seemed impossible to span. Also, any bridge would have to rise high above the river to allow the tall ships to pass beneath," Oxford University Press also noted.
The two granite foundations of the Brooklyn Bridge were built in timber caissons, or watertight chambers, sunk to depths of 44 feet on the Brooklyn side and 78 feet on the New York side, as History.com reported.
ON THIS DAY IN HISTORY, APRIL 4, 1973, WORLD TRADE CENTER OPENS IN NYC, CROWNED BY TALLEST TOWERS ON EARTH
"At that time, little was known of the risks of working under such conditions, and more than a hundred workers suffered from cases of compression sickness, or the 'bends,' which is caused by the appearance of nitrogen bubbles in the bloodstream that result from rapid decompression," the same site noted.
Designer John Roebling's son, Washington Roebling, took up the role of chief engineer of the project, following his father's death, but contracted the aforementioned "bends" two years into construction while overseeing the work.
He was permanently paralyzed, said WNYC.
The iconic bridge was designated a National Historic Landmark in 1964 and a National Historic Civil Engineering Landmark in 1972.

"Emily [Roebling] began relaying her husband's instructions and, building upon her own working technical knowledge, she frequently consulted with contractors and assistant engineers on the project. Emily oversaw the construction to the bridge's completion, and though she was well-respected by the engineers and city officials she worked with, she was granted no official title in relation to the project," the site indicates.

People take photos near Brooklyn Bridge Park in New York City on Oct. 19, 2022.  (YUKI IWAMURA/AFP via Getty Images)

Between the years 1944 and 1954, a comprehensive reconstruction of the Brooklyn Bridge took place, noted NYC.org.

"The inner and outer trusses were strengthened, new horizontal stays were installed between the four main cables, the railroad and trolley tracks were removed, the roadways were widened from two lanes to three lanes, and new approach ramps were constructed," the source notes.

A "wolf moon" is seen rising behind the Brooklyn Bridge on Jan. 28, 2021. (Tayfun Coskun/Anadolu Agency via Getty Images)

Known for its stone arches, the Brooklyn Bridge supports six lanes of vehicles (no trucks) and a shared pedestrian and bicycle path, as NYC.org points out.

As of 2018, an average of over 116,000 vehicles, 30,000 pedestrians and 3,000 cyclists travel over the Brooklyn Bridge daily.

CLICK HERE TO GET THE FOX NEWS APP