Johnny Carson, the king of late-night television, hosted his final episode of "The Tonight Show" on this day in history, May 22, 1992, after a 30-year run.
Carson conducted about 22,000 interviews during his tenure and was seen by more people on more occasions than anyone else in U.S. television history, according to the Vancouver Sun.
The long-running "The Tonight Show" was the first, and for decades the most-watched, network talk program on television, said the Television Academy Foundation.
ON THIS DAY IN HISTORY, MAY 21, 1881, CLARA BARTON, 'BRAVE' BATTLEFIELD NURSE, CREATES AMERICAN RED CROSS
"Carson was known for his glib sense of humor and his middle-American appeal, and quickly recognized his increasing popularity as well as the strain of doing comedy and talk five nights a week," said the Television Academy Foundation.
"As an entertainer, it has been the great experience of my life."

JOHNNY CARSON POKED FUN AT BIDEN PLAGIARISM CLAIMS IN 1980: VIDEO

Carson's insights on his retirement included this comment: "Well, let me try to explain it. If I could magically, somehow — that tape you just saw — make it run backwards, I would like to do the whole thing over again. It's been a hell of a lot of fun."

Johnny Carson (far right), along with Ed McMahon and Robert Blake on "The Tonight Show starring Johnny Carson" in 1975. (Fred Sabine/NBCU)

He went on, "As an entertainer, it has been the great experience of my life, and I cannot imagine finding something in television after I leave tonight that would give me as much joy and pleasure, and such a sense of exhilaration, as this show has given me. It's just hard to explain."
He added, "But my God, the Soviet Union's end did not get this kind of publicity. The press has been very decent and honest with me, and I thank them for that … That's about it."
Midwestern roots
Carson was born John William Carson on Oct. 23, 1925, in Corning, Iowa.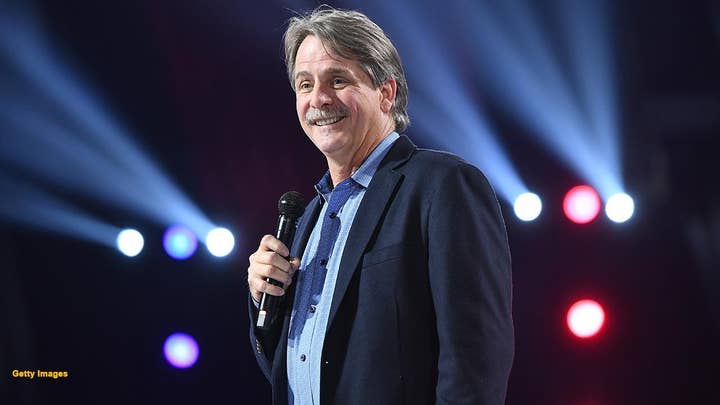 Video
He then hosted a Sunday afternoon comedy show, which led to his being hired as a writer for Red Skelton's show, says Britannica.
"After Carson substituted successfully for Skelton at the last minute on one occasion, he was given his own short-lived variety show, 'The Johnny Carson Show,'" according to the same source.
"He then moved to New York City and in 1957 became host of the game show, 'Who Do You Trust?' In 1962 Carson replaced Jack Paar as host of 'The Tonight Show.'"
During his 30-year tenure, Carson created such memorable characters as Aunt Blabby and Carnac the Magnificent, as well as many classic skits, becoming one of the most beloved performers in the country.
Carson's final appearance as the host of "The Tonight Show" attracted an estimated 50 million viewers, the largest audience in the program's history, noted Britannica.
In total, Carson received six Emmy Awards, the Television Academy's 1980 Governor's Award and a 1985 Peabody Award, said the Television Academy Foundation.
"Leno, a well-known stand-up comedian, brought to the show his own writers and comic style, showcasing it in his opening monologues and banter with guests."
CLICK HERE TO SIGN UP FOR OUR LIFESTYLE NEWSLETTER
On Jan. 23, 2005, Carson passed away at the age of 79.
And "Tonight Show" publicist Charles Barrett said, "He always drove himself to work, never took a limo. He was a guy who expected a level of professionalism from everyone on the show."