A U.S. Army soldier stationed in Texas is facing a murder charge after authorities reversed a determination that her husband, also a military service member, did not die from suicide after he was found with a gunshot wound to the head on Christmas Day 2019.
Sgt. Carmen J. Ironhawk. is charged with first-degree murder in the death of her husband, Sgt. Hector A. Cervantes. The couple was stationed at Fort Bliss in El Paso, Texas.
Cervantes was a father of three, his obituary said, and one of his daughters is named for Ironhawk's older brother, who died in 2014, the Army Times reported.
PENTAGON LEAK SUSPECT JACK TEIXEIRA CHARGED IN FEDERAL COURT, TELLS DAD 'I LOVE YOU'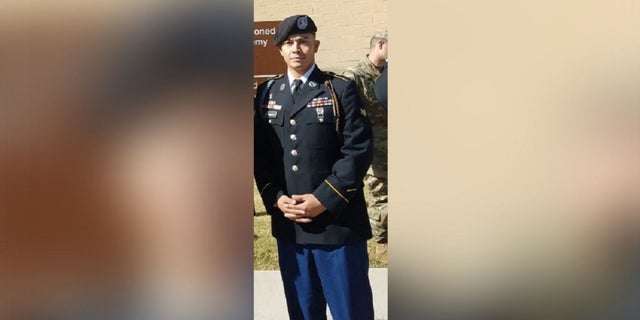 Army Sgt. Hector A. Cervantes died in 2019 and his wife is now charged with murder.
Authorities said Ironhawk shot Cervantes on Dec. 22, 2019.
"The charges referred against SGT Ironhawk are merely allegations and she is presumed innocent until proven guilty," said 1st Armored Division spokesperson Lt. Col. Kimbia Rey in a statement accompanying the charge sheet to the news outlet.
Ironhawk pleaded not guilty at an arraignment earlier this month, Stars & Stripes reported.
She is not under confinement while she awaits a court-martial with a jury panel scheduled for Nov. 6, according to court documents.
The Army's Criminal Investigation Division began investigating the death as a murder after reconsidering the matter.
"The Department of the Army Criminal Investigation Division's investigation is ongoing. It would be inappropriate for us to provide any further information at this time due to the ongoing legal proceedings," CID told Fox News Digital.
CLICK HERE TO GET THE FOX NEWS APP
Cervantes was an infantryman assigned to the Company C, 1st Battalion, 77th Armor and Ironhawk is a signal support systems specialist.