Rare momentum in the Texas Capitol for a tougher gun law flickered out Wednesday after Republicans stalled a bill that would raise the purchase age for AR-style rifles, virtually assuring the GOP-controlled Legislature will in no major way restrict gun access after more mass shootings.
The legislation — always a longshot at best — now has little chance of coming back after unexpectedly coming within reach of a full vote in the state House with the help of two Republicans, which sent Texas' powerful gun lobby scrambling into action.
The unusual forward progress in Texas of a proposed gun restriction jolted the Capitol on Monday, two days after a gunman near Dallas opened fire at an outdoor shopping mall with an AR-style rifle, killing eight people.
DALLAS MALL SHOOTING: WHO ARE THE VICTIMS?
But late Tuesday night, House Republicans let a deadline lapse that stops the bill from going any further.
"Uvalde families didn't fail. Texas politicians did," tweeted Kimberly Mata Rubio, whose 10-year-old daughter Lexi was among the 19 children and two teachers killed by a gunman at Robb Elementary School nearly a year ago in Uvalde, Texas.
The deadline to move the bill toward a full House vote came and went as protesters chanted outside the chamber, including Brett Cross, who had been raising his 10-year-old nephew Uziyah Garcia in Uvalde before the fourth-grader was killed in the shooting. Video on social media showed four Texas Department of Public Safety troopers escorting Cross out of the Capitol during the protest.
Cross said troopers removed him from the Capitol for being too loud. DPS officials did not immediately respond to a request for comment about the incident Wednesday. State Rep. James Talarico, a Democrat, said he was concerned by the removal and planned to seek more information.
The failure of the bill was not unexpected: Republican Gov. Greg Abbott has long rejected calls for tighter gun laws after mass shootings in Texas. He did so again this week after another shooting Saturday in Allen, Texas.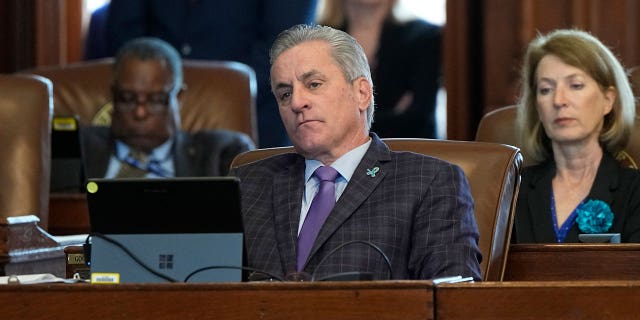 A rare gun control effort in the Texas House, a proposal to raise the purchasing age for AR-style rifles, has stalled. Some Republicans, including Houston-area state Rep. Sam Harless, joined Democratic colleagues in support of the likely ill-fated measure. (AP Photo/Eric Gay)
Two Republicans had unexpectedly helped advance the legislation that would raise the purchase age of semiautomatic weapons from 18 to 21. For gun control advocates in Texas, it was nothing short of a milestone.
But that was followed by gun rights groups — which are rarely forced to play defense in the Texas Capitol — mobilizing pushback in an effort to swiftly stamp out even a glimpse of momentum for gun control supporters.
Texas Gun Rights, one of the most outspoken groups, was joined by Kyle Rittenhouse, who shot three people during a Wisconsin protest in 2020 and was later acquitted of murder.
"This is a perfect example of a knee jerk 'just do something' mentality," said Chris McNutt, president of Texas Gun Rights.
It underlined how almost any attempt to tighten gun laws in Texas is off the table in the state's GOP-controlled Legislature, which in recent years has made gun access easier following other mass shootings and shows no appetite for reversing course. That includes Abbott, who after the shooting in Allen, called mental health the root of the problem.
One of the Republicans who voted to advance the bill was state Rep. Sam Harless, who represents a solidly GOP-leaning suburb near Houston. He said he received no pushback form his House colleagues over his decision.
TEXAS HOUSE PANEL PASSES BILL TO RAISE AGE TO BUY CERTAIN ASSAULT-STYLE RIFLES
"I just voted my heart and my constituents are likely not the gun groups," Harless said.
Another Republican, state Rep. Justin Holland, also joined Democrats on the House Select Committee on Community Safety in voting 8-5 to advance the measure that would raise the purchase age of certain semiautomatic weapons from 18 to 21.
In a statement defending his vote, Holland said, "I do not believe in gun control." He noted that he previously voted in support of Texas removing training and background checks to carry a handgun. He also said he had earned three consecutive "A" ratings from the National Rifle Association — but acknowledged he now has "no idea" if they will rate him so highly going forward.
CLICK HERE TO GET THE FOX NEWS APP
He said testimony given to the committee convinced him that a law raising the purchase age might serve as a "significant roadblock" to a young person acquiring certain semiautomatic weapons and causing harm.