Texas Gov. Greg Abbott announced that an inflatable border was being installed along the Texas-Mexico border Thursday, to make it more difficult for illegal immigrants to enter the country.
The floating barriers are expected to deter illegal crossing at hotspots along the Rio Grande River, and the first 1,000 feet will be placed near Eagle Pass.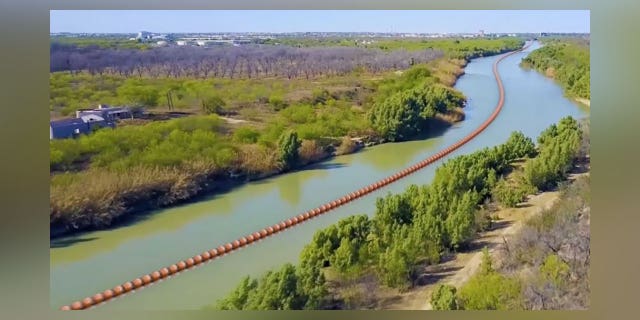 Texas plans to deploy an inflatable barrier along the Rio Grande River in Eagle Pass to deter illegal immigrants from crossing into the U.S. (Texas DPS)
Photos of the inflatable barriers show what appear to be a string of connected inflatable spheres, that when someone attempts to scale them, spin.
TEXAS LEGISLATURE'S FIRST SPECIAL SESSION FOCUSING ON BORDER SECURITY, CUTTING PROPERTY TAXES, ABBOTT REVEALS
FLORIDA NATIONAL GUARD TROOPS 'PROUD TO HELP' FIGHT TEXAS BORDER CRISIS, DESANTIS SAYS
"Thanks to the leadership and hard work of [Texas Department of Public Safety] Director [Steve] McCraw, General Thomas Suelzer, and their teams, Texas has pushed back against the swell of migrants and held the line to keep people out of Texas — but there's more that needs to be done," Abbott said. "The Texas Legislature has stepped up to make sure we continue to robustly respond to President Biden's growing border crisis, including allocating $5.1 billion for border security.
"Today, I am signing six bills from this year's regular session to ensure that Texas can continue to do even more to stop illegal immigration at our southern border and provide new tools to the brave men and women along the southern border to protect Texans and Americans from the chaos and crisis of the border," he added.