Summer camp typically evokes images of playing "Capture the Flag," staying in cozy cabins, singing at campfires and perhaps swimming in a lake.
For a group of nearly 600 teenagers from northern Virginia, summer camp was just a little different from the norm. They spent a week sleeping in a middle school, showering in temporary setups and completing hard manual labor to benefit disadvantaged people in the community.
WorkCamp, an annual week-long camp sponsored by the Diocese of Arlington's Office of Youth, Campus and Young Adult Ministries, put the high school-age teens to work repairing homes in rural Virginia.
'WAIT UNTIL 8TH' PLEDGE AIMS TO EMPOWER PARENTS TO RESIST SMARTPHONES FOR CHILDREN
More than just providing key services to an under-served population, however, Bohli said that he hopes WorkCamp provides opportunities for spiritual growth among the campers.
"The goal is that by living this experience throughout the week, they are going to grow in their faith life," he said.
ABORTION IS 'GRUESOME SIGN' OF WHAT SOCIETY HAS FORGOTTEN, SAYS CATHOLIC ARCHBISHOP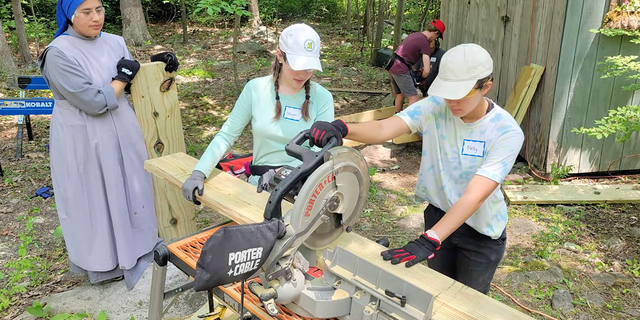 The campers were put to work for a week, doing home repairs in rural Virginia. Here, two campers operate a saw under the watchful eye of their group leader, a religious sister.  (Diocese of Arlington)
From Monday through Friday the teens were on task, working on nearly 200 projects in Frederick, Warren, Clarke and Shenandoah counties, as well as in parts of neighboring West Virginia.
"What we do here is rooted in prayer, but we go forth in service," Bishop Michael F. Burbidge of Arlington said in comments given exclusively to Fox News Digital.
INCREASED USE OF SOCIAL MEDIA TAKES MENTAL HEALTH TOLL ON TEENS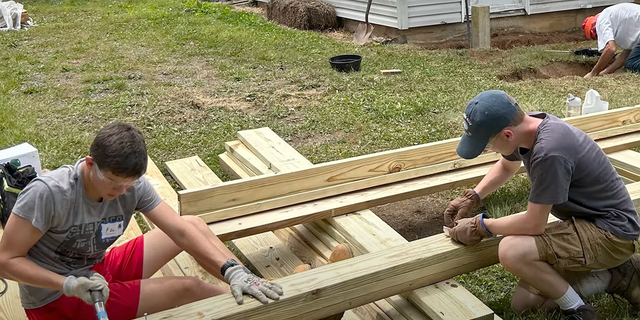 Two campers nail boards together during a project. About 600 teens from across northern Virginia spent a week doing manual labor at WorkCamp.  (Diocese of Arlington)
"I love being at this camp where a bunch of teenagers do not have their phones for a week, because I feel like I can personally connect with more people than I would if we all had phones … It's just a big distraction in our lives," said camper Emily (no last name given) during an appearance on Burbidge's "Walk Humbly" podcast.
For some, WorkCamp is a family affair.
The Edmonson family of Purcellville, Virginia, sent two of their children as campers, and their father, Rae, served as a volunteer leader.
Addi Edmonson, Rae's 15-year-old daughter, was initially unsure if she wanted to spend a week of her summer doing manual labor with her dad.
The younger Edmonson was assigned to a team that repaired a deck and fixed its stairs.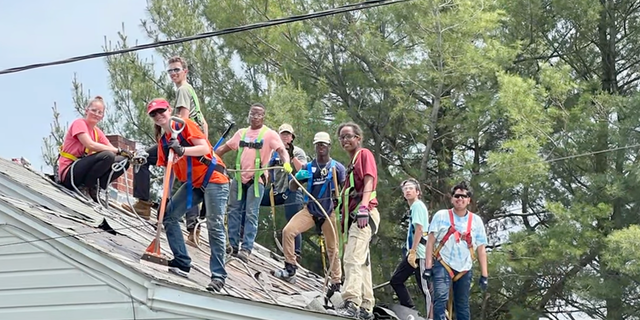 Some campers were assigned to repair roofs.  (Diocese of Arlington)
"My team is good at communicating, and it makes me feel good to be able to help someone," she said in comments provided to Fox News Digital, adding that she was having a good week after all.
"I had never stepped on a roof before," Klarissa Blank, one of the adult leaders, said in comments provided to Fox News Digital.
Blank is the director of youth ministry at St. Rita Catholic Church in Alexandria, Virginia, a job that does not normally involve heights or hammers, she said.
Another theme of the week was inclusivity, particularly regarding teens in the diocese with intellectual and developmental disabilities.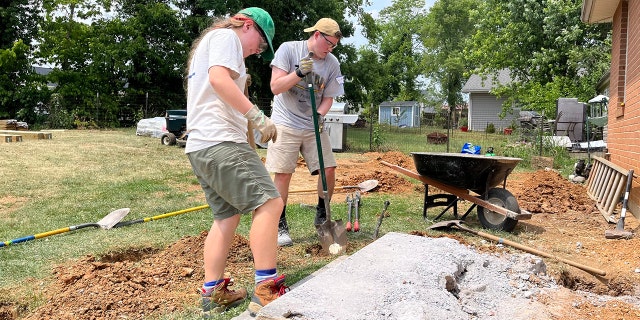 Two teens work on a project during WorkCamp – a far cry from the traditional summer camp activities of making s'mores and singing songs by a campfire.  (Diocese of Arlington)
The topic is one of Burbidge's passions, as he serves as the episcopal moderator for the National Catholic Partnership on Disability. The Diocese of Arlington administers programs for students with intellectual or developmental disabilities to a number of schools, according to its website.
"Including students with intellectual and developmental disabilities in our schools and parishes is a high priority for the Diocese of Arlington, and we see that with WorkCamp as well," he said in comments provided to Fox News Digital.
After offering to put together a separate camp for their children, "they said they weren't interested," he said.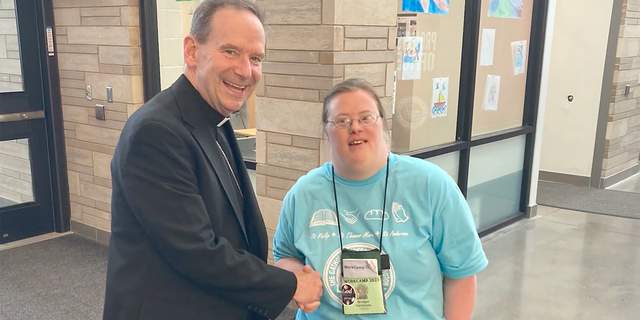 Bishop Michael Burbidge of Arlington posing for a picture with one of the campers at WorkCamp.  (Diocese of Arlington)
"They said they wanted their kids at WorkCamp," Bohli also said.
While it was initially a challenge to make WorkCamp inclusive, Bohli said the inclusion of these students is now a "priority" when it comes to making teams, and additionally, he works with the parents of these students to ensure that all dietary and safety needs are met.
Justin Braun recently graduated from the Options Program at St. Paul IV High School, a high school administered by the diocese.
The Options Program "provides students with intellectual and/or developmental disabilities access to an individualized, inclusive, student-centered Catholic education," says the school's website.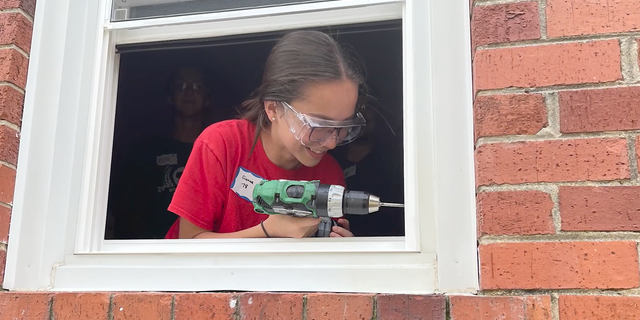 A teenage camper at WorkCamp installing a window. The week of WorkCamp was aimed at helping students grow as people, said the program's executive director Kevin Bohli. (Diocese of Arlington)
"The world isn't set up for people with special needs, so when you find something like WorkCamp that is so accepting and welcoming to people like Justin, you jump right in," said Dan Braun in comments provided to Fox News Digital.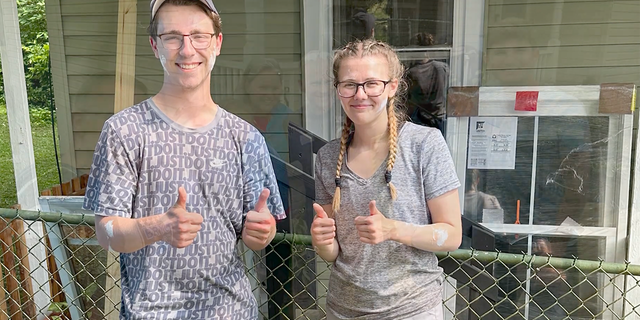 Two smiling and paint-splattered volunteers at a work site at WorkCamp.  (Diocese of Arlington)
"He is a hard worker. I like getting to help him out. Whenever we ask him to do something he immediately says 'yes,'" said Burdan in comments shared by the diocese with Fox News Digital.
Burdan is a repeat camper: This was her second year at WorkCamp.
CLICK HERE TO GET THE FOX NEWS APP