On Teacher Appreciation Day, three teachers told "Fox & Friends" that the nation's schools are facing growing problems with staff shortages, behavioral issues by students and moral dilemmas about politics in the classroom.
"I think the biggest issue we're having right now is there's a national teacher shortage," New York elementary school teacher Brook Ooten told host Ainsley Earhardt.
"Three-quarters of U.S. states now report that they are short on teachers. We have teachers leaving the profession in droves and I think that puts a lot of stress on the teachers that are in the classroom teaching. They're not as well staffed, classes are overcrowded, and that's a big stressor on teachers today," she said.
KANSAS TEACHER RIPS DISTRICT FOR DIVERSITY TRAINING AMID TEACHER SHORTAGE: 'REPEATED WHITE SHAMING'
The issue of education has become a top concern among voters as Republican candidates are leaning heavily into education as a key issue in the 2024 elections. Polls reveal parental rights, transgender policies and politicized school curriculums as key issues.
Another teacher on the panel, Daniel Buck, said that the number one reason teachers are quitting is the trend away from discipline in the classroom.
"The number one reason that a lot of teachers are giving for it is the behavior in the classroom," said Buck, a visiting fellow at the Fordham Institute and author of "What Is Wrong With Our Schools?"
"There's kind of a trend away from discipline, from standard punishments, consequences, and behavior is worsening across the country, and it's affecting everything else in education, including teacher morale."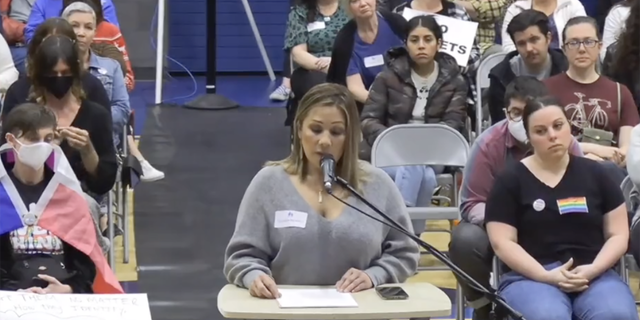 California mom Aurora Regino speaks to her daughter's school board ahead of a vote offering more transparency for parents. (Chico Unified School Board of Education)
Since the pandemic, school board meetings have oftentimes become battlegrounds between parents and school board officials, reigniting the debate over how much control parents should have over their children's education.
Furthermore, school districts across the country were struggling to fill hundreds of open teaching positions in the remaining weeks of summer before the 2022-2023 school year kicked off.
TEACHERS UNION PRESIDENT RIPS PARENTS FOR CHALLENGING BOOKS: 'THEY'RE NOT PATRIOTS, NOR FREEDOM FIGHTERS'
School districts across the country have been struggling with an exodus of teachers since the pandemic, as teachers reported burnout stemming from the uncertainty during lockdowns.
A survey conducted by the National Center for Education Statistics found that 44% of public schools report having full- or part-time teacher vacancies.
The survey, published in March 2022, also found that 61% of public schools reporting at least one vacancy cited the pandemic for the open jobs. Most of the vacancies were due to resignations, not retirement, the survey reported.
Rhode Island high school teacher Ramona Bessinger raised concern over teachers being forced to "adhere to political ideologies in the classroom."
"Teachers are being forced to adhere to these political ideologies in the classroom and contrary to what their personal beliefs are and contrary to what is even right or true. For example, this anti-American content that we're seeing, this anti-girl, anti-boy content that we're seeing."
Bessinger said teachers are being left with a "moral decision" to make and many are opting out.
"Sometimes they just elect to leave the profession or they're pushed out, quite frankly, harassed and bullied."
CLICK HERE FOR THE FOX NEWS APP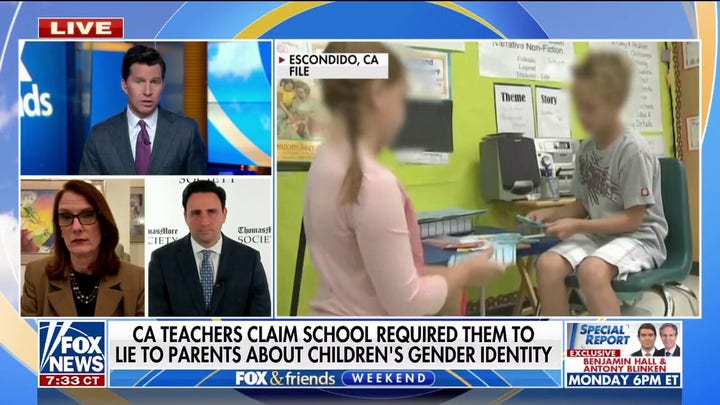 Video