Reps. Eric Swalwell, D-Calif., and Troy Nehls, R-Texas clashed at a fiery hearing on the child migrant crisis at the southern border on Wednesday, with Nehls making comments about Swalwell's "checkered past" after the Democratic congressman quizzed a GOP witness about her activities on Jan 6. 2021.
The hearing, "The Biden Border Crisis: Exploitation of Unaccompanied Alien Children," was held by the House Judiciary Subcommittee on Immigration Integrity, Security, and Enforcement. It comes after a series of reports of how many of the hundreds of thousands of unaccompanied migrant children were exploited and forced into the labor market.
But Swalwell diverted from the topic to quiz one of the witnesses about her activities on Jan 6., and whether she was on Capitol grounds during the riot.
After an intensive series of questions, Swalwell's time expired and Nehls apologized to the witness for his Democratic counterpart's questioning.
WHISTLEBLOWER TELLS CONGRESS THAT GOVT IS DELIVERING MIGRANT CHILDREN TO HUMAN TRAFFICKERS
"You're here for a hearing on the border, and they don't want to talk about the border. Mr. Swalwell is down there, obviously, everybody knows he's made some comments, he's got a checkered past," he said.
Swalwell shot back: "I'm sorry? A checkered past?"
"It's my time," Nehls said. "Alleged affairs, relationships with Yum Yum."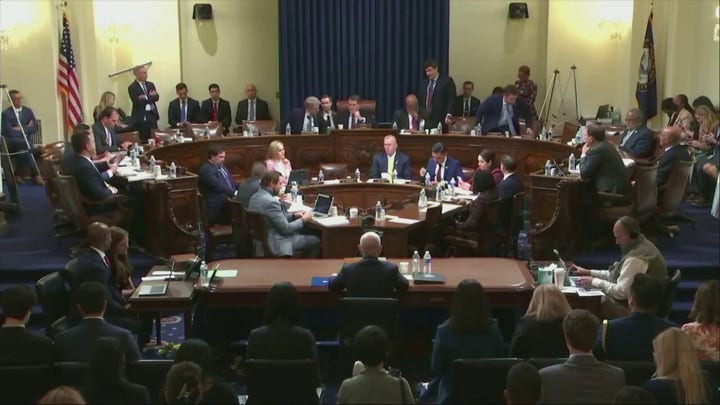 Video
"No, no, no. You don't get to say that s—," Swalwell replied. "That's not true."
Nehls appeared to be referring to Christine Fang, or Fang Fang, a suspected Chinese spy. In 2020, it was reported that Fang had allegedly targeted a number of Bay Area Democrats — including Swalwell — and interacted with him, including helping place an intern in his office, before he was alerted by the FBI of Fang's behavior in 2015. At that point he immediately cut off contact with her and has not been accused of any wrongdoing, according to Axios.
Swalwell said on The View" in January that he handled the situation properly.
"First and foremost, and you don't have to take my word for it, take the FBI's word for it… when they told me who she… I did everything that I hoped everyone would do, which was to cooperate and help the FBI, and she was removed," Swalwell said of Fang.
DEMS ASK FOR GREENE'S WORDS TO BE STRICKEN FROM RECORD AFTER SHE BRINGS UP SWALWELL'S CHINESE SPY SCANDAL
"And Donald Trump, who would later find out about this when he was president, with the greatest access to classified information of anyone who walks the earth, if he could've embarrassed me by showing any wrongdoing, after all the names he's called me, he would've," he added.
However, Republicans have continued to make insinuations about his ties to Fang. Rep. Marjorie Taylor Greene, R-Ga., had words stricken from the record during a Homeland Security Committee hearing last week after she described Swalwell as "someone that had a sexual relationship with a Chinese spy."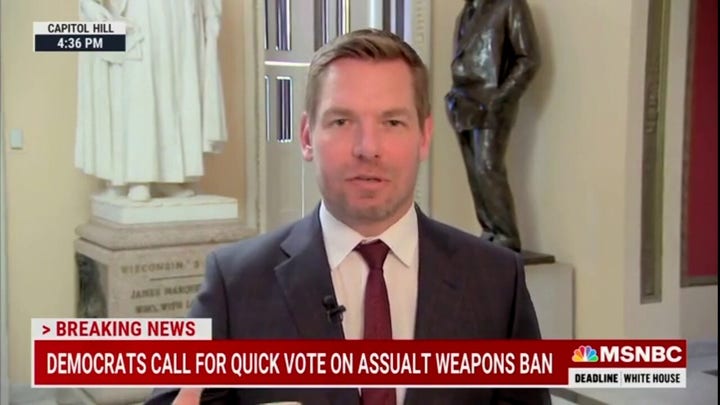 Video
Democrats made a similar move to strike Nehls' comments from the record on Wednesday, with Rep. Jerry Nadler, D-NY, asking that his words be taken down for expressing a slur on another member.
"You don't get to say that, pal," Swalwell added.
CLICK HERE TO GET THE FOX NEWS APP
After a short recess, Nehls was asked if would withdraw his remarks.
"Yes. I would like to rephrase. This is the same member that was removed from the Intelligence Committee," he said, referring to the move by House Speaker Kevin McCarthy to deny Swalwell a seat on the committee in January. Swalwell had called that move an act of "political vengeance" by Republicans.
Fox News' Jessica Chasmar contributed to this report.