"Stranger Things" star Millie Bobby Brown appeared to announce her engagement on Instagram on Monday to Jake Bongiovi, the son of rocker Jon Bon Jovi.
The actress shared a black and white photo of the couple smiling and laughing on the beach, both wearing white as she flashes a ring toward the camera on her social media.
Brown wrote in the caption on her post, quoting the Taylor Swift song, "Lover," by writing, "I've loved you three summers now, honey, I want 'em all."
Bongiovi shared similar photos of the couple on his Instagram as well, with the caption, "Forever."
 
 

 
 
View this post on Instagram
 

 
 
 

 
 

 
 
 

 
 

 
 

 
 
View this post on Instagram
 

 
 
 

 
 

 
 
 

 
 

The couple, Brown, 19, and Bongiovi, 20, faced a litany of comments about being too young to marry when the news broke. Brown's Instagram comments seemed to bear the brunt of the supposedly concerned fans.
"Isn't she still basically a child? This really is some stranger things," wrote one person.
"Come on Millie, 19 years old is too young to get married. Wait a little longer," advised another.
Brown is hardly the first Hollywood star to be engaged or married as a teenager. Take a look at some of the other stars who walked down the aisle at a young age.
JON BON JOVI AND HIS HIGH SCHOOL SWEETHEART WIFE DOROTHEA REVEAL THE SECRET BEHIND THEIR 31-YEAR MARRIAGE
Bo Derek
Bo Derek (born Mary Cathleen Collins) was 16 when she started dating actor and director John Derek, 30 years her senior. John was married to Linda Evans, whom he left for Bo after she starred in a movie he was making, "Fantasies," in Greece.
They ended up moving to Germany to avoid prosecution under California's statutory rape laws. Bo also dropped out of high school and John ended his marriage to Evans. When Bo turned 18, they returned to the United States.
Despite the age gap, Bo and John remained married until his death from heart failure in 1998.
Reflecting on the relationship in 2016, Bo told Interview Magazine, "I just hate myself when I think about doing that," she said, referring to the affair that ended John and Evans' marriage. "That's the worst thing you can do. It was very complicated and dramatic, obviously."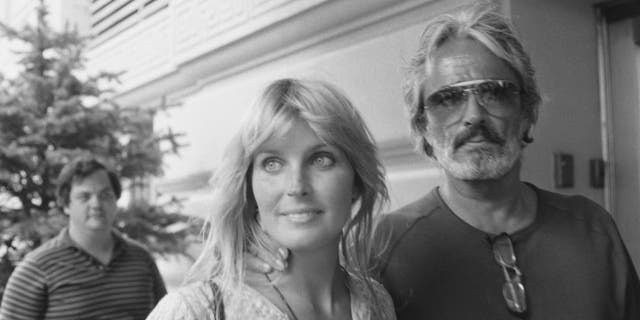 Bo Derek with her husband, actor John Derek, circa 1981. They met when she was 16 and he was 46. (Vinnie Zuffante / Michael Ochs Archives)
"Some people could say it was meant to be, though, because I was with him until he died. But that just sounds like an excuse to me. It's still the wrong thing to do," she added.
Bo later found love with John Corbett, five years her junior. After dating for 18 years beginning in 2002, the pair tied the knot in 2020.
Before they married, Bo spoke with Fox News about her relationship with Corbett.
"It was just an attraction, a comfort," she said. "He makes me laugh all the time. He's full of life, full of joy. I became attracted to him and I still am. We take things day by day and I think we are still there."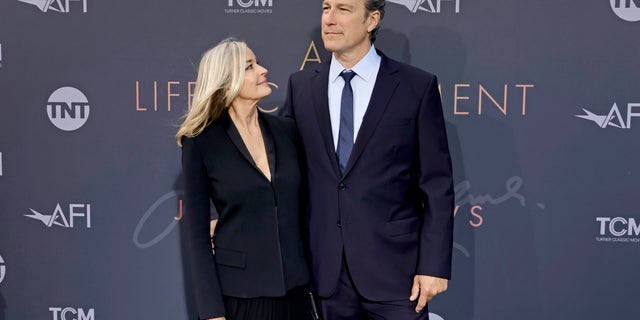 Bo Derek and John Corbett married in 2020 after 18 years of dating. (Kevin Winter / Getty Images for TNT)
JOHN CORBETT AND BO DEREK SECRETLY WED LAST YEAR AFTER TWO DECADES TOGETHER: 'FORGOT TO TELL YOU!'
Melanie Griffith 
Melanie Griffith, daughter of "The Birds" star Tippi Hedren, was 14 when she met Don Johnson, who was 22 at the time, on the set of the film "The Harrad Experiment." Hedren, Griffith and Johnson all appeared in the film together.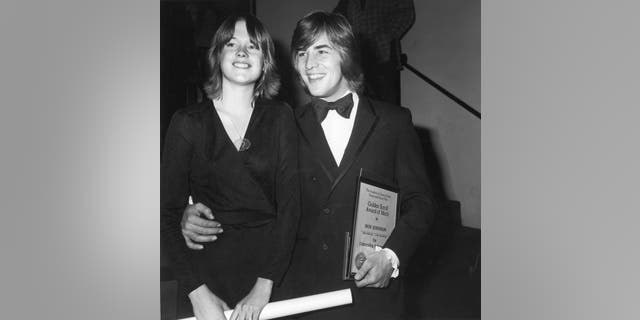 Melanie Griffith and Don Johnson are shown in 1976. Griffith met Johnson at 14 and fell in love, but they did not marry until she was 18 and he was 26. (Frank Edwards)
Griffith and Johnson married when she was 18 in 1976, but the marriage only lasted six months.
After that, Griffith married Cuban actor Steven Bauer in 1981 and had her first child, son Alexander Bauer.
The "Working Girl" star divorced Bauer in 1989 and that same year reconciled and remarried Johnson. They had daughter Dakota Johnson of "Fifty Shades of Gray" fame.
The second marriage between Griffith and Johnson ended in divorce in 1996.
Though they're no longer a couple, Griffith and Johnson remain friendly and participated in a family interview in The Hollywood Reporter with Hedren and Dakota in 2017.
Hedren admitted at the time she was concerned about the relationship between her then-underage daughter and the adult Johnson.
"They were two beautiful, wonderful people, and here, my daughter was showing signs that I had never seen before in her, with an older man, and there was just sheer panic," Hedren said. "How do you handle that? There was a very strong attachment between the two of them."
Johnson added, "Still is."
Griffith went on to marry Antonio Banderas in 1996 and have her third child, Stella Banderas. The "Mask of Zorro" star and Griffith were together for almost 19 years before divorcing in 2015.
In 2018, Griffith told InStyle she has a good relationship with all three of her exes.
"All of my husbands, my three husbands — I love them all so much, and we're all very close," she said.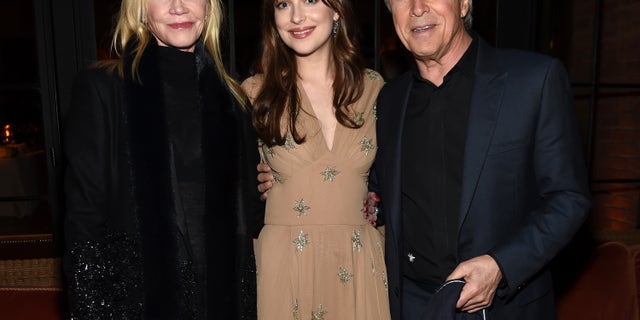 Melanie Griffith and Don Johnson had one child together, Dakota Johnson, who followed in her parent's show business footsteps and is a star in her own right. (Jamie McCarthy)
MELANIE GRIFFITH REFLECTS ON LOVE, SAYS MARRIAGE ISN'T 'RELEVANT' ANYMORE
Drew Barrymore
Drew Barrymore was engaged twice as a teenager before her first marriage at 19.
Her first engagement was at 16 to Leland Hayward III, 24, grandson of Leland Hayward, a Broadway and Hollywood producer. Shortly after that, she was engaged to actor and singer Jamie Walters when she was 18.
That relationship ended quickly, and when she was 19, Barrymore married Jeremy Thomas, a 32-year-old Welsh bartender, on March 20, 1994, at Thomas' bar, The Room, in Los Angeles.
Less than two months later, Barrymore filed for divorce.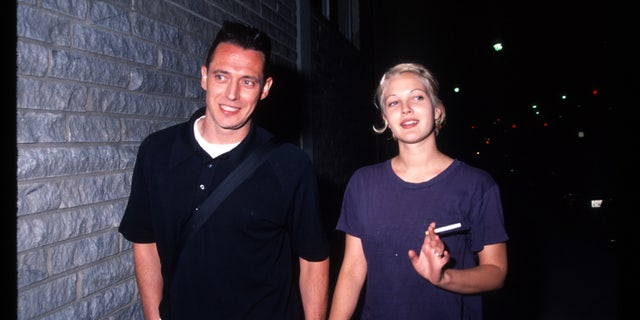 Drew Barrymore and her husband, Jeremy Thomas, were married for two months when she was 19. (Barry King / Liaison)
DREW BARRYMORE SAYS SHE 'REALLY DID NOT TAKE DIVORCE WELL' AFTER PAST FAMILY STRUGGLES
Barrymore later married MTV host and "Charlie's Angels" co-star Tom Green in 2001 after dating for two years, but the marriage ended just a year later.
In 2011, Barrymore began dating Will Kopelman, whom she married in 2012. They had two children together, daughters Olive and Frankie, before separating and ending their marriage in 2016.
Barrymore told People in 2020 she has zero plans to marry again.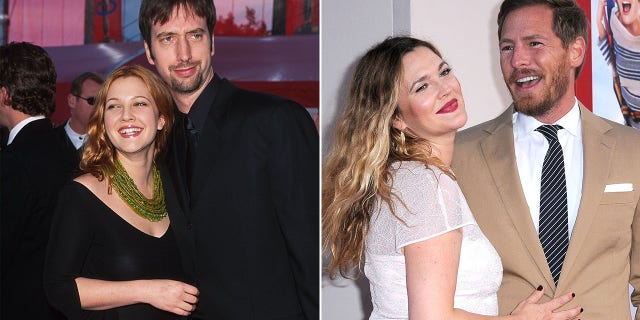 Drew Barrymore was married to Tom Green for a year. She later married Will Kopelman before divorcing in 2016. The talk show host says she'll "never" get married again. (KMazur / Barry King)
"Never. Never, never, never. I will never get married again," she said at the time. "And I also believe people should not say the word 'never,' and I will never, with a capital N-E-V-E-R, never get married."
But she is open to love and romance.
"It doesn't mean that maybe I wouldn't like to meet someone, especially when my kids go off to college," Barrymore continued. "Or a year from now, I could be totally in love. I'm open to it, I'm not seeking it. My cup runneth over. I have so much love in my life."
DREW BARRYMORE SAYS 'WE SHOULD CHAMPION OUR EXES,' TALKS CO-PARENTING WITH WILL KOPELMAN
Macaulay Culkin and Rachel Miner
Macaulay Culkin became a household name at age 10 after starring in "Home Alone" before legally emancipating himself from his parents at 14.
Four years later, he married fellow actor Rachel Miner, both 18 at the time.
Miner gained attention for her role as the younger version of Mia Farrow's character in the 1990 Woody Allen film, "Alice." That same year, she began a five-year run on the CBS soap opera "Guiding Light."
Culkin and Miner were married for two years before they separated in 2000 and finalized their divorce in 2002.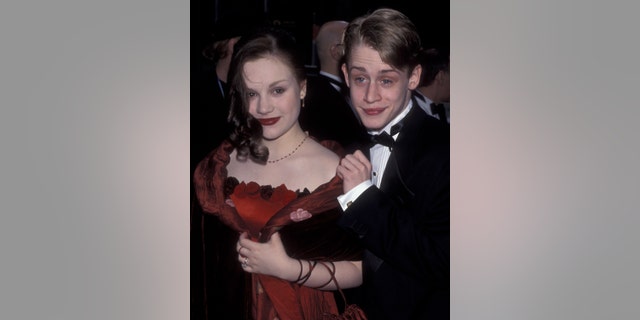 Rachel Miner and Macaulay Culkin both got their start as child actors and married when they were just 18 in 1998. They divorced in 2002. (Ron Galella Collection via Getty Images)
CLICK HERE TO SIGN UP FOR THE ENTERTAINMENT NEWSLETTER
Neither has spoken much publicly about the relationship. Culkin has also stayed private about his later relationships with Mila Kunis and Brenda Song.
Song and Culkin began dating in 2018 and share two children together.
In 2018, before it was confirmed the two were a couple, Culkin referred to dating someone on Anna Farris' podcast, "Anna Faris Is Unqualified," noting his happiness.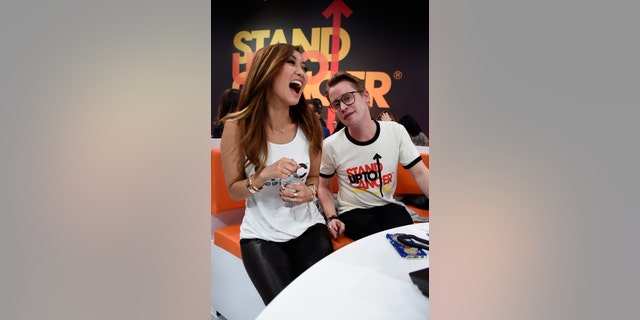 Brenda Song and Macaulay Culkin have been together since 2018 and share two children together. (Kevin Mazur / Getty Images for Stand Up To Cancer)
CLICK HERE TO GET THE FOX NEWS APP
"She just does nice things, and I feel like at first I didn't know how to be treated well in that kind of way. It was a strange, almost foreign concept," he said at the time.