A disgraced Stanford University dean who was widely criticized for her handling of a conservative federal judge's visit, admitted that she didn't handle the situation correctly Sunday.
Tirien Steinbach, the Stanford Law School's associate dean for diversity, equity and inclusion, is currently on leave after she encouraged student protestors who disrupted federal Judge Stuart Kyle Duncan's visit.
Steinbach took the podium to lambast Duncan to his face in a six-minute prepared speech during his March 9 visit, where she described his work as "abhorrent" and "harmful," which "literally denies the humanity of people."
But an article published by the The New York Times reported Steinbach has since admitted she could have handled the situation differently and "did not get the balance right."
STANFORD LAW PROTESTORS DEMAND TO HAVE NAMES REDACTED FROM NEWS REPORTS: 'NOT HOW THE FIRST AMENDMENT WORKS'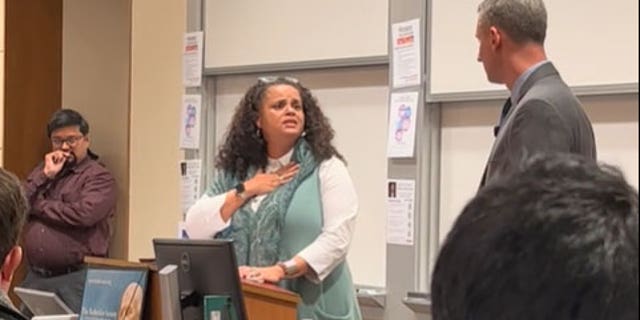 Tirien Steinbach, the Stanford University Law School associate dean of Diversity, Equity and Inclusion, slams U.S. Circuit Court Judge Kyle Duncan during his presentation at the school as an invited guest on March 9, 2023. (Screenshot/ Vimeo – Ethics and Public Policy Center)
The DEI dean told The Times her "role was to de-escalate," not to enforce the school's free-speech policy. "She wanted to placate students who said they were upset with Judge Duncan — 'and to, I hoped, give the judge space to speak his prepared remarks.' …She noted, however, that she had been speaking to students in the room, and did not realize that her words would be blasted out to the world."
Steinbach wrote an op-ed in the Wall Street Journal on March 23 where she explained she planned to use deescalation techniques.
"I stepped up to the podium to deploy the de-escalation techniques in which I have been trained, which include getting the parties to look past conflict and see each other as people," she wrote. "My intention wasn't to confront Judge Duncan or the protesters but to give voice to the students so that they could stop shouting and engage in respectful dialogue."
Duncan, who serves as a circuit judge for the Fifth Circuit Court of Appeals, was invited to speak at Stanford Law School by the Federalist Society on March 9 where he was met with angry protesters who held explicit posters that read "FED SUCK" and "Trans Lives Matter" and yelled insults like "We hope your daughters get raped."
Posters also accused Duncan of crimes against trans people for denying a pedophile prisoner's request to change pronouns in 2020. He called the left-wing campus protesters "juvenile idiots" and said that "prisoners are now running the asylum."
JONATHAN TURLEY: STANFORD LAW DEAN'S SHAMEFUL ATTACK ON FREE SPEECH MEANS THIS FOR THE EDUCATION MOB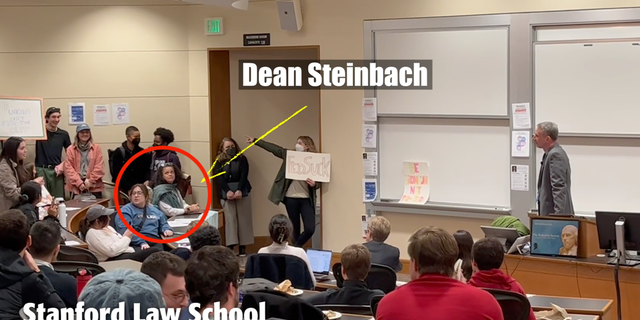 Stanford Law's associate dean of diversity, equity and inclusion Tirien Steinbach seen during the protest against Judge Kyle Duncan.  (FOX NEWS DIGITAL)
Law School Dean, Jenny Martinez and Stanford President, Marc Tessier-Lavinge, formally apologized to the judge a few days after the event, confirming that protesters and administrators had violated Stanford's policies.
"We write to apologize for the disruption of your recent speech at Stanford Law School," Tessier-Lavigne and Martinez wrote in a joint statement. "As has already been communicated to our community, what happened was inconsistent with our policies on free speech, and we are very sorry about the experience you had while visiting our campus."
The letter didn't mention Steinbach by name, but claimed that staff members did not enforce Stanford's policies and "intervened in inappropriate ways" that did not align with the school's commitment to free speech.
WHOOPI GOLDBERG CALLS OUT 'SNOWFLAKES' AFTER STANFORD STUDENT PROTESTS: 'WE DON'T ALL AGREE'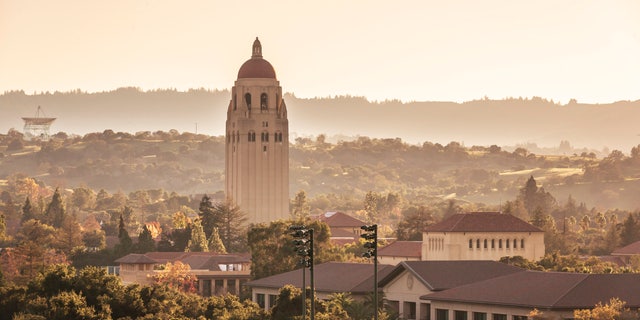 A view of Hoover Tower and the Stanford University campus seen from Stanford Stadium.  (David Madison/Getty Images)
Duncan recounted the experience in a WSJ op-ed on March 17, admitting that he was criticized by the media for his anger at the protestors, but refused to apologize for calling them "appalling idiots," "bullies" and "hypocrites" because "Sometimes anger is the proper response to vicious behavior."
"The most disturbing aspect of this shameful debacle is what it says about the state of legal education," he wrote. "Stanford is an elite law school. The protesters showed not the foggiest grasp of the basic concepts of legal discourse: That one must meet reason with reason, not power."
CLICK HERE TO GET THE FOX NEWS APP
"That jeering contempt is the opposite of persuasion," he added. "That the law protects the speaker from the mob, not the mob from the speaker. Worst of all, Ms. Steinbach's remarks made clear she is proud that Stanford students are being taught this is the way law should be."