The suspect accused of fatally hitting a South Carolina newlywed bride in a drunken driving crash last month has expressed remorse in jailhouse calls with friends and family, according to local news.
Jamie Lee Komoroski, 25, allegedly crashed her red Toyota Camry into Samantha Miller and Aric Hutchinson's golf cart minutes after they left their wedding reception on Folly Beach, South Carolina, killing the bride and injuring the groom, court records show.
"I can't believe this is my life… and my whole life is going to be over," she said through sobs in jailhouse recordings obtained by The Post and Courier. "Oh my God. I just can't believe this happened to me.… Why me?… I'm going to be here for years and years and years and years."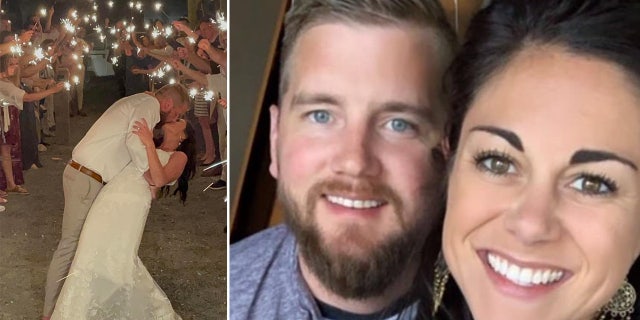 Aric Hutchinson and Samantha Miller on their wedding night, left, and posing together. (Facebook)
"I want it to be over," she said.
Miller was killed instantly in the April 28 collision and was still wearing her wedding dress when she died. Hutchinson suffered bleeding to his brain, broken bones and facial fractures. Two family members who were also in the golf cart survived.
MOTHER OF SOUTH CAROLINA BRIDE KILLED IN WEDDING CRASH LASHES OUT AT ACCUSED DRUNK DRIVER
Police say that Komoroski had a blood alcohol level three times the legal limit and had been driving 65 mph on a 25-mph road.
According to detention logs obtained by The Post and Courier, after authorities arrested Komoroski, she became hysterical and threatened to harm herself. She banged her head on a nurse's desk and continued to bang her head and cry after being placed in a restraint chair.
SOUTH CAROLINA GROOM PLANNING BRIDE'S FUNERAL AFTER TRAGIC WEDDING DAY CRASH
"Resident needs to be watched extremely closely," a deputy wrote at the time, according to The Post and Courier.
Komoroski said in another call with her parents that she is relying on faith to try and stay positive and expressed the desire to apologize to the newlywed couple's family.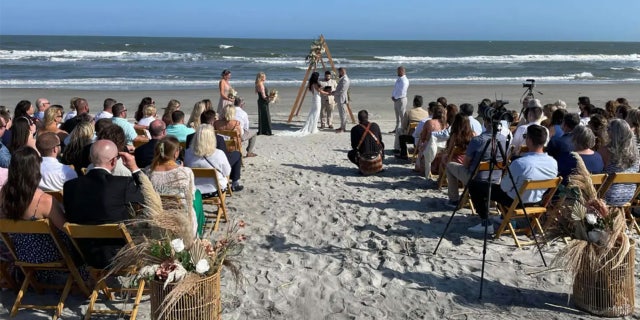 Aric Hutchinson and Samantha Miller's wedding on Folly Beach, South Carolina. (Facebook)
"I just pray and hope that the judge understands how regretful and remorseful I am, and that I'm not a bad person and that I'll never do anything bad again," Komoroski said through tears in the video obtained by The Post and Courier.
The suspect's attorneys, Nathan S. Williams and Christopher S. Gramiccioni, urged the public not to "rush to judgment" in a statement to Fox News Digital.
"We cannot fathom what the families are going through and offer our deepest sympathies," the attorneys said. "We simply ask that there not be a rush to judgment. Our court system is founded upon principles of justice and mercy, and that is where all facts will come to light."
A GoFundMe for the couple titled "Sam and Aric" has raised nearly $730,000 since Miller's death.
Fox News' Rebecca Rosenberg contributed to this report.