A New York man will spend the rest of his life in prison after hiring a hitman to kill his father, a reputed Mafia associate gunned down at a McDonald's drive-thru in what prosecutors called a scheme to control a real estate empire built from mob money.
Anthony Zottola Sr. blotted away tears at sentencing Friday in U.S. District Court in Brooklyn. Audible sobs filled the courtroom as his sister and brother addressed him, the culmination of a wrenching family drama that the judge said was difficult to fathom.
Welling with emotion, his sister Deborah Ann Zottola, spoke lovingly of her brother even as she talked of the pain of losing their father.
NYC MOBSTER'S SON STANDS TRIAL FOR HIRED MURDER OF OWN FATHER AT MCDONALD'S DRIVE-THRU FOR $45M EMPIRE
"I won't dig you a deeper grave. I will continue praying for you … but please pray for me," she said, lamenting that Friday would be the last time she would be in the same room with both brothers.
A jury last fall found Zottola and an accomplice, Himen Ross, guilty in a murder-for-hire plot that prosecutors said went wrong several times before it finally led to the death of the victim, Sylvester Zottola, 71.
The first attack occurred in September of 2017, when a stranger floored the then-70-year-old with a punch to the face outside his Bronx home. Two months later a gunman shot at Sylvester Zottola as he drove on an expressway. In late December of that same year, three men broke into his home and struck him on the head with a gun, repeatedly stabbed him and slashed his throat. He survived.
The following October, he was shot to death by Ross at a McDonald's drive-thru in the Bronx while waiting for a cup of coffee.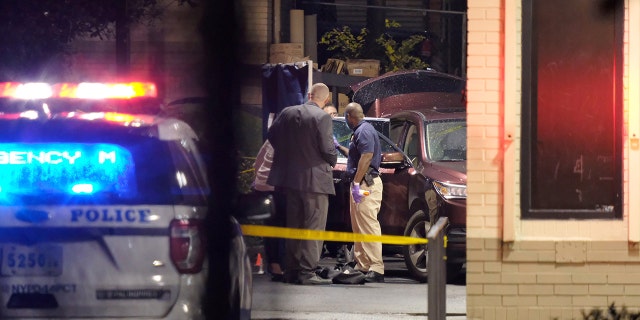 UNITED STATES -October 4: A shooting took place in the drive-thru lane at a McDonalds at 1625 Webster Avenue in the Bronx on Thursday afternoon, killing mobster Sylvester Zottola. Zottolas son, Anthony, will spend the rest of his life in prison for ordering the killing. (Nina Cochran/NY Daily News Archive via Getty Images)
Prosecutors said Anthony Zottola Sr. also tried unsuccessfully to have his brother, Salvatore, killed.
In July of 2018, a gunman shot Salvatore Zottola in the head, chest and hand outside of his home. He survived.
In court, Salvatore Zottola fought back tears.
"Why?" he asked his brother from across the room. "Dad gave you everything. You had everything in life."
The judge also tried to fathom the motive, concluding that it was all about greed and financial gain.
"There was a lot to go around … The defendant wanted more than that," said U.S. District Judge Hector Gonzalez, adding that Zottola showed little remorse for "the unimaginable horror he caused his family."
Zottola spoke briefly before the judge handed down his sentence, telling the court how he missed his wife and three children.
MAN CHARGED IN SLAYING OF DAD WHO WAS REPUTED NEW YORK MOBSTER
Authorities said Anthony Zottola Sr. managed properties for his father's real estate business, which consisted of multifamily rental properties valued in the tens of millions of dollars. Prosecutors alleged the business was built on illegal gambling proceeds connected to the mob.
"Over the course of more than a year, the elderly victim, Sylvester Zottola, was stalked, beaten, and stabbed, never knowing who orchestrated the attacks. It was his own son, who was so determined to control the family's lucrative real estate business, that he hired a gang of hit men to murder his father," U.S. Attorney Breon Peace said after the sentencing.
In addition to the mandatory life sentences, Zottola and Ross were each sentenced to additional 112 years — which represents the combined ages of his father, 71, and brother, 41, when they were shot.
CLICK HERE TO GET THE FOX NEWS APP
Six other men have pleaded guilty for their parts in the murder-for-hire scheme. Four of the men were sentenced to prison time ranging from 16 years to 20 years. Two others are awaiting sentencing.