Scientists monitoring the white shark population in the waters off Massachusetts' Cape Cod are attaching improved sensors, including cameras, to the predators to help scientists keep track of their whereabouts and to keep beachgoers informed and safe, researchers said Tuesday.
The program comes just as tourists are filling up hotels and rental properties on the Cape for the summer — and white sharks are returning in greater numbers to feed on the region's abundant seals.
Interactions between white sharks and humans are rare. But the risk is still there. There have been five in Massachusetts since 2012 — three of them classified as bites, one of which was fatal, said Greg Skomal, the state Division of Marine Fisheries shark expert.
RUSSIAN MAN DIES AFTER BEING MAULED BY SHARK OFF EGYPT'S RED SEA RESORTS
They capture more than just video. The sensors can detect a shark's depth, direction, surrounding water temperature and whether it's accelerating or slowing down. The technology allows scientists to monitor the sharks on a second-by-second basis, Skomal said.
Megan Winton, a staff scientist at the Atlantic White Shark Conservancy, calls it giving smartphones to sharks.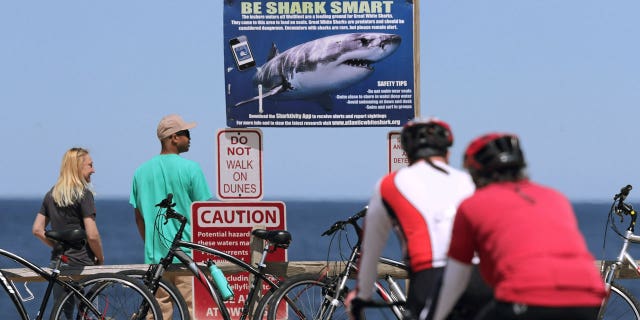 Scientists are equipping sharks off Cape Cods coast with so-called "smartphones" in an effort to better track their whereabouts and behavior. (AP Photo/Charles Krupa, File)
"They're outfitted with an incredible array of sensors that tell us about the animal's movements and their environment," she said, adding that it's "essentially just riding on the back of a white shark."
"They slowly patrol the shoreline very methodically until they essentially have a chance to make their move," Winton said.
STUDY FINDS REGULAR PEACEFUL COEXISTENCE BETWEEN SHARKS, HUMANS IN SOUTHERN CALIFORNIA WATERS
The technology also has provided insight into how curious sharks are. They have been seen coming to the surface to nibble a lobster buoy or check out a bird or some other piece of flotsam, she said.
"We want them to understand these animals and their habits the way we do," Winton said.