Sen. Tom Carper, D-Del., announced Monday that he will not seek reelection in 2024, paving the way for someone new to hold the seat after his four terms of service.
Carper, 76, served as governor of Delaware before winning four terms as a Delaware senator. His retirement may cause a pitched battle among Democrats to win the party's primary for the deep-blue seat. Carper did indicate support for a specific successor on Monday.
"While nothing is forever, the Delaware Democratic Party is blessed today with a bench as strong as any I've ever seen in the 50 years that I've called Delaware home," Carper said in a press conference. "If there was ever an opportune time to step aside and pass the torch to the next generation, it's coming, and it will be here on Jan. 3, 2025."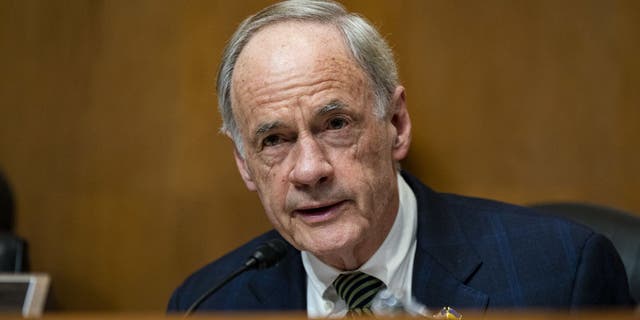 Sen. Tom Carper, a Democrat from Delaware and chairman of the Senate Environment and Public Works Committee, announced his plans to retire rather than seek reelection in 2024. (Al Drago/Bloomberg via Getty Images)
JOE MANCHIN'S SENATE SEAT RACE HEATS UP AS GOV JUSTICE JUMPS IN: 'I'M WORRIED ABOUT THIS NATION'
Carper says he called Rep. Lisa Blunt Rochester, D-Del., Monday morning and said he was "getting out of the way" in order for her to run. He said she accepted his support, but he declined to say whether she plans to run.
Carper is one of several Democrats who have announced their retirements in 2024. A total of 34 Senate seats – 20 currently held by Democrats, 11 currently held by Republicans and three currently held by independents – will be up for grabs in the next cycle. The three independent senators currently caucus with Democrats in the Senate, meaning Democrats will be tasked with defending 23 of the 34 seats in 2024 if they wish to maintain their majority in the legislative body.
Carper's retirement does not present a major risk of flipping red, however, as the state's electorate leans heavily toward Democrats.
While Carper expressed his support for Rochester on Monday, she may face a Democrat challenger in Delaware Gov. John Carney, who cannot run for reelection in 2024 due to term limits. He has not announced what his plans are beyond his current term, however.