Senate Majority Leader Chuck Schumer announced the federal government will provide nearly $7 billion for the construction of a long-delayed rail tunnel between New York and New Jersey.
The funds come from President Biden's 2021 infrastructure law. Of the $1.2 trillion allocated by the law, $66 billion was marked for railway use. The tunnel grant is the largest sum ever awarded for a mass transit project.
It is a big win for Schumer, Biden's most powerful ally in Congress, as well as lawmakers on both sides of the Hudson River who have been pushing for the project for a decade.
"BIG: I'm thrilled to announce the new Gateway tunnel will receive $6.88 BILLION thanks to our infrastructure law! The largest grant ever from [the Federal Transit Administration's] Capital Investment Grants Program," Schumer wrote on Twitter.
SCHUMER'S AI REGULATORY EFFORT SLOWS AS 'WEEKS' TURN INTO MONTHS
However, the money secured by Schumer, the project's most ardent supporter, is only part of the total $16.1 billion expected cost for the underground tunnel – the largest piece of the greater Gateway effort.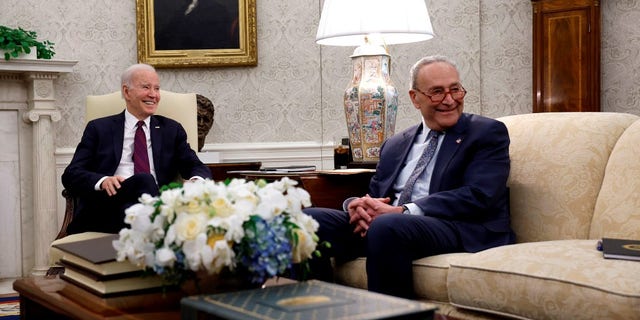 Senate Majority Leader Chuck Schumer, right, one of President Biden's strongest allies in Congress. (Photo by Anna Moneymaker/Getty Images)
Former White House Chief of Staff Ron Klain pointed out, alongside Schumer's celebratory tweet, that the Democratic Senate leader "made it clear that this was his top infrastructure priority."
In 2020, shortly after Biden won the presidential race, Schumer accused Trump of holding the Gateway project "hostage for four years."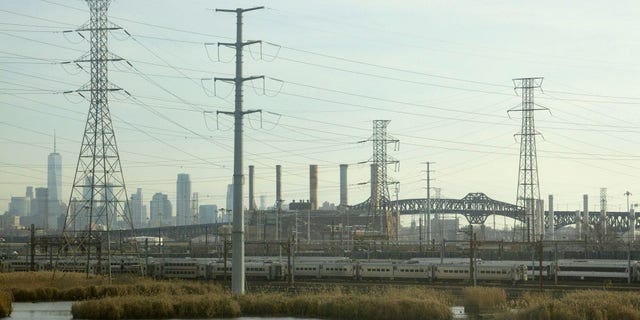 The New York-New Jersey line of the Northeastern Corridor, the most heavily-trafficked commuter rail in the country, has been in dire need of repair since sustaining damage in Hurricane Sandy in 2012.
"When he invited me into the Oval Office to try and force an agreement to build the wall and then maybe Gateway, I had a few choice Brooklyn words for him – 'No effing way, Mr. President,'" Schumer said.