Robert F. Kennedy Jr. warned in an interview on "Tucker Carlson Tonight" that America is turning into a "system of socialism for the rich" after formally launching his 2024 Democratic presidential primary campaign Wednesday at an event in Boston.
President Biden's newest challenger is the son of Robert F. Kennedy and nephew of President John F. Kennedy. RFK Jr. told "Tucker Carlson Tonight" hours after his campaign launch what he sees as the most pressing issues facing the United States. He cautioned that a corrupt merger of state and corporate power is turning the country into a "corporate kleptocracy."
"There's a cushy socialism for the rich and this kind of brutal, merciless capitalism for the poor. It keeps us in a state of war… it bails out banks," he said.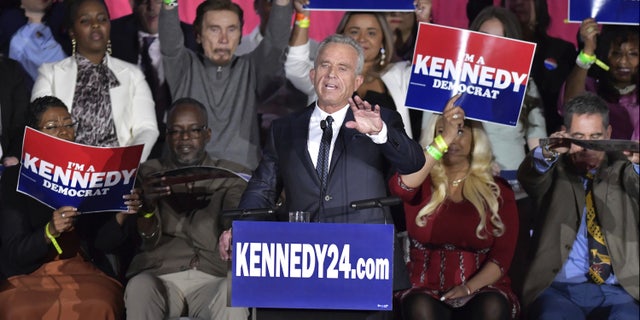 Robert F. Kennedy Jr. speaks at an event where he announced his run for president on Wednesday, April 19, 2023, at the Boston Park Plaza Hotel, in Boston. (AP Photo/Josh Reynolds) (AP Photo/Josh Reynolds)
ROBERT F. KENNEDY JR. GAINS SIZABLE CHUNK OF BIDEN VOTERS AT PRESIDENTIAL LAUNCH: POLL
"Last month, the United States government told 30 million people it was cutting their food stamp checks by 90%," he continued. "It took 15 million people off Medicare. The same month it gave $300 million to the Silicon Valley Bank and tapped up the cost of the Ukraine war to $113 billion. We're sending $113 billion to the Ukraine. The entire budget of EPA is $12 billion. The budget of CDC is $11 billion. We have 57% of American citizens could not put their hands on $1,000 if they have an emergency. A quarter of our citizens are hungry. So we're cutting welfare and food stamps by 90%."
The 2024 presidential candidate claims that the country is bailing out bankers and paying for a war that it can't afford.
"The way that we do this is by printing money," Kennedy said. "We've printed 10 centuries of money in the last 14 years."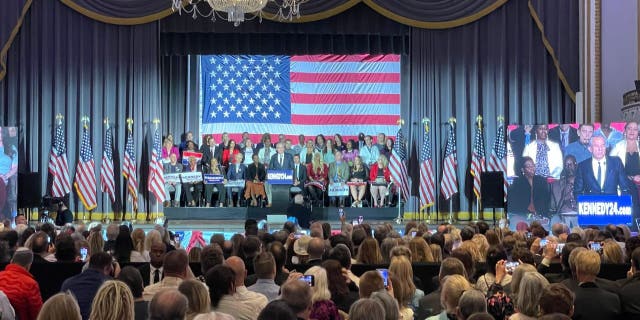 Robert F. Kennedy Jr. announces presidential campaign in Boston (Fox News)
Kennedy noted that the excessive printing of money is causing inflation and fueling increased food prices – which he calls "a tax on the poor."
AARON RODGERS APPEARS TO SUPPORT DEMOCRAT PRESIDENTIAL CHALLENGER WITH ONE EMOJI
"We've raised food prices for basic foods like chicken, dairy and milk by 76% in the last two years, and now we're cutting people's food stamps and bailing out banks the same month," Kennedy said. "It doesn't make any sense."
He added, "We need to get rid of this kind of corporate control of our government… our democracy is devolving into kind of a corporate plutocracy."
Kennedy is considered a long shot in the presidential race, but a new poll says he has taken a chunk of President Biden's supporters in the outset of his campaign. A new USA TODAY/Suffolk University poll says 14 percent of Biden's 2020 voters flocked to Kennedy when he first announced his candidacy earlier this month.
Kennedy and Marianne Williamson are the first Democratic candidates to challenge Biden in the 2024 presidential race.