Rescue crews worked Thursday to reach towns and villages in northern Italy that were cut off from highways, electricity and cell phone service following heavy rains and flooding, as farmers warned of "incalculable" losses and authorities began mapping out cleanup and reconstruction plans.
The death toll from rains that pushed two dozen rivers and tributaries over their banks stood at nine, with some people still unaccounted for, said Stefano Bonaccini, president of the hardest hit northern region of Emilia-Romagna.
Local mayors warned that some remote villages were still completely isolated because landslides had made roads impassable and phone service remained severed. That has prevented rescue teams from reaching residents and authorities from understanding the full scope of their needs, said Mercato Seraceno Mayor Monica Rossi.
ITALIAN FLOODING FORCES RESIDENTS TO ROOFTOPS, VENETIAN AUTHORITIES PREPARE TO ACTIVATE BARRIER IN LAGOON
More than 10,000 people fled their homes, some plucked from rooftops or balconies by rescue helicopters and others ferried out on dinghies. One family with a 20-day-old baby was rescued Thursday morning, said Cesena Mayor Enzo Lattuca. Another packed their belongings into an inflatable pool that they floated down the thigh-high river of mud that was previously a street.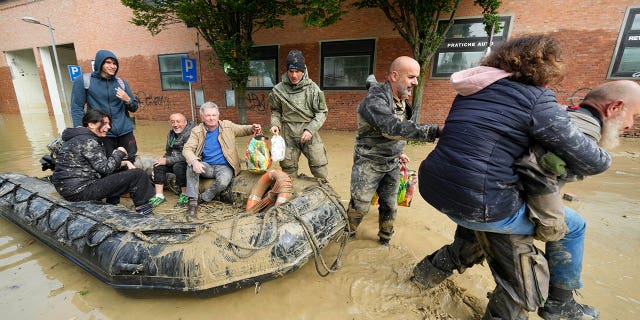 People are rescued in Faenza, Italy, on May 18, 2023. Exceptional rains in a drought-struck region of northern Italy have killed at least nine people. Rescue teams began working to reach isolated towns cut off from the flooding. (AP Photo/Luca Bruno)
The drought-parched region had already estimated some 1 billion euros in losses from heavy rains earlier this month, but Bonaccini said the losses now reached multiple billions given the widespread damage to farmland, storefronts and infrastructure.
Italian farm lobby Coldiretti said more than 5,000 farms with greenhouses, nurseries and stables had been flooded, covering thousands of acres of vineyards, fruit groves, vegetables farms and grain fields. It said damage estimates were "incalculable," because not only current harvests but future ones could be affected, given the permanent damage to roots from the "suffocating" mud of the runoff.
The Superior Institute for Environmental Protection and Research has identified Emilia-Romagna as one of the most at-risk Italian regions for flooding, where both territory and populations face higher risks of "hazard scenarios" than the rest of the country.
CLICK HERE TO GET THE FOX NEWS APP
The hardest-hit eastern part of the region, sandwiched between the Apennine mountain chain and the Adriatic Sea, was first hit by intense rain earlier in May. The second downpour tested the ability of drought-parched soil to absorb water, the institute said, adding that high sea elevations and bora winds against the coast may have contributed to the flooding of rivers and tributaries.