Experts say Prince Harry and Meghan Markle could have avoided security troubles and what they claim was a "near catastrophic car chase" by staying at a hotel in New York City Tuesday night.
A spokesperson for the royal couple told Fox News Digital the Duke and Duchess of Sussex were involved in a chase "at the hands of a ring of highly aggressive paparazzi" that lasted over two hours.
The NYPD told Fox News Digital the photographers "made their transport challenging" but they arrived at their destination safely.
The royals were reportedly headed uptown to a friend's private residence, where they were spending the night, and many believe they didn't want to tip off paparazzi to their location.
"If anyone breaks in, you have your own security based on your own floor, standing outside your door or situated in the rooms next door to you or across the hall. You are essentially in a fortress."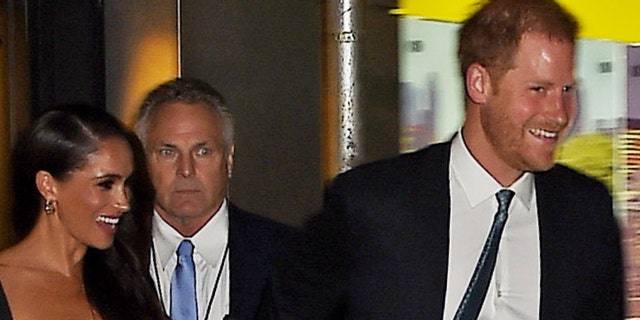 Prince Harry and Meghan Markle left the security of their SUV, went to a police station, then grabbed a cab during an alleged chase involving paparazzi Tuesday night. (MEGA/GC Images)
Selden, who has spent two decades providing professional security to the rich and famous in Manhattan, explained, "You cannot have the same security staying in a residential townhouse."
The Duke and Duchess of Sussex claimed they were chased by photographers in a "relentless" pursuit after leaving the Women of Vision Awards, where Markle was honored for her advocacy work.
PRINCE HARRY, MEGHAN MARKLE ALLEGED CAR CHASE CAUSES CONTROVERSY AMID ROYAL SECURITY BATTLE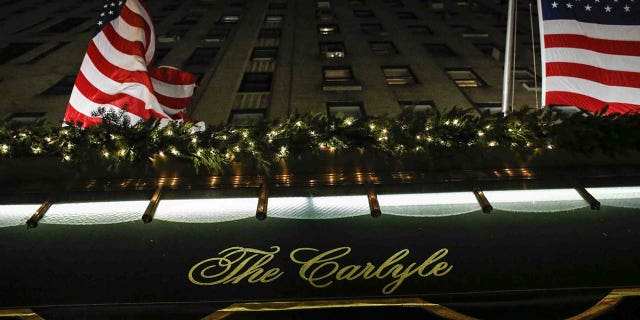 The Hotel Carlyle has been a celebrity hot spot for decades. (Kena Betancur/AFP via Getty Images)
A better option for the beleaguered couple could have been the Carlyle Hotel, named after Scottish author Thomas Carlyle, which has been a celebrity favorite for over 90 years, as well as a favorite of the royal family.
Harry's late mother, Princess Diana, frequently stayed at the Carlyle prior to her death in 1997.
The hotel has also hosted royalty from Denmark, Greece, Spain and Sweden, according to Forbes.
John F. Kennedy and his wife, Jackie Kennedy, stayed at the Carlyle while the former president held a meeting with Eleanor Roosevelt just after his election.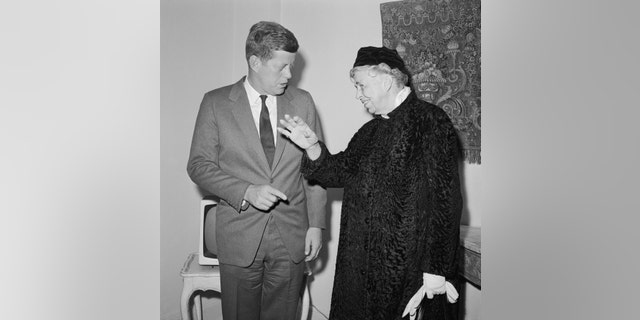 John F. Kennedy talked with Eleanor Roosevelt during a breakfast meeting at Kennedy's headquarters, the Carlyle Hotel, in Manhattan. (Getty Images)
Jackie also lived in the hotel for 10 months after John died in 1963 before purchasing a home on Park Avenue, People magazine reported.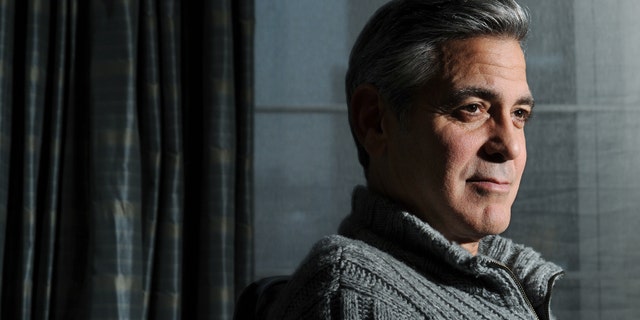 George Clooney poses for a portrait at the Carlyle in 2014. (Matt McClain)
Jon Hamm echoed Clooney's comments about the Manhattan hot spot. "
If you're staying here, you feel like you've made it," the actor said, adding, "I've never stayed here."
Stars such as Anna Wintour, Bella Hadid and Rihanna have stayed at the Carlyle while preparing to walk the red carpet at the Met Gala, which is near the five-star hotel.
CLICK HERE TO SIGN UP FOR THE ENTERTAINMENT NEWSLETTER
Markle is no stranger to upscale hotels in New York, as she held her baby shower just a few blocks away from the Carlyle at The Mark in 2019.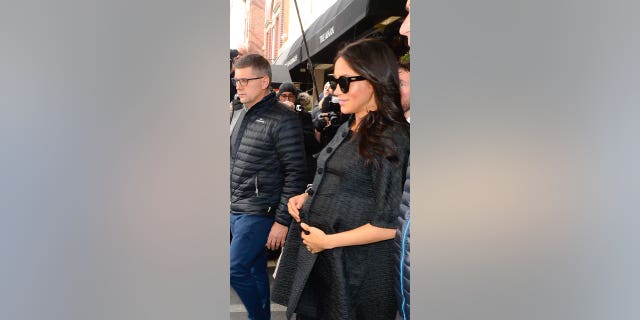 Meghan Markle was seen walking out of The Mark Hotel in February 2019. (Raymond Hall/GC Images)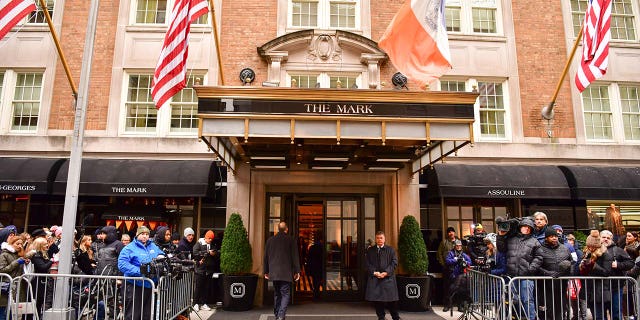 The Mark Hotel for Meghan's baby shower Feb. 20, 2019. (James Devaney/GC Images)
According to The Observer, Markle stayed in the hotel's two-story Grant Penthouse Suite, which is the largest in the world, with a price tag of $75,000 per night.
Fox News Digital's Chris Eberhart contributed to this report.