The president of what will be a new state university in Vermont is stepping down less than three months before its official launch, the Vermont State College System announced on Friday.
The resignation of Parwinder Grewal as president of Vermont State University is effective immediately.
In a statement announcing Grewal's resignation, the state college system said Grewal was leaving "for personal reasons."
UNIVERSITY OF VERMONT, FEDS REACH SETTLEMENT IN ANTISEMITISM CASE
Grewal will be replaced by Michael Smith, who will serve as interim president for six months. Smith has worked for years in a number of state government positions, most recently as the secretary of the Vermont Agency of Human Services during the COVID-19 pandemic.
Smith has been asked to "pause" implementation of an all-digital library system and the restructuring of athletics of the different campuses that will make up Vermont State University.
In February the state colleges system, which has struggled financially for years, announced that the Vermont State University library would shift to an all-digital format on July 1. It also announced a series of changes to the athletics programs on the different campuses.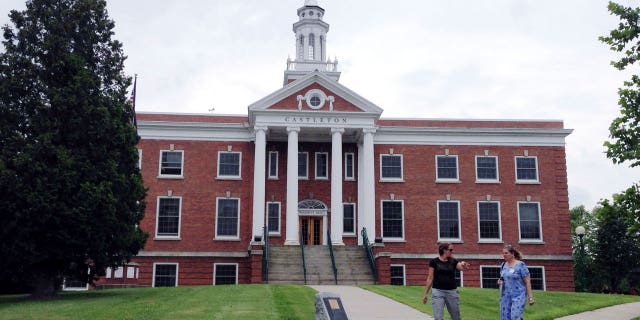 This July 2015 photo shows Castleton University, then Castleton State College, in Castleton, Vermont. The campus will be incorporated into the new Vermont State University, whose prospective president, Parwinder Grewal, has preemptively resigned. (AP Photo/Lisa Rathke, File)
The proposals drew protests from students, faculty and library professionals.
In the aftermath of the proposals, the faculty voted no confidence in Grewal and the leadership of the state college system.
The Vermont State University is the culmination of years of work to unify the state colleges, streamline academic offerings and achieve financial sustainability.
Three years ago, Jeb Spaulding, the former chancellor of the state college system, resigned less than a month after proposing the closure of three campuses that will be part of the new Vermont State University.
EX-VERMONT GOVERNOR SUES MIDDLEBURY COLLEGE FOR CHANGING NAME OF ITS CHAPEL BASED ON 'GROSSLY DISTORTED CLAIM'
"We knew this work would be difficult -– in fact, none of this work is simple or easy but we are making steady progress and will be ready to launch Vermont State University in July," Sophie Zdatny, the current chancellor of the Vermont State Colleges System, said in a statement announcing Grewal's resignation.
Zdatny said the state college system appreciates Grewal's service.
Smith said it was an honor to take on his new role as interim president.
CLICK HERE TO GET THE FOX NEWS APP
"I am excited to work with the faculty and staff and welcome the inaugural class who will help chart this new path forward," Smith said. "Together, we are making history and securing a legacy that will serve generations of Vermonters."