The president of the largest teachers union in the United States endorsed President Biden and Vice President Kamala Harris for re-election in 2024.
Becky Pringle, the president of the 3-million-member National Education Association, announced on Wednesday that the labor union is "recommending President Biden and Vice President Harris to continue their leadership in prioritizing America's students, educators, and public schools as the Democratic nominees for re-election."
"No matter what we look like, where we come from or where we live, we believe every student deserves safe, just, and high-quality public schools, colleges, and universities that help them pursue their dreams and fulfill their true potential," Pringle said.
PRESIDENT OF LARGEST TEACHER UNION DECLARES RACIAL, SOCIAL JUSTICE A 'PILLAR' OF EDUCATORS' EFFORTS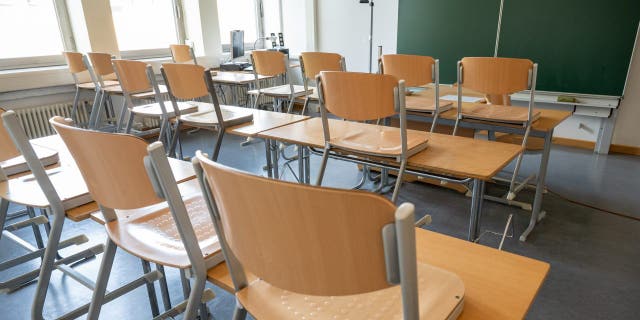 An empty classroom with the chairs up. (Peter Kneffel/picture alliance )
"President Joe Biden and Vice President Kamala Harris are tireless advocates for public education, proving time and time again that this is the most pro-public education and pro-union administration in modern history," Pringle added. "They have partnered with parents and educators to strengthen public schools and expand learning opportunities for all students – Black, white, Latino, Asian, Native, newcomer, LGBTQ+, or differently-abled, from rural, suburban, and urban communities alike."
The NEA cites several "accomplishments" by the Biden administration, which included "canceling up to $20,000 of student debt for millions of Americans" and delivering "the largest investment in public education in U.S. history," according to the press release.
RANDI WEINGARTEN LAUNCHES HOTLINE FOR PARENTS, PUBLIC TO REPORT INSTANCES OF BOOK BANNING, CENSORSHIP
The NEA touts the Biden administration as helping to "ensure school districts across the nation can raise educators' salaries, address educator shortages, fix crumbling school buildings, support historically Black colleges and universities, expand apprenticeship programs, and grow learning opportunities for our students."
President Biden announced that he and Vice President Harris will seek re-election in a video released early Tuesday morning.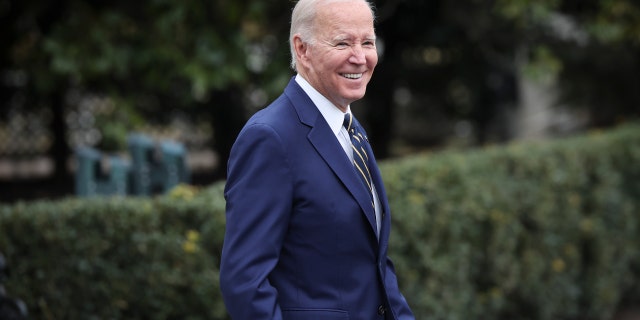 U.S. President Joe Biden departs the White House on January 19, 2023, in Washington, D.C.  ((Photo by Win McNamee/Getty Images))
MOMS FOR LIBERTY FOUNDER'S TESTIMONY TORCHES DOJ FOR TARGETING PARENTS: 'THERE MUST BE ACCOUNTABILITY'
Furthermore, Fox News Digital recently reported on Pringle declaring that racial and social justice is a "pillar" of the NEA's efforts.
The COVID-19 pandemic's toll on the learning of kids across the U.S. was revealed through the most recent results of the national test scores that show sharp declines in math and reading.
Math scores saw their largest decreases ever, while reading scores dropped to levels not seen since 1992 for fourth and eighth graders across the country, according to the Nation's Report Card. The average mathematics score for fourth-grade students fell five points from 2019 to 2022. The score for eighth-graders dropped eight points. Reading for both grades fell three points since 2019.
Math scores were worst among eighth graders, with 38% earning scores deemed "below basic" — a cutoff that measures, for example, whether students can find the third angle of a triangle if they're given the other two. That's worse than 2019, when 31% of eighth graders scored below that level.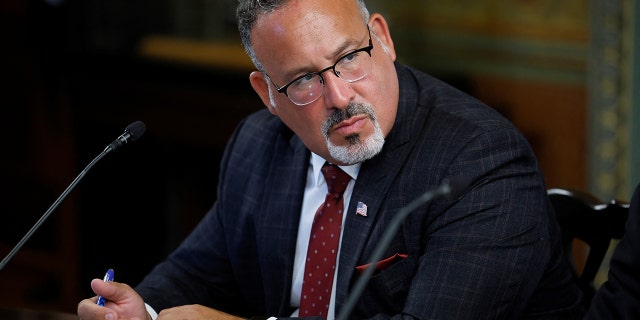 Secretary of Education Miguel Cardona in the Eisenhower Executive Office Building in Washington, D.C., Aug. 8, 2022.  (REUTERS/Evelyn Hockstein)
CLICK HERE FOR THE FOX NEWS APP
Reacting to the national test scores, Education Secretary Miguel Cardona said the statistics are a sign that schools need to redouble their efforts, using billions of dollars that Congress gave schools in response to the pandemic to help students recover.
"Let me be very clear: these results are not acceptable," Cardona said.