An explosion in Paris Wednesday sent firefighters rushing to put out a blaze that engulfed the central area of France's capital city.
Paris police chief Laurent Nunez told reporters there were 16 people injured, including seven in "emergency condition." The fire was contained but not extinguished, he said.
Firefighters fought the flames on Paris' Left Bank on Wednesday that sent smoke soaring over the domed Pantheon monument and prompted evacuation of buildings in the neighborhood, police said. Local media cited witnesses describing a large explosion preceding the fire, and saying that part of a building collapsed.
French outlet BFM TV reported that the explosion was of "unknown" origin at this time.
That building is adjacent to the Val-de-Grâce military hospital, BFM says.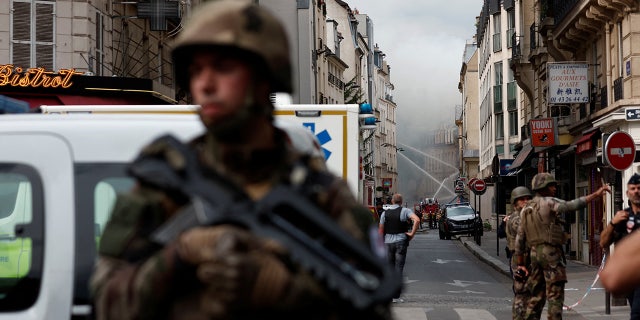 French soldiers and police secure the area as firefighters work after several buildings on fire following an explosion in the fifth arrondissement of Paris June 21, 2023. (REUTERS/Gonzalo Fuentes)
Paris police spokeswoman Loubna Atta initially said it was too early to determine the source of the fire and could not confirm reports it was a caused by a gas explosion, The Associated Press reported. BFM TV showed fire services sealing off the streets surrounding the fire and hosing down a building, Reuters said.
Florence Berthout, mayor of the arrondissement, said, "The explosion was extremely violent," describing pieces of glass still falling from buildings.
Parisians shared photos and video to Twitter revealing a massive plume of smoke visible across much of the city.
Photos also showed armed French soldiers guarding the streets surrounding the fire.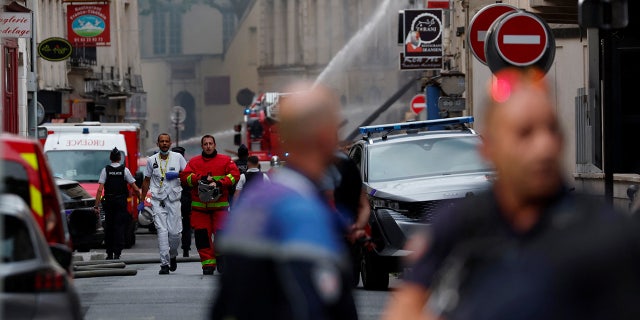 French police secure the area as firefighters and rescue forces work after several buildings on fire following a gas explosion in the fifth arrondissement of Paris June 21, 2023. (REUTERS/Gonzalo Fuentes)
CLICK HERE TO GET THE FOX NEWS APP