French rescue workers searched Thursday for a person feared missing after a powerful explosion brought down a building on Paris' Left Bank, injuring at least 50 people.
In its latest update Thursday, the Paris prosecutor's office said of the approximately 50 people hurt in the explosion and building collapse that six were in critical condition, French newspaper Le Monde reported. The blast Wednesday afternoon near the historic Val de Grace military hospital in Paris' 5th district crumpled the facade of a building that held the Paris American Academy, a private fashion and design school on the edge of the city's tourist-frequented Latin Quarter.
As a result, a fire raged Wednesday near Rue Saint-Jacques, sending out plumes of smoke that were visible from across the city.
PARIS EXPLOSION IGNITES MASSIVE FIRE IN FRANCE'S CAPITAL, SEVERAL INJURED AS SMOKE PLUME VISIBLE ACROSS CITY
"Among the two people who were being sought in the rubble, it turned out that one had already been admitted to hospital," the prosecutor's office said, according to Le Monde. "The search continues for the second," the office added, warning: "These figures could still change."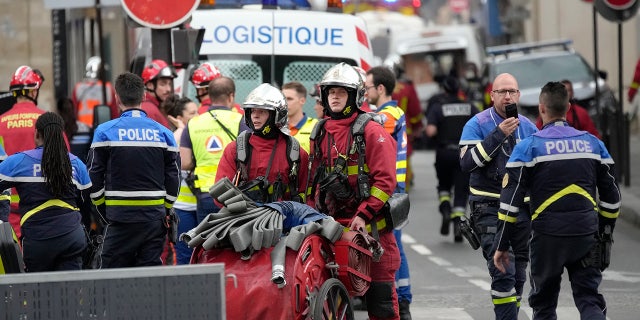 Police officers and rescue workers at the site of a fire Wednesday, June 21, 2023, in Paris. A strong explosion hit a building on the Left Bank Wednesday. (AP Photo/Christophe Ena)
AMERICAN MISSILE DEFENSE SYSTEM IN SOUTH KOREA CLEARED FOR FULL DEPLOYMENT DESPITE CHINA'S OUTRAGE: REPORT
"Firefighters continue to clear the rubble to search for possible victims," Emmanuel Grégoire, first deputy mayor of the capital, also said, according to French outlet BFM-TV.
"Tonight we celebrate the music, but the heart is not at the party. We are thinking of all those who were hit by the explosion in Paris, of the missing persons, of the rescue forces at work," Macron said in French, according to a Google translation.
The Associated Press contributed to this report.