A Palestinian rammed his vehicle into a market crowd in Jerusalem on Monday, wounding five people before an Israeli bystander shot and killed him.
The Palestinian targeted the popular Mahane Yehuda open-air market. Of those injured, the most serious was a 70-year-old man who remains in critical condition, according to police. Witnesses say the attacker attempted to put his car in reverse after plowing through the crowd, which is when the bystander shot him.
Israeli officials identified the attacker as Hatem Nejima, 39, a married father of five who lives in East Jerusalem. Officials said Nejima "deliberately hit several pedestrians, some of whom were crossing the road."
Israeli Prime Minister Benjamin Netanyahu made a statement on the attack just minutes after he learned of it on Monday. Netanyahu was attending a ceremony for the Fallen of Israel's Wars at Yad LeBanim when the attack occurred.
ISRAEL TO SEND EARTHQUAKE AID TO OLD FOE SYRIA IN A RARE EXAMPLE OF COOPERATION BETWEEN ENEMY NEIGHBORS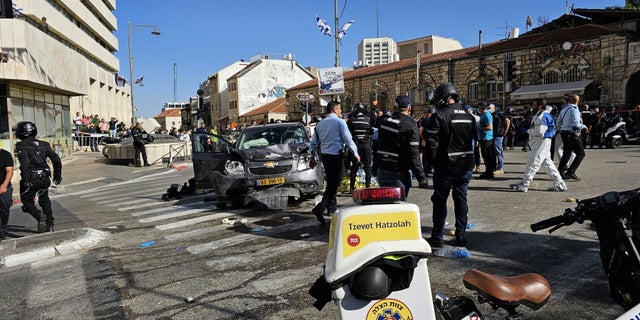 A Palestinian driver was shot and killed in Jerusalem on Monday after he rammed a vehicle into a crowd, wounding five. (TPS)
"A few minutes ago, not far from here, there was another attempt to murder Israeli citizens," Netanyahu said. "This terrorist attack, in this place, at this time, reminds us that the land of Israel and the State of Israel are acquired through many trials and tribulations."
ISRAEL LAUNCHES RARE AIRSTRIKES IN LEBANON FOLLOWING VIOLENCE AT JERUSALEM HOLY SITE
Israel has suffered frequent incidents of violence in recent weeks as the Muslim holy month of Ramadan coincided with the Jewish Passover holiday earlier this month.
Militants in Gaza fired seven rockets into Israel early on April 6 as the nation's Jewish population began celebrating Passover.
In March, an unidentified Palestinian shot and severely wounded an Israeli American man in the West Bank town of Hawara.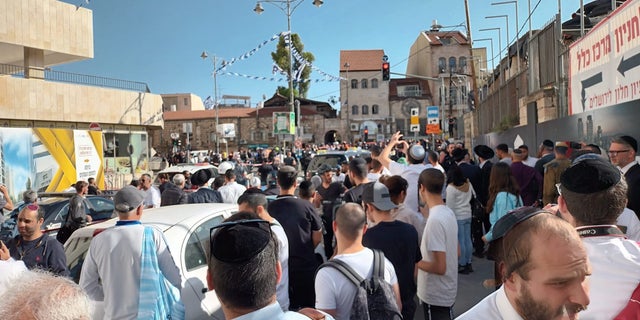 A crowd gathered around the scene in Jerusalem on Monday after a Palestinian driver rammed into people at an open-air market. (TPS)
The man, David Stern, is a U.S. Marine veteran living in Israel. He was attacked while driving in a vehicle with his wife. Images from the scene show multiple gunshot impacts on the driver's side of the vehicle's windshield.
CLICK HERE TO GET THE FOX NEWS APP
"The terrorists messed with the wrong guy," Stern's brother-in-law, Shlomo Blass, told the Tazpit Press Service. "David is a trained professional at the highest level. He's a martial art master. He's the guy you want beside you when you're in danger."
The Associated Press contributed to this report.