A since-deleted tweet from an Ontario, Canada school board's gender consultant garnered criticism on Good Friday when she posted a message stating that Jesus was a drag queen.
"Here's a reminder that Jesus himself was a radical activist … and a drag queen. And also not white," Sara Savoia, the Ottawa-Carleton District School Board's Trans and Gender Diverse Student Support Coordinator, wrote in part, including a painted illustration of Jesus surrounded by several children.
The illustration itself showed Jesus wearing a white robe and contained the text: "Oh look, it's a man in a dress telling stories to children."
TRANSGENDER PASTOR COMPARES TREATMENT OF 'MARGINALIZED' NASHVILLE SHOOTER TO JESUS BEING CRUCIFIED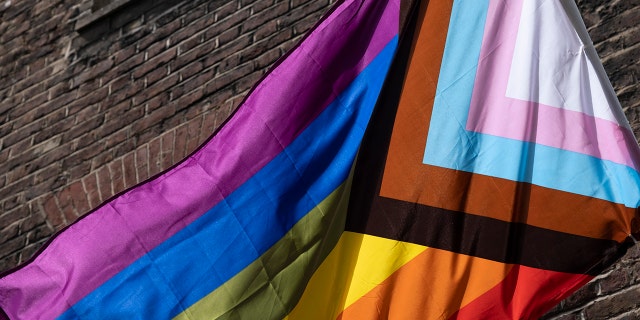 A photo of a Pride Progress flag, which includes colors from the Transgender Pride Flag. (Mike Kemp/In Pictures via Getty Images)
The tweet ended by wishing a Happy Easter to all who were celebrating.
Savoia, who uses she/they pronouns, according to her Twitter profile, manages the district's affairs regarding gender identity, sexual orientation and other LGTBQ+ rights.
She deleted the tweet after a firestorm erupted and locked the account shortly after, prompting users to take their criticism elsewhere.
JESUS WAS 'DRAG KING' WITH 'QUEER DESIRES,' CLAIMS THEOLOGY PROFESSOR
Chanel Pfahl, an Ottawa resident and education advocate, shared a screenshot to her own account where she captioned the image with, "Happy Easter everyone! And a reminder from OCDSB's gender consultant:"
"You've gotta be kidding me," one user weighed in.
Education advocate Cristina Bairos Fernandes wrote, "The disrespect is mind bending."
"She's trolling us right?" a third wrote. Others criticized the comment for insinuating all who wear traditional Middle Eastern attire are "drag queens," ripping the remark as "out-of-touch."
TEXAS DEMOCRAT CANDIDATE MATTHEW DOWD SAYS JESUS TODAY 'WOULD BE ACCUSED OF BEING WOKE'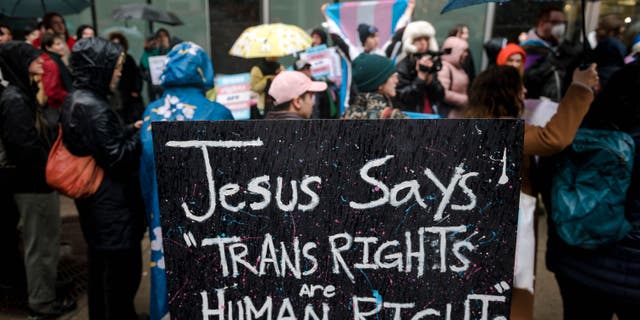 A sign reading Jesus says Trans Rights are Human Rights" is seen as LGBTQ activists protest on March 17, 2023, in front of the US Consulate in Montreal, Canada, calling for transgender and non-binary people be admitted into Canada.  (Photo by ANDREJ IVANOV/AFP via Getty Images)
When asked about the incident, Dr. Aaron Rock, the lead pastor of Harvest Bible Church in Windsor, Ontario, told True North news, "the very notion that (Jesus) dressed as a woman so he could entertain children is offensive to all Christians and unbecoming a public official."
He added that Jesus' attire "matched the Jewish customs of his day for men."
Savoia has also come under fire for proposing LGBTQ+ themed classroom activities, including making "pronoun flowers" in celebration of "International Pronouns Day" and sharing a presentation for "Transgender Visibility Week."
Fox News Digital reached out to the Ottawa-Carleton District School Board for comment, but did not receive an immediate response.
CLICK HERE TO GET THE FOX NEWS APP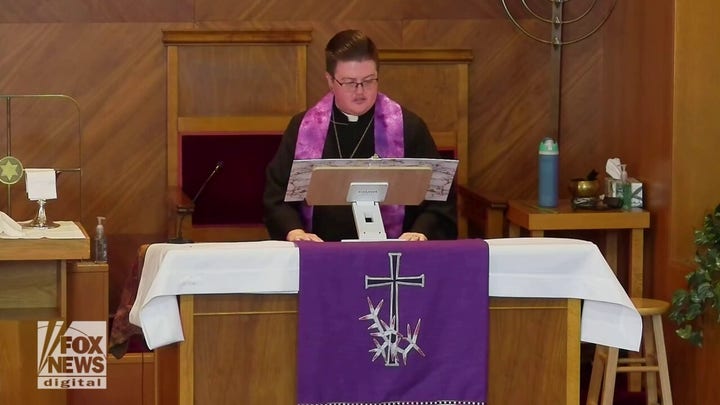 Video