DataGrade CEO Joe Toscano feels Meta is fully aware of what it's doing, and that's why Threads – a recently launched Twitter competitor soaring in popularity across the United States — isn't available in the European Union where strict privacy laws exist.
"All privacy professionals I know, a lot of technical people I know, are standing up and saying, 'This is a rampant abuse of data,'" Toscano told Fox News Digital.
Meta CEO Mark Zuckerberg's new app is the latest social media platform taking the industry by storm, with over 100 million users signing up less than a week after it launched. But experts are warning of significant privacy concerns because of the over-the-top data it collects from users.
Toscano, an ex-Google consultant who was a key figure in the wildly popular Netflix documentary "The Social Dilemma," that details the negative impact big tech can have on people, feels Threads is particularly egregious.
Toscano is curious how enforcer of privacy law will respond to Meta's newly launched social media platform. He said it "probably" won't be favorable for Threads and believes privacy complications are a factor as to why Meta didn't launch the platform in the European Union yet.
"Meta understands that what they're doing is an abuse of data. And for that reason, they are not launching in the EU because they've already faced fines for this stuff," Toscano said.
META'S NEW THREADS APP RAISES POTENTIAL PRIVACY CONCERNS OVER DATA SHARING
European regulators hit Meta with a $1.3 billion fine earlier this year, finding that the company had misused Europeans' data. The decision came after an investigation from Ireland's Data Protection Commission, the lead data regulator for the EU. The organization found that Meta had continued to transfer Europeans' data to the U.S. after a 2020 ruling that should have ended the practice.
Meta said it plans to appeal the "unjustified and unnecessary" ruling that "sets a dangerous precedent for countless other companies."
META FINED RECORD $1.3 BILLION FOR VIOLATING IRELAND PRIVACY LAWS
"And in part, that's because if you sign up for Threads, it has to be through Instagram. You can't delete your account unless you delete your Instagram," he said. "It's pretty deceptive."
INSTAGRAM ACKNOWLEDGES APP CAN HARM TEENS' SELF-ESTEEM IN RESPONSE TO REPORT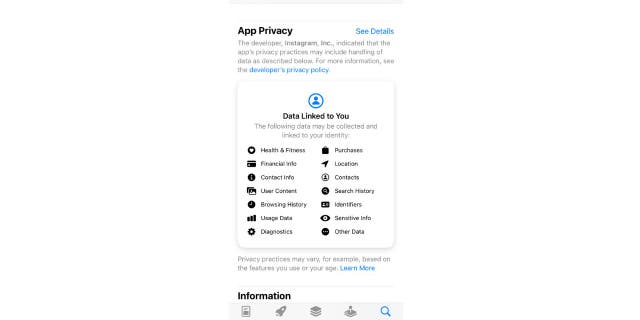 Threads allows Meta to collect identity-linked data including purchase history, financial information, location, contact information, contacts, photos, videos, gameplay content, search history, browsing history, health data and "sensitive" information.  (Kurt Knutsson)
When asked for comment, Meta turned Fox News Digital to a lengthy post by the company's vice president for privacy policy, Rob Sherman, which addressed some of the ongoing concerns.
Toscano's DataGrade aims to "ensure the integrity of data transactions on the internet through assessment, education, and operational guidance" and "increase data literacy" through its actions, according to its website.
Fox Business' Anders Hagstrom and Kelly O'Grady contributed to this report.
CLICK HERE FOR THE FOX NEWS APP