Ohio Gov. Mike DeWine on Wednesday announced $2.9 million in federal funding to help those affected by large-scale traumatic events such as natural disasters or mass shootings.
The funding comes from the Bipartisan Safer Communities Act and in the wake of the Feb. 3 train derailment in East Palestine, Ohio, which forced the evacuation of roughly half of the town's residents.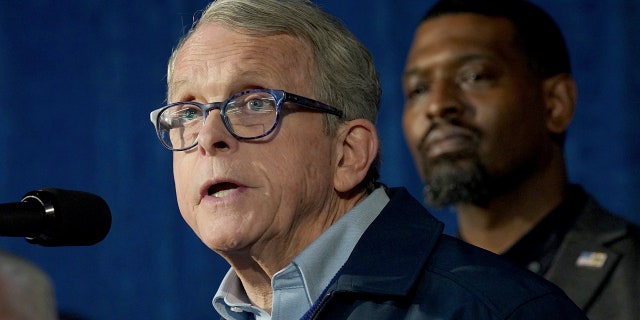 FILE: Ohio Gov. Mike DeWine speaks during a news conference in East Palestine, Ohio, Tuesday, Feb. 21, 2023.  (AP Photo/Matt Freed)
Though no one was injured, many residents have complained of headaches, rashes, and other health problems. Government officials have insisted that air and water testing hasn't found dangerous pollution.
In announcing the funding, DeWine said it was essential that the state's behavioral health system "is able to quickly respond to the immediate and long-term behavioral health care needs of those adversely affected by trauma."
The Republican governor said Ohio MHAS would use the funding to help local and state agencies coordinate the deployment of resources to communities.
OHIO GOV. DEWINE SIGNS $13.5 TRANSPORTATION BUDGET, RAIL SAFETY PACKAGE INTO LAW
This includes the development and enhancement of multidisciplinary mobile crisis teams that can be deployed rapidly 24/7 for swift crisis support and response after a traumatic event.
"Preparing for, responding to, and recovering from disasters and traumatic events is essential to the behavioral health of individuals and communities alike," OhioMHAS Director Lori Criss said in a press release.
CLICK HERE TO GET THE FOX NEWS APP
"Although everyone reacts differently to disasters and most will return to normal, some of those affected may suffer from serious and prolonged mental or emotional distress. Finding support in a timely fashion will help people minimize negative outcomes."