In August 1944, Operation Overlord was in full swing. The Allies were fighting to break out across France, but standing in their way was the old fortress town of Saint-Malo. The town's 12,000 Nazi defenders had been dug in since 1943 as part of the Atlantic Wall, expecting to hold out for 90 days or more.
An American force of 20,000 soldiers from the 83rd Infantry Division, with at least 2,000 French Resistance fighters, would lay siege to the city for nearly a month. By Aug. 13, the Germans were still holding out in the ancient citadel that overlooked the bay. That was the day Lee Miller, a young war photographer covering the war for the magazine British Vogue, arrived in Saint-Malo.
Miller, then 37 years old, had begun her photography career on the other side of the lens as a model but had been something of an expert in photography her entire life. The American-born Miller found herself in Europe pursuing that career when World War II broke out. Instead of fleeing, she stayed in Britain, picked up a camera and began a new phase of her photographic legacy: combat.
Now, Kate Winslet ("Titanic") stars as Lee Miller in "Lee," a new film that depicts Miller's shift from artistic fashion photographer to combat photographer. This flashback-driven biopic follows Miller as she lands in Normandy to advance across Europe with the Allied forces for the destruction of the Nazi Reich.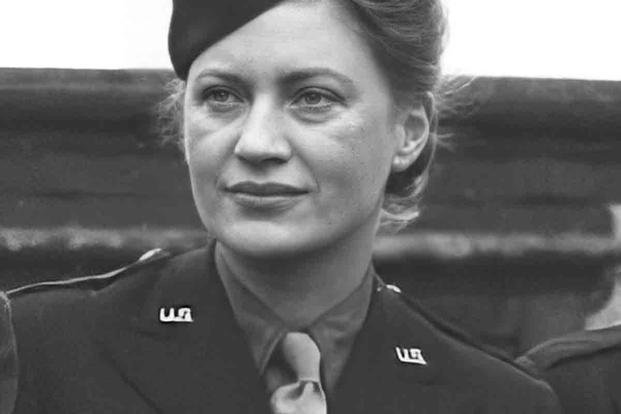 Lee Miller grew up around cameras in Poughkeepsie, New York. Her father was an amateur but loved the art form, and he would use her as a model as he taught her everything about photography.
After a brief acting stint in Paris, she moved to Manhattan, where she was literally discovered by accident. Miller was nearly hit by a car in 1927, but the man who pulled her to safety was Condé Nast, publisher of Vogue Magazine; later that month, she appeared on the cover of the magazine.
For the next two years, Miller was one of the most in-demand models in New York City. But modeling didn't fulfill her, so she picked up her camera and spent the next decade taking photos in New York, Paris and Cairo.
When war broke out in Europe in 1939, Miller was living in London and became an accredited photographer so she could cover The Blitz for Vogue. When the United States entered the war, she worked to get accreditation from the U.S. Army, too. She spent much of the war documenting the lives of nurses in England, but in July 1944, the Army began allowing female journalists to follow troops as the Allies pushed into greater France, if they had the backing of a major news outlet. Since Lee Miller was a photographer for British Vogue, the magazine made a case to send her to France to report on the work of nurses near the front lines.
Miller arrived in Normandy less than a month after the D-Day invasions of June 6, 1944, documenting evacuation hospitals on Omaha Beach. She slowly moved closer to the front lines. In August, the Allies were breaking out into neighboring Brittany, and Miller was sent to document the recently secured town of Saint-Malo.
But Saint-Malo was anything but secure, and Miller was the only photographer present to document the final days of the battle. She was able to get to the most forward observation posts as the two sides exchanged fire, followed some of the American GIs as they made the climb to the citadel, and even documented the first use of napalm in combat (though her photos were confiscated by the Army).
Frontline soldiers were amazed to find a female photographer among them, as were the Germans who surrendered at Saint-Malo. Even more amazed was the U.S. Army, who "exiled her to Rennes" after finding out Miller had been in a combat zone. Her exile didn't last long, however; she would rejoin advancing elements of the Army as it liberated Paris and advanced on Alsace.
Miller also documented the liberation of the Buchenwald and Dachau Concentration Camps. Her most famous photograph was one where she was actually the subject. On April 30, 1945, the same day Adolf Hitler died by suicide, Miller and fellow photographer David E. Scherman entered the Munich apartment where Hitler once lived, intentionally dirtying the bathroom with her combat boots. Scherman photographed Miller bathing in Hitler's tub.
After the war, she returned to Britain, where she continued her photography career. This phase of her life was marked by alcoholism and post-traumatic stress disorder. Her images, as legendary as they were, haunted her. She died of cancer in 1977.
"Lee" debuted at the Toronto International Film Festival this year and also stars Alexander Skarsg?rd ("Generation Kill"), Marion Cotillard ("The Dark Knight Rises") and Andy Samberg ("Brooklyn Nine-Nine") as David E. Scherman.
-- Blake Stilwell can be reached at [email protected]. He can also be found on Facebook, Twitter, or on LinkedIn.
Keep Up With the Best in Military Entertainment
Whether you're looking for news and entertainment, thinking of joining the military or keeping up with military life and benefits, Military.com has you covered. Subscribe to the Military.com newsletter to have military news, updates and resources delivered straight to your inbox.