New Yorkers concerned about the rise of crime under the leadership of Manhattan District Attorney Alvin Bragg fired back at Democrats on the House Judiciary Committee who accused them of being "MAGA props" during a recent hearing in the city.
"It was so insulting," David Rem, who described himself as a lifelong New Yorker, told Fox News Digital after he was escorted out of a House Judiciary Committee field hearing for taking issue with how those there to testify were treated by Democratic members of the committee. "That's why I stood up, I couldn't take it anymore when they tried to make it like we were just fake props."
The hearing in New York City last week, which was called "Victims of Violent Crime in Manhattan," turned contentious at times as victims of crimes or those representing the victims stood up to testify about their growing concerns with crime in the city, with many voicing displeasure with Bragg for what they believe to be policies that are soft on criminals.
The hearing became even more contentious when Rep. Hank Johnson, D-Ga., angered witnesses by accusing them of being "props in a MAGA Broadway production."
ALVIN BRAGG PROTESTER BOOTED FROM HOUSE JUDICIARY HEARING: 'YOU ARE UTTERLY DISGRACEFUL'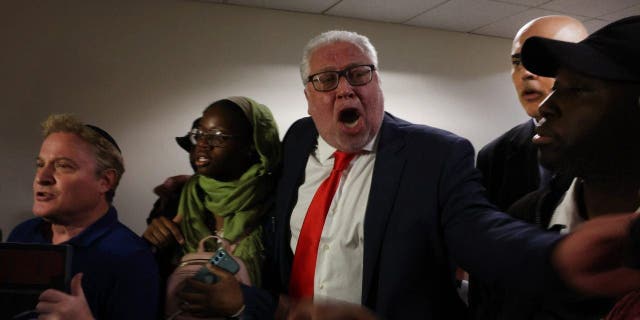 Critics of Manhattan District Attorney Alvin Bragg speak to the media outside a House Judiciary Committee field hearing on violent crime in New York on April 17, 2023. (Spencer Platt/Getty Images)
"The MAGA Republican extremists are not interested in gun violence, or even knife violence," Johnson said. "The Republican witnesses who have used their time to criticize District Attorney Bragg have served as props in a MAGA Broadway production."
The comments come as Bragg has filed criminal charges against former President Trump, a move some critics have called hypocritical amid his policies that have otherwise been tabled as soft on crime.
Rem, who said he was at the hearing to represent multiple victims of violent murders in the city, took issue with Democrats on the committee making the hearing about Trump, a political issue he said was not on the minds of those seeking justice for victims.
"I think it was 38 times they either mentioned Donald Trump or weapons or guns," Rem said, noting that the victims he was there to represent had not been the victims of gun violence.
Jennifer Harrison, another witness who attended the hearing, also took issue with members of the committee who were seemingly content to push restrictions on guns as a solution to the city's crime problems.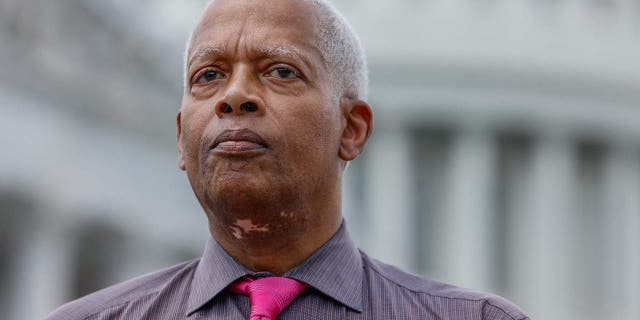 Rep. Hank Johnson. (emal Countess/Getty Images for Take Back the Court Action Fund)
REP. HANK JOHNSON ACCUSES RELATIVES OF CRIME VICTIMS OF BEING 'PROPS IN A MAGA BROADWAY PRODUCTION'
"They had their agenda… to promote their gun legislation agenda, which is completely hypocritical and idiotic," Harrison told Fox News Digital, arguing that Bragg was not even enforcing weapons laws that are already on the books.
Harrison, who said she has been involved in anti-crime activism since losing a friend to violent crime in 2005, pointed to a Manhattan Institute study on the impact of New York law that lessened criminal penalties for those under 18 years old. He argued the law has led to more crime in the city.
The study, which was conducted in 2022, found "concerning" crime trends across the city since the enactment of the "Raise the Age Law," including an alarming amount of adolescent recidivism. Citing NYPD data, the study found that 48% of 16-year-olds who were arrested were later arrested again, while 35% of those who were arrested for violent felonies were also arrested again.
"Youth gun crime in the city has also increased by almost 200%," the study's author's noted. "Youths are also the victims of gun crime about three times as often as they were five years ago."
Like Rem, Harrison also took issue with committee members who made the hearing about Trump.
"We weren't there to talk about Donald Trump," Harrison said.
ALVIN BRAGG PROMISES NOT TO PROSECUTE THEFT TO ESTABLISH 'RACIAL EQUITY' BALANCE: 'CRIME OF POVERTY'
However, instead of taking their concerns seriously, Harrison said some of the Democratic members of the committee were falling asleep while witnesses attempted to tell their stories.
"It was extremely disrespectful, it was defeating, it was disheartening," she said, adding that she had been "waiting 18 years" for policymakers to take her concerns seriously.
"They were talking about how it was a waste of taxpayer dollars… they were upset they were kind of forced to listen to us," Harrison said "If you're here on the taxpayers dime, the least you can do is listen to what we have to say instead of just trying to discredit us."
Rem told Fox News Digital the most pressing issue facing cities like New York are pro-criminal policies advances by leaders such as Bragg, arguing the Manhattan DA has made it public he has no plans to prosecute violent criminals.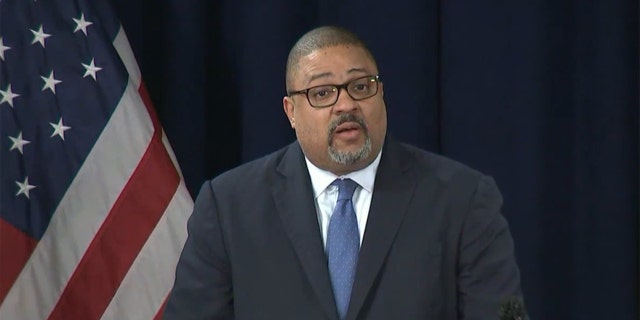 Manhattan District Attorney Alvin Bragg. (Fox News)
"Alvin Bragg is a George Soros backed, hand-picked district attorney," Rem said. "They're letting everyone out of jail, it is the wild wild west, New York has become."
CLICK HERE TO GET THE FOX NEWS APP
Meanwhile, Harrison argued that unless politicians begin starting to take the issue seriously, more people will die as a result of rising crime.
"It's not just happening here, it's happening across the country," she said. "We were there because we want to effectuate change and prevent further loss of life, and if nobody listens, people are going to continue to die."