New Jersey's casinos, horse tracks that take sports bets and the online partners of both types of gambling won over $487 million in March, an increase of 15% from a year earlier.
But figures released Friday by the New Jersey Division of Gaming Enforcement show that the casinos continue to struggle with their core business, money won from in-person gamblers.
That key metric brought in $228.6 million in March, edging past the $223.1 million the casinos made from in-person gamblers in 2019, before the coronavirus pandemic hit.
TOP CASINO UNION BOSS TO LEAVE ATLANTIC CITY
But only three of the nine casinos — Borgata, Hard Rock and Ocean — individually won more from in-person gamblers in last month than they did in March 2019, a source of continuing concern for the industry. The Casino Association of New Jersey said the in-person revenue level "demonstrates that the industry continues to be in a rebuilding and recovery phase from where it was three years ago."
The casinos won $165.7 million online, up nearly 18% from a year ago, and added another $46.6 million in sports betting revenue.
But those revenue streams must be shared with third-party providers such as sports books and tech platforms; that money is not solely for the casinos to keep.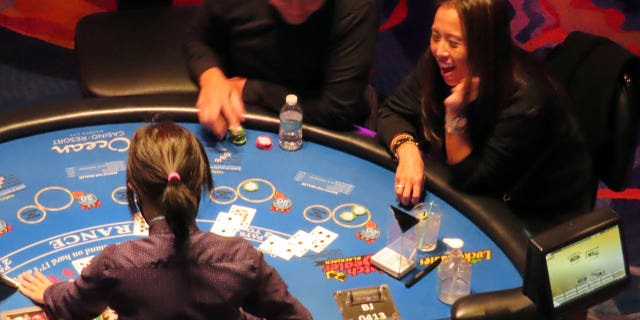 New Jerseys casino, horse track, and online gambling revenues have grown 15% over last year. (AP Photo/Wayne Parry)
Nonetheless, last month was the best March Atlantic City's casinos experienced in the past 10 years according to Jane Bokunewicz, director of the Lloyd Levenson Institute at Stockton University, which studies the Atlantic City casino industry.
"Brick-and-mortar revenue, traditionally slow in these (off-peak) months, grew year-over-year by 5.6%, internet gaming is showing no sign of slowing with a monthly year-over-year increase of 17%, and sports wagering, fueled by March Madness, recorded an incredible 82% revenue increase year-over-year for the month," she said.
In terms of total gambling revenue, including internet and sports betting, the Borgata won $113.5 million, up 6.2% from a year ago; Golden Nugget won $55 million, up 7.7%; Hard Rock won $49.7%, up 8.4%; and the Ocean Casino Resort won $39.5 million, up nearly 42%.
Tropicana won $32.3 million, up 4.4%; Harrah's won $20.6 million, up 2%; Bally's won $17.3 million, up 13.3%; Caesars won $17 million, down 10%, and Resorts won $12.5 million, down 3.4%.
Resorts Digital, the online arm of Resorts casino, won $74.6 million, up over 75%, and Caesars Interactive NJ won $8.4 million, down 15.2%.
IN NEW JERSEY, CANCER-STRICKEN CASINO DEALERS PUSH FOR ATLANTIC CITY SMOKING BAN
In terms of money won from in-person gamblers, Borgata won $61.5 million, up nearly 12% from a year ago; Hard Rock won nearly $40 million, up 1.7%; Ocean won $34.6 million, up over 36%; and Harrah's won $20.6 million, up 3.1%
Tropicana won an identical $19.3 million to what it won last March; Caesars won $17.1 million, down 7.2%; Resorts won $12.6 million, down 2.6%, and Bally's won $10.5 million, down nearly 22%.
Wagers on the March Madness college basketball tournament pushed the total amount bet on sports last month past the $1 billion mark. Of that, $93 million was kept by casinos and tracks as revenue after paying out winning bets and other expenses.
CLICK HERE TO GET THE FOX NEWS APP
"Without a doubt, Atlantic City has worked hard to successfully package sports wagering and traditional casino gaming to create complimentary experiences for visitors," said James Plousis, chairman of the New Jersey Casino Control Commission. "Just last week, I visited several casino hotels and previewed improvements that are underway. New high quality in-person experiences will surely be well received and help make the summer season very positive for Atlantic City and its guests."