A Nebraska school district restricted middle and high school athletic team participation to biological sex.
The Kearney Public Schools Board of Education on Monday unanimously approved a policy that restricts middle schoolers and high schoolers (grades 6-12) to compete according to their biological sex at birth, as stated on the student's original birth certificate or subsequent court order.
During the public comment period, many speakers expressed their gratitude to the board for approving the policy. There were 17 speakers during public comment with 15 of those speakers showing support for the school board's vote.
NEBRASKA LAWMAKERS RESUME DEBATE ON YOUTH TRANS PROCEDURE BAN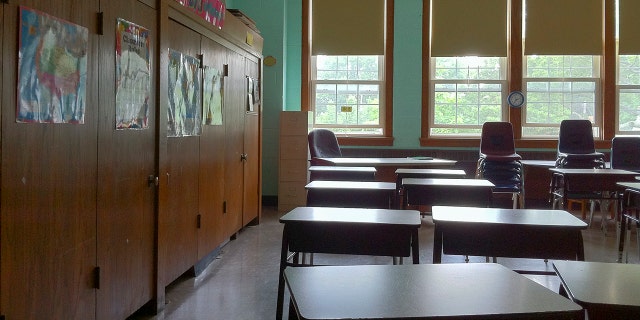 Kearney Public Schools voted unanimously to restrict middle and high school athletic team participation to compete according to their biological sex at birth. (Education Images/Universal Images Group via Getty Images)
"I just want to thank you for passing policy 6420A in protecting our athletes," one speaker said.
"I'd like to thank the Board for keeping it simple and using common sense," another speaker said. "We have two genders: man and female."
Another speaker recognized that KPS is one of the first in the state to approve a policy that restricts athletes to participate in sports in accordance with their biological sex.
The speaker thanked the board for standing "firm on values and principles."
"What you just agreed up on tonight matters. Keeping boys and girls sports separate matters," the speaker said.
DEMOCRATS REEL AS NEBRASKA BILL BANNING TRANS PROCEDURES FOR MINORS ADVANCES
Although some speakers supported the measure, there were speakers who pushed back against the policy approval.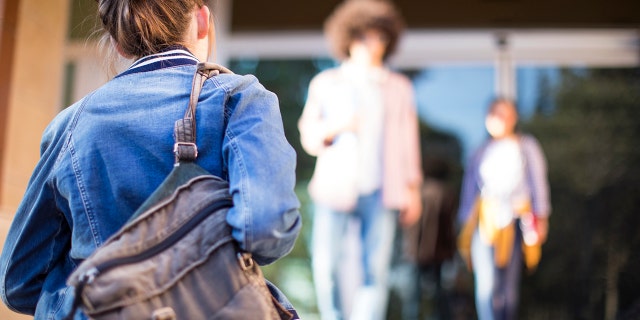 Young student walks alone onto school campus. (iStock)
One speaker cited studies that show LGBTQ people are far more likely to be suicidal and more likely to have attempted suicide than their peers.
"These statistics before you factor in policies like these. They aggressively attempt to make it clear to trans students that they do not matter, and they are not important to the school district or the communities they reside in."
"Reasonable accommodations can be provided to protect students," another speaker said.
NEBRASKA DEMOCRAT 3 WEEKS INTO FILIBUSTER OVER PROPOSED YOUTH SEX CHANGE BAN
KPS Superintendent Jason Mundorf told Fox News Digital that the decision was "challenging" for the Board members.
"There isn't one school board member in Kearney, Nebraska that would ever want to take away an opportunity from a student. My speculation is that our board members who voted against this policy the first time did so because they weren't necessarily comfortable with being the only school district in the state to adopt a policy that is more restrictive than our state athletic association's (NSAA) policy," Mundorf said.
"To be counter to the state's association is never a preference but one that I think our board ultimately felt was the best course of action for our school district based on community feedback. I commend our board members for their courage in listening to the feedback, hearing from the constituency, and making a decision based on that feedback. It is the essence of local government and our democracy as a whole."
Meanwhile, Nebraska lawmakers took up a second round of debate Thursday on a bill that would ban gender-affirming care for minors that has proved to be so contentious, it's led opponents to filibuster every bill before the Nebraska Legislature for weeks.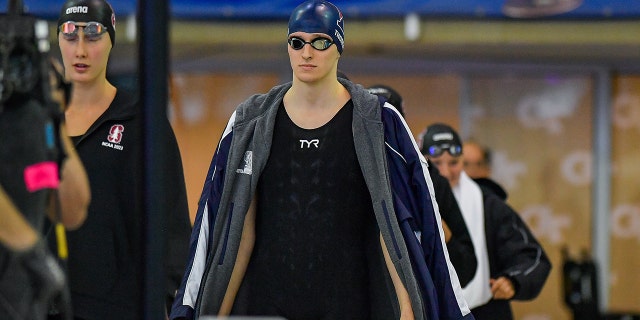 University of Pennsylvania swimmer Lia Thomas enters for the 200 Freestyle final during the NCAA Swimming and Diving Championships on March 18th, 2022 at the McAuley Aquatic Center in Atlanta Georgia.   (Rich von Biberstein/Icon Sportswire via Getty Images)
The Nebraska Legislature Bill 575, also known as the Sports and Spaces Act, was introduced on February 7th this year. It would prohibit transgender students to use facilities that are not aligned with the biological gender assigned at birth. The bill would also prohibit the participation of transgender athletes in sports that are not aligned with the biological sex assigned at birth.
Anti-Transgender athlete and anti-gender-affirming surgery bills swept through state legislatures nationwide.
The Associated Press contributed to this report.