A second U.S.-led convoy arrived in Port Sudan Sunday carrying hundreds of Americans who are being evacuated from Sudan amid violent conflict in the region, the State Department announced.
Nearly 1,000 Americans have now been evacuated from Sudan over the last week, State said. The department tweeted Sunday that the latest convoy of evacuees would soon be heading across the Red Sea to the Saudi Arabian port of Jeddah.
"We are assisting U.S. citizens and others who are eligible with onward travel to Jeddah, where additional personnel are ready to assist with consular & emergency services," Matthew Miller, a spokesperson for the State Department, tweeted Sunday.
US GOVERNMENT BEGINS LAND EVACUATION OF AMERICAN CIVILIANS IN SUDAN: OFFICIAL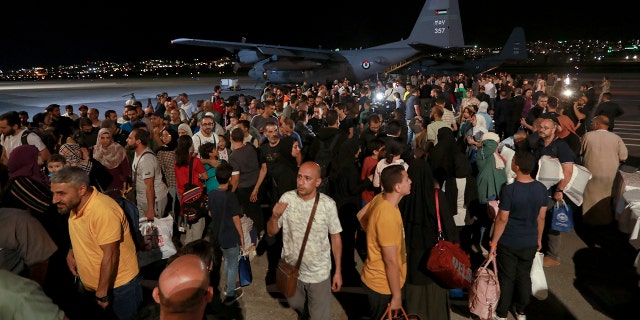 Jordanians evacuated from Sudan arrive at a military airport in Amman, Jordan, Monday, April 24, 2023. (AP Photo/Raad Adayleh)
Civil conflict in Sudan escalated in April, which sparked U.S.-led evacuation efforts.
A U.S. official confirmed to Fox News Saturday that there is an ongoing effort to bus Americans to the Red Sea, where Port Sudan is located.
US EVACUATES PRIVATE CITIZENS FROM SUDAN FOR FIRST TIME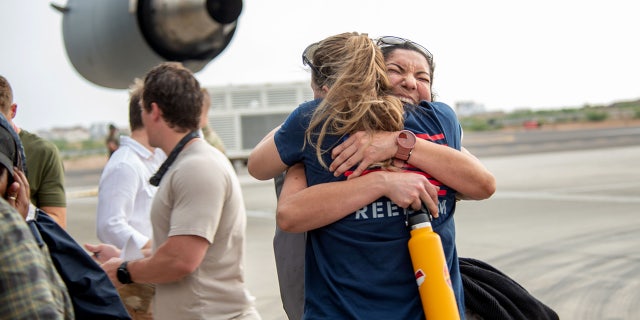 U.S. government personnel from the U.S. Embassy in Sudan embrace as they evacuate to Camp Lemonnier on April 23, 2023 in Djibouti. At the direction of the president, the U.S. military conducted a successful operation to safely evacuate U.S. government personnel out of Sudan. (Photo by Mass Communication Specialist 1st Class Maria A. Olvera Tristán / U.S. Navy via Getty Images)
Miller said organized evacuation efforts include a variety of transportation methods.
"Departure options for U.S. citizens have included seats on partner country flights, partner country and international organization convoys, U.S. government organized convoys, and departure via sea as well," Miller tweeted Sunday.
The efforts mark a shift from the State Department, which stated last week that "due to the uncertain security situation in Khartoum and closure of the airport, it is not currently safe to undertake a U.S. government-coordinated evacuation of private U.S. citizens."
US CLAIMS SUDAN TOO DANGEROUS TO EVACUATE AMERICANS WHILE REST OF THE WORLD SAFELY REMOVES THEIR CITIZENS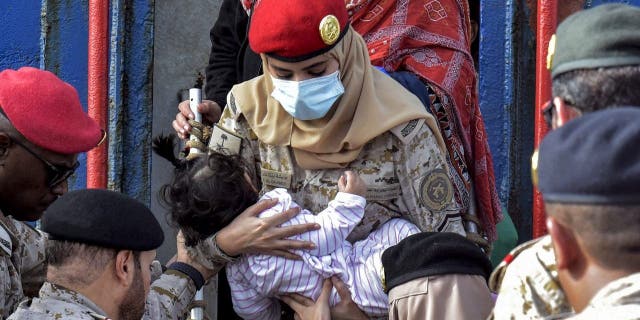 A Saudi Navy sailor carries a child while disembarking off a ferry passenger ship after arrival at King Faisal navy base in Jeddah on April 26, 2023 following a rescue operation amid a U.S.-brokered ceasefire between the country's warring generals. (Photo by AMER HILABI/AFP via Getty Image)
CLICK HERE TO GET THE FOX NEWS APP
Violent conflict between the Sudanese army and paramilitary Rapid Support Forces has left hundreds dead in the region.