NASA's Juno spacecraft is slated to fly by Jupiter's volcanic moon Io Tuesday.
It will be the closest flyby to date, at an altitude of around 22,060 miles.
The agency said it will pass the gas giant soon after.
Juno has performed more than 50 flybys of Jupiter and flown more than 510 million miles. It arrived at Jupiter July 4, 2016, with the first science flyby occurring 53 days later.
Juno will also explore the ring system where some of Jupiter's inner moons are located.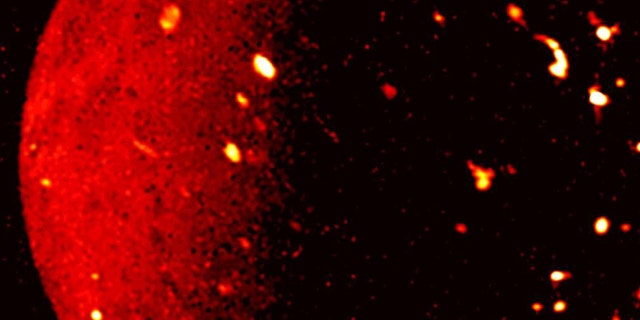 The volcano-pocked surface of Jupiter's moon Io was captured in infrared by the Juno spacecraft's Jovian Infrared Auroral Mapper (JIRAM) imager as it flew by at a distance of about 50,000 miles (80,000 kilometers) July 5, 2022. Brighter spots indicate higher temperatures in this image.  (Image data: NASA/JPL-Caltech/SwRI/ASI/INAF/JIRAM)
SOUTHERN CALIFORNIA STARTUP VAST ANNOUNCES PLANS TO LAUNCH WORLD'S FIRST COMMERCIAL SPACE STATION
"Lo is the most volcanic celestial body that we know of in our solar system," Scott Bolton, Juno principal investigator, explained. "By observing it over time on multiple passes, we can watch how the volcanoes vary – how often they erupt, how bright and hot they are, whether they are linked to a group or solo and if the shape of the lava flow changes."