New images from NASA's Perseverance Mars rover may have revealed what was once a river on the red planet.
The river, which the agency said was deeper and faster-moving than scientists have ever seen evidence for, was part of a network of waterways that flowed in Jezero Crater.
The rover has been exploring the crater since landing there over two years ago, in the hopes of eventually seeking out signs of ancient microbial life.
Perseverance has been examining a top of an 820-foot-tall pile of sedimentary rock which has features that are suggestive of water.
SOUTHERN CALIFORNIA STARTUP VAST ANNOUNCES PLANS TO LAUNCH WORLD'S FIRST COMMERCIAL SPACE STATION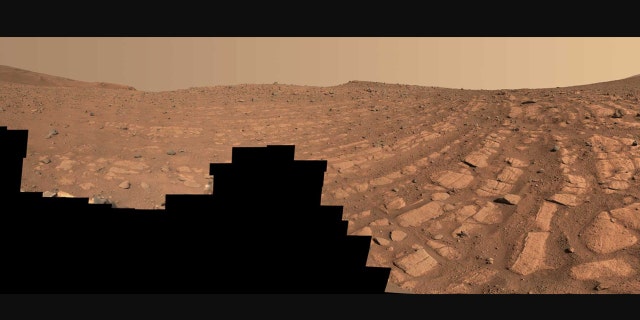 Scientists think that these bands of rocks may have been formed by a very fast, deep river – the first of its kind evidence has been found for on Mars. NASA's Perseverance Mars rover captured this scene at a location nicknamed "Skrinkle Haven" using its Mastcam-Z camera between Feb. 28 and March 9, 2023. (Credits: NASA/JPL-Caltech/ASU/MSSS)
Using hundreds of images from the rover's Mastcam-Z instrument, mosaics revealed coarse sediment grains and cobbles.
"Those indicate a high-energy river that's truckin' and carrying a lot of debris. The more powerful the flow of water, the more easily it's able to move larger pieces of material," Libby Ives, a postdoctoral researcher at NASA's Jet Propulsion Laboratory, said in a statement.
The rover is able to see a series of bands of layered rock within the crater called the "curvilinear unit," imaging one location called "Skrinkle Haven."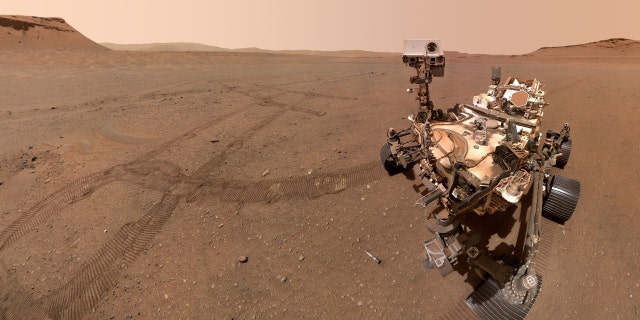 NASA's Perseverance Mars rover took a selfie with several of the 10 sample tubes it deposited at a sample depot it is creating within an area of Jezero Crater nicknamed "Three Forks." The image was taken by the WATSON (Wide Angle Topographic Sensor for Operations and eNgineering) camera on the end of the rover's robotic arm on Jan. 22, 2023, the 684th Martian day, or sol, of the mission. (NASA/JPL-Caltech/MSSS)
While NASA scientists are sure that the curved layers were created by powerful water, the images have raised questions about what kind.
NASA'S INGENUITY HELICOPTER CAPTURES BREATHTAKING SHOT OF MARTIAN SUNSET
It could be either a winding or braided river. When looking at them from the ground, the curved layers appear to be aligned in rows and they could be the remnants of a river's banks that shifted over time or those of a sandbars that formed in the river.
Notably, the layers were likely taller, but scientists suspect that they had been blasted by wind and carved down over time.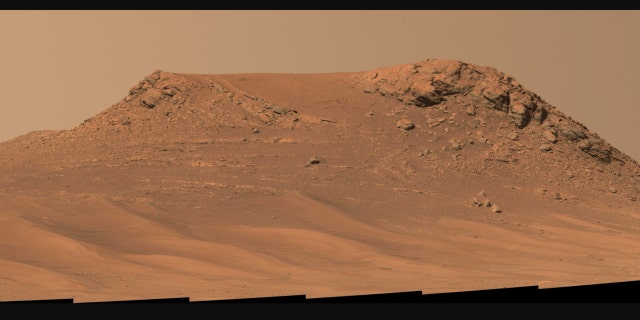 NASA's Perseverance Mars rover captured this mosaic of a hill nicknamed "Pinestand." Scientists think the tall sedimentary layers stacked on top of one another here could have been formed by a deep, fast-moving river. (Credits: NASA/JPL-Caltech/ASU/MSSS)
Another location that is part of the unit about a quarter mile from Skrinkle Haven is known as "Pinestand." It is an isolated hill that has sedimentary layers that curve upward – including some as tall as 66 feet. The tall layers may have also been formed by a powerful river, although scientists are examining other reasons.
NASA's team are also using the ground-penetrating radar instrument on Perseverance, Radar Imager for Mars' Subsurface Experiment or RIMFAX, to look below the surface.
CLICK HERE TO GET THE FOX NEWS APP
"What's exciting here is we've entered a new phase of Jezero's history. And it's the first time we're seeing environments like this on Mars," Perseverance's deputy project scientist, Katie Stack Morgan, said. "We're thinking about rivers on a different scale than we have before."