A bald eagle at a Missouri sanctuary is finally the proud father of an eaglet chick.
Murphy, who is cared for at the World Bird Sanctuary in Valley Park, was granted the privilege of fostering a baby eagle after he attempted to incubate a rock.
World Bird Sanctuary CEO Dawn Griffard told Fox News Digital in an interview that Murphy discovered a rock in his enclosure in early March — and immediately took to it.
Murphy was brought into the sanctuary's care about 30 years ago after suffering multiple injuries in the wild.
AMERICAN WILDLIFE QUIZ! HOW WELL DO YOU KNOW THESE STATS AND FACTS ABOUT ANIMALS IN THE UNITED STATES?
Since then, Murphy — who's been living with four old bald eagles in a brand-new aviary — has become been a "favorite" of sanctuary visitors.
The 31-year-old bird took on a new venture recently when he was caught protecting one area of his enclosure and was "very fussy" about other people coming near it, Griffard said. Murphy had pulled sticks over to the area to build a nest around what was identified as a rock.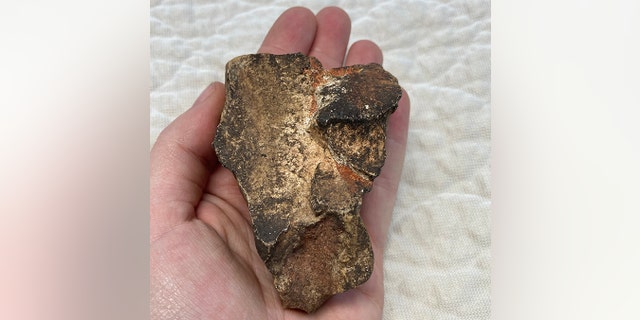 This is the rock that Murphy the bald eagle was treating like an egg. (World Bird Sanctuary)
"It was an average rock," she said. "It didn't even look like an egg, but he insisted on incubating it."
For the next few weeks, the sanctuary warned visitors that Murphy was not injured, but was in the midst of tending to a rock.
ALASKAN BALD EAGLES WIN NATIONAL GEOGRAPHIC'S FIRST 'PICTURES OF THE YEAR' PHOTO CONTEST WITH STUNNING IMAGE
The sanctuary's notice went viral on social media.
It is not out of the ordinary for bald eagles, even males, to seek out objects to incubate during the spring when hormones are "running high," noted Griffard.
"It's not unusual for a male bald eagle to do this because, in the wild, the male and the female take care of the nest and the eaglets equally," she said.
Even though Murphy had his choice of females to mate with, Griffard explained that there were no love matches. "No one wanted each other," she said.
But it was abundantly clear that Murphy was ready to be a father.
On April 3, while Murphy was busy tending to his rock at the sanctuary, a large storm blew an eagle's nest from a tree about an hour outside St. Louis.
AS BALD EAGLE MAKES MIRACULOUS COMEBACK IN US, AUTHOR REVEALS THAT HUMANS 'REDEEMED OURSELVES'
One of two chicks in that nest survived — and was brought to the World Bird Sanctuary (WBS) for rehabilitation.
"We did all the exams [and] X-rays and [the baby bird] was bruised and battered a bit and had a bit of a wonky wing," the CEO said. "But we kept the baby in the hospital for about a week, and everything was fine."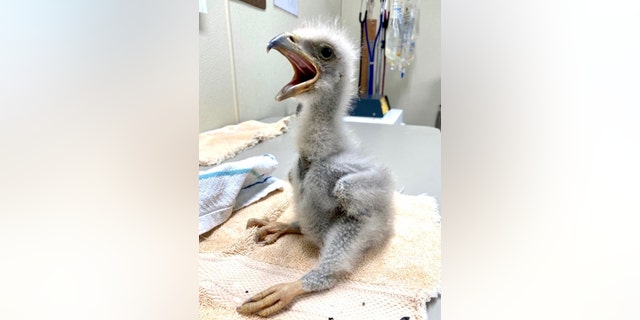 Eaglet 23-126 was taken in by the World Bird Sanctuary after a large storm knocked its nest from a tree on April 3, 2023. (World Bird Sanctuary)
Next, the sanctuary's humans made sure they could raise the baby without imprinting on it, which can be difficult for birds of prey such as eagles, vultures and owls.
"Birds visually imprint on their parents during a critical period of development," notes the Wildlife Center of Virginia's website. "After imprinting, they will identify with that species for life."
"It's about a single dad that has worked so hard and was rewarded for his efforts."
Griffard added, "Once they imprint on a human, they can't be released back to the wild."
After caring for the baby bird while wearing camouflage outfits and making sure the eaglet was not exposed to human faces, sanctuary caretakers decided it was time to pair the baby with a foster parent.
Enter Murphy, the wannabe eagle daddy.
"We haven't had an eaglet for eight years, so we don't have a foster parent that is experienced in raising chicks," Gibbard said.
"So, it was decided to try Murphy out."
WBS created what's referred to as "baby jail," which is a small, vinyl-covered wire enclosure that allows the foster parent to see the baby while keeping all parties safe.
THE BALD EAGLE: A BRIEF HISTORY OF THE GREAT CONSERVATION SUCCESS STORY OF AMERICA'S BIRD
The eaglet, in baby jail, was brought into a private enclosure with Murphy at night until April 13 — when the pair was finally introduced.
The father-chick duo immediately began bonding, Griffard revealed, and Murphy successfully fed the baby on day one.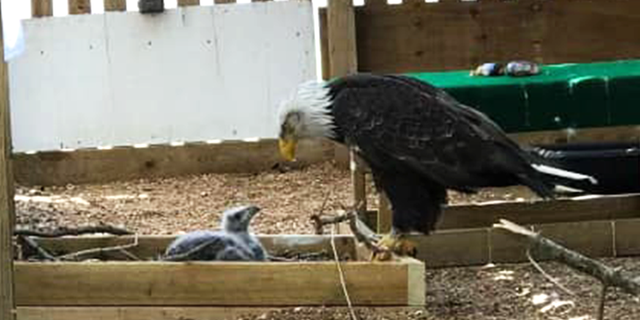 Murphy the mature bald eagle meets his foster eaglet on April 13, 2023. (World Bird Sanctuary)
"It's going well," she said. "He's a first-time dad, so he's not as into it as an experienced dad would be. But that's not necessary, because he's got so much help from us."
She added, "The really important thing is that the baby is mirroring him and following him around — and they're sitting together, so [the] baby is getting the full experience of being raised by an eagle instead of a human."
ENDANGERED CALIFORNIA CONDORS RELEASED IN REDWOOD NATIONAL AND STATE PARKS FOR FIRST TIME SINCE 1892
"Words cannot describe" how meaningful it's been to bring Murphy's dreams to life and to see the sanctuary's efforts come to full fruition, said Griffard.
"I'm just over-the-moon excited that this is working out," she said. "[At] every step we were so apprehensive, knowing that there was no guarantee that this was going to work."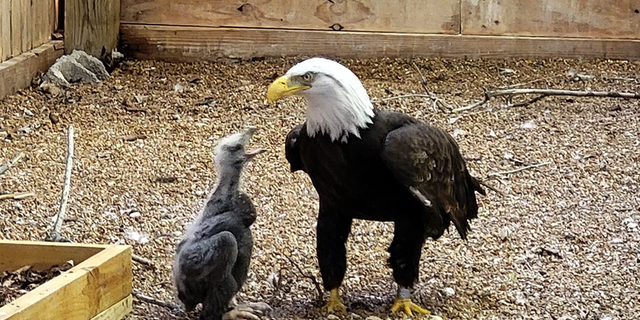 Eaglet chick 23-126 peeps at foster dad, Murphy, for more food at the World Bird Sanctuary in Valley Park, Missouri, on April 13, 2023. (World Bird Sanctuary)
She added, "But having it work out — it's kismet. It's so moving."
The reaction on social media has been nothing but positive, as the public follows the father and baby's love story.
"It's about a single dad that has worked so hard and was rewarded for his efforts," Griffard said of Murphy's journey to parenthood.
Eaglet chick 23-126, who is only about three to four weeks old, will be released once it's fully grown at 10 to 12 weeks.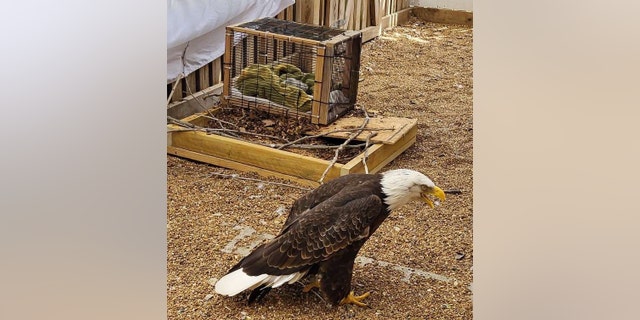 Murphy, a 31-year-old bald eagle, guards eaglet 23-126 while the little one is kept in "baby jail." (World Bird Sanctuary)
The separation will not affect Murphy, Griffard said, as it's natural for bird parents to let go of their babies.
"By that point, he's not needed by the chick anymore," she said. "He'll be fine."
CLICK HERE TO SIGN UP FOR OUR LIFESTYLE NEWSLETTER
The chick will not receive a name due to a superstition that once a bird is named, something goes wrong before its release, Griffard noted.
Griffard invited the public to call the chick whatever they'd like, mentioning that a few names such as "Rocky," "The Rock" and "Pebbles" have been floated.
The World Bird Sanctuary is currently looking into a DNA test to identify whether the baby is male or female.
As of 2007, bald eagles are not considered endangered, but the World Bird Sanctuary continues to keep up much-needed care for these birds, Griffard said.
"It's hard work. The birds are suffering," she said. "We're there to make it better and get them back out into the world."
CLICK HERE TO GET THE FOX NEWS APP
Those interested in supporting the World Bird Sanctuary can donate at worldbirdsanctuary.org/donate.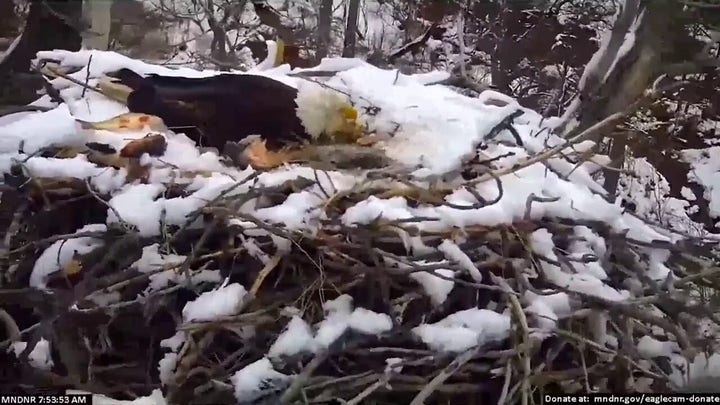 Video